AT&T Supports UWP Innovation
Published: September 26, 2014
$5,000 AT&T Innovation Award to create hackerspace on campus
New workspace to support collaboration and development of new ideas and products
The University of Wisconsin-Parkside was presented with a $5,000 AT&T Innovation & Investment Award today to support the creation of a hackerspace on campus that will help foster collaboration, idea sharing and creativity.
The new hackerspace, which will be located in Molinaro Hall, will be a community workspace where people with common interests, often in computers, technology and science, can meet, socialize and collaborate on the development of new ideas and products.
"Thanks to support from AT&T, we are thrilled to create this new hackerspace that will significantly enhance the learning environment at UW-Parkside," said Chancellor Debbie Ford. "A hackerspace aligns very well with the mission of the university since it supports active learning and engages faculty and students in efforts that help the local community."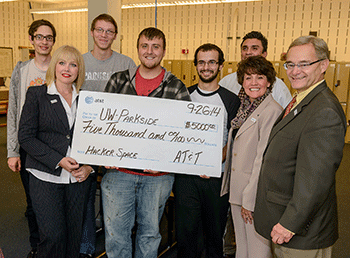 Tricia Conway of AT&T (second from left) presents a $5,000 AT&T Innovation Award to UW-Parkside Chanceller Debbie Ford. Also pictured: UW-Parkside computer science students, Associate Professor Jesus Quevedo-Torrero and State Representative Peter Barca
The AT&T funding will help the university create a social environment as part of the hackerspace that encourages and supports collaboration, idea sharing and creativity.   
"We are thrilled to work with UW-Parkside to create this hackerspace and help cultivate innovation and new technologies and ideas," said Scott T. VanderSanden, president of AT&T Wisconsin. "Having a hackerspace on campus will help advance learning, develop innovative thinkers and facilitate knowledge sharing."
State Representative Peter Barca called the innovation award "exciting news for UW-Parkside and the Kenosha community. This hackerspace will not only help develop new ideas, but will also enhance the educational experience for students."
The AT&T Wisconsin Innovation & Investment Award program provides funding to local organizations that enhance and give back to their communities. The program is focused on awarding grants to organizations and programs that improve the community by advancing education, enhancing the environment, promoting economic development or delivering other community services.
AT&T Inc. (NYSE:T) is a premier communications holding company and one of the most honored companies in the world. Its subsidiaries and affiliates – AT&T operating companies – are the providers of AT&T services in the United States and internationally. With a powerful array of network resources that includes the nation's most reliable 4G LTE network, AT&T is a leading provider of wireless, Wi-Fi, high speed Internet, voice and cloud-based services. A leader in mobile Internet, AT&T also offers the best wireless coverage worldwide of any U.S. carrier, offering the most wireless phones that work in the most countries. It also offers advanced TV service with the AT&T U-verse® brand. The company's suite of IP-based business communications services is one of the most advanced in the world. Additional information about AT&T Inc. and the products and services provided by AT&T subsidiaries and affiliates is available at http://www.att.com/aboutus or follow our news on Twitter at @ATT, on Facebook at http://www.facebook.com/att and YouTube at http://www.youtube.com/att.


About Philanthropy at AT&T AT&T Inc. (NYSE:T) is committed to advancing education, strengthening communities and improving lives. Through its philanthropic initiatives, AT&T has a long history of supporting projects that create learning opportunities; promote academic and economic achievement; and address community needs. In 2010, more than $148.2 million was contributed through corporate-, employee- and AT&T Foundation-giving programs.