Endowed Music Scholarship Established
Published: March 16, 2017
The University of Wisconsin-Parkside and the UW-Parkside Foundation announce a gift of more than $100,000 from Racine residents David Beach and Carmen Rigau. This gift will establish the Beach-Rigau Gift of Music Endowed Scholarship, to provide scholarship support to students in UW-Parkside's music program. The impact of the Beach-Rigau donation and other gifts to the Gift of Music Endowed Scholarship program will be doubled thanks to a matching fund established by Frances M. Bedford.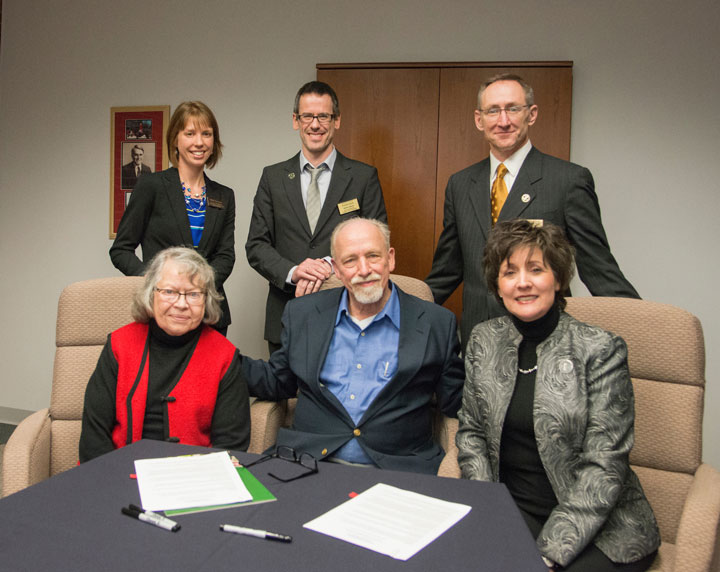 Donors Carmen Rigau and David Beach celebrate the creation of a new endowed scholarship for music at the University of Wisconsin-Parkside. Front row: Carmen Rigau; David Beach; Deborah Ford, UW-Parkside chancellor. Back row: Hannah Wallisch, development officer; Alvaro Garcia, associate professor of music; John Jaraczewski, assistant chancellor – University Advancement.

The Beach-Rigau gift celebrates the couple's dedication to arts and education. Beach, an associate professor emeritus of psychology, served the university for 35 years until his retirement in 2007. He and Rigau, a former school counselor, are active community volunteers and are among UW-Parkside's most dedicated music supporters. In addition to frequently attending concerts on campus, Beach and Rigau provide funding for UW-Parkside's music library and have sponsored multiple guest artists to provide master classes and concerts. This year, Beach and Rigau sponsored a concert of eastern European folk music by the Chicago Cossacks, and a visiting artist event featuring the Salaam-Shalom Music Project.
Carmen and David said, "We each were aided and guided by others throughout our early lives. Establishing these scholarships honors and perpetuates their kindness. Also, we are both deeply committed to promoting social justice through education, and to quality musical performance. Providing financial assistance to UW-Parkside music students fuses and furthers those core values."
Beach and Rigau's endowed scholarship gift will be matched dollar for dollar through the UW-Parkside Foundation's Gift of Music Endowed Scholarship program. The resulting Beach-Rigau Gift of Music Endowed Scholarship will be the largest endowed scholarship to date exclusively for UW-Parkside music students.
"Dave and Carmen's support has brought so many opportunities to UW-Parkside students already, and we are tremendously grateful for the lasting difference their scholarship will make," said Chancellor Deborah Ford. "They set an outstanding example of lifelong commitment to education and giving back to the university." 
The Gift of Music Endowed Scholarship match opportunity is made possible by the generosity of Frances M. Bedford, professor emerita of music and a regionally known musician, through her gift to help establish the Frances Bedford Concert Hall in the UW-Parkside Rita Tallent Picken Regional Center for Arts and Humanities.