Big Joe Kennedy
Published: April 12, 2019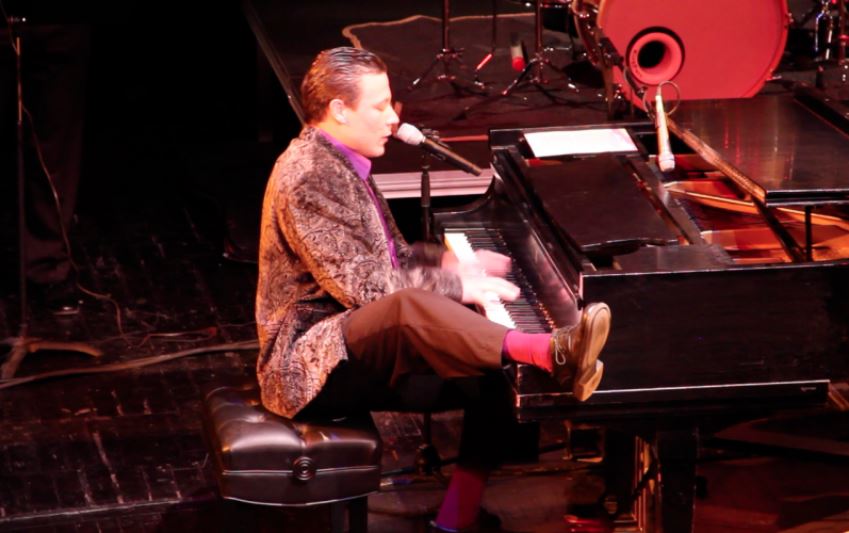 UW-Parkside's music department has produced an impressive number of successful musicians, including Joe Kennedy – a.k.a. Big Joe Kennedy.
A talented performer, Big Joe Kennedy plays jazz, blues, or whatever style provides the right music for the atmosphere.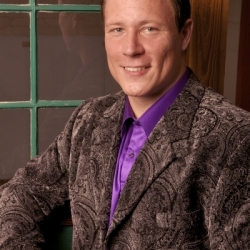 Big Joe lives and performs in New Orleans with the DUKES of Dixieland, with Burgundy Burlesque every Friday night at the Saint Hotel, solo piano every Saturday afternoon at 21st Amendment la Louisiane, and Saturday nights at Fritzel's Jazz Club on Bourbon Street with the Fritzel's All-Stars.
Kennedy is a native of Racine, a 2002 graduate of Walden III High School, and a 2007 graduate of UW-Parkside.
Kennedy has played piano since he was eight years old, and has been performing in public since the age of 15. He started at UW-Parkdside in fall 2002 as a business major and music minor. Despite his lifelong love of music, Kennedy felt that a business degree would be more stable and job oriented.
After his first semester, Kennedy realized his desire for more musical training and declared a second major. During his senior year, he was informed that double majors only received one degree but transcripts stated a double major was achieved. Kennedy wanted his years of hard work and academic achievement to be properly acknowledged and petitioned the UW Board of Regents to review his case. Kennedy completed 187 credits and all requirements for a B.A. in music with a jazz studies concentration, as well as a B.S. in business management with a finance concentration. After review, the Regents granted Kennedy's request and in the spring of '07 he received his B.S. and B.A. degrees.
Big Joe reflects on his time and UW-Parkside and the influence it has had on his life and career.
How did UW-Parkside help set you up for your future success?
Parkside made me work hard and fight for what I believe in.
What is the most important or valuable lesson you learned while at UW-Parkside?
As the leader of the jazz combo (he also led the pep band for home basketball games during the 2003-04 season), I was able to figure out how to communicate with an ensemble as a leader. I had not been in charge of a band/group before. Tim Bell really coached me my first year as combo leader in how to communicate with the other personalities in the group and get a positive response out of them.
What advice would you give to your past-self (while you were at student at UW-Parkside)?
Lighten up, you're doing fine, but practice more.
What was your favorite part of your UW-Parkside experience?
Having my toes in the water in two completely different educational paths. I was hanging out with accounting students and marketing majors in my business classes, and with a bunch of musicians who spent their time locked in the practice rooms all day in my music classes.
Where did you think your career would go when you were a student? How have your career goals changed over the years?
I honestly just wanted to make a living playing piano. The specific job has changed many times since finishing my studies at UWP, but I have been in the music field since I left. I have taught private lessons, been a band leader on cruise ships, been a MD (musical director) and arranger for a musical that toured, arranger and MD for a Louis Armstrong impersonator, dueling pianos, and now the pianist and vocalist for the Dukes of Dixieland in New Orleans.
How have your UW-Parkside influences (Tim Bell, Jim Sodke, etc.) guided and affected you throughout your career?
I began piano lessons with Sodke when I was 15 and continued with him through my time at UW-Parkside. He has always been supportive, known his craft and was willing to hassle me enough to make me do the work. I needed someone who would push back a bit and be willing to help guide my energy. Jim did that, and called me out on things that I needed to work on. From Jim, one of my big learning moments was when he hired me to play second keyboard in a musical for which he was the musical director. On one of the first performances, he reached over and turned down my keyboard without saying a word. It stuck with me, and I tried to make a mental note of the volume he turned it to so I could find my balance in the ensemble and blend with the other performers. It wasn't about me in that show, I was one of the pieces to the puzzle.
Tim Bell was the best thing for me at UWP. His skills were top notch, his personality was huge, his love for his job was ever present, his passion for the music was undeniable. I kept in contact with him every year. I'd call him up just to say hey, and chat a minute. He always made time, and I let him call me Joey. I hope to one day be an educator that has the fire and passion that Tim did, and can find a way to inspire the students to generate a real appreciation for the music. I have met musicians in the jazz world that knew Tim, and I always get the same response. They all smile and have a joyful recollection about that man. I always will as well.
Have you stayed in contact with any of the other musicians who performing professionally and/or teach music who you knew during your time here?
Josh Sherman was a music education major the same time I was there. Josh and I went to middle school, high school and UW-Parkside together. I received a text from him last weekend saying he had his high school group in New Orleans for a performance. Ken Fabis was a music education major and I talk to him as well and have visited him when I return home. Jack Plavonich visited New Orleans last year and I met up with him and showed him some clubs. I enjoy keeping in contact with people I shared my experience at UW-Parkside with because it keeps me connected to home.
What have been some highlights of your career so far?
The last almost six years have been spent performing in New Orleans and touring with the Dukes of Dixieland. It's a six-piece jazz group. I am the pianist, vocalist, and do some arranging for the ensemble. Another highlight was touring Australia with a musical in 2009. We performed at the second-largest Fringe Fest in the world in Adelaide, South Australia. I was the musical director, arranger, and pianist. I feel lucky to have been invited by Tim Bell to perform at the Alpine Resort in Door County each summer during my time at UWP and after. I learned so much from him, and having that experience on a real gig, for two weeks each summer to hang with a real professional, play songs I had never played or heard of, and learn. It was undeniably a great learning experience and nothing beats real world application of skills learned in a classroom.