CASE V awards for 'The Big Read' marketing and design
Published: October 30, 2015

SOMERS -- Sam Weller knew something more than a year before The Council for Advancement and Support of Education (CASE) District 5 made it official. 
CASE V awarded the University of Wisconsin-Parkside three "Pride of CASE V Awards" highlighted by a gold "Excellence in Design." The honors were earned for communication and design surrounding "The Big Read" in fall 2014. 
"We knew when we saw Laura Mason's design for the T-shirt … it was definitely a winner and the CASE V gold medal proves it," said UW-Parkside Interim Library Director Anna Stadick.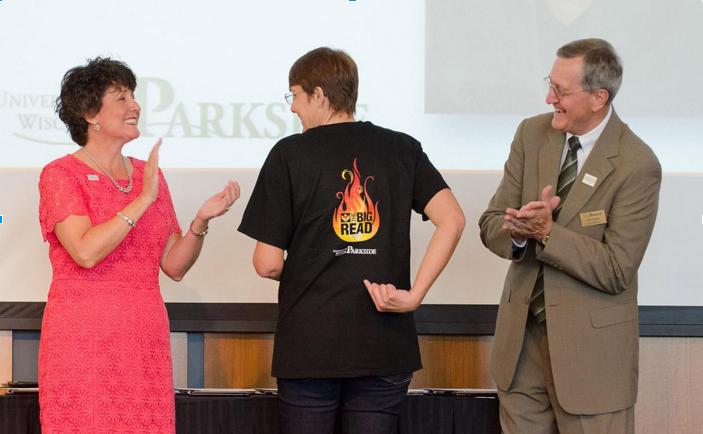 The UW-Parkside Library received a grant from the National Endowment for the Arts (NEA) to host The Big Read in southeastern Wisconsin. In partnership with Kenosha and Racine public libraries, local nonprofits, and area businesses, the UW-Parkside Library celebrated Ray Bradbury's classic novel "Fahrenheit 451." 
The Big Read, designed to revitalize the role of reading in American culture, celebrates great works of literature. The UW-Parkside Library was one of just two nonprofit organizations in Wisconsin and 77 nationwide to receive an NEA Big Read grant. 
"Receiving several CASE V awards was certainly a thrill," Stadick said. "More importantly, the awards confirm the successful collaboration between The Big Read team and the UW-Parkside marketing and communications team. 
"Winning the awards reminds me of where we were before we even applied for The Big Read grant. Now, more than a year later, our collaboration across campus – and with local libraries, community groups and businesses – has simply become part of our way of working." 
The CASE V awards recognized marketing efforts spanning a two-month period that increased awareness of and attendance at Big Read events including 
a kickoff event with Sam Weller, Bradbury's official biographer and a member of the faculty at Columbia College Chicago; 
Racine Public library book discussion, speaker, and film related to the book's themes;
Kenosha Public library book discussions and speaker;
UW-Parkside faculty and staff speakers at various community events;
Fahrenheit 451-themed fire-safety classes;
Big Read specials at area craft breweries and restaurants; and
SRO "Fahrenheit 451" film screening at SC Johnson Golden Rondelle Theatre. 
CASE V Awards: 
Excellence in Design, misc. 
Gold 
University of Wisconsin Parkside
UW-Parkside Big Read T-shirt
'BIG READ' Marketing &Communications Campaign  
Silver 
Miami University
Merit 3-D Mailer  
Bronze

The Ohio State University
Star House Campaign for Homeless Youth and Youth in Transition Booklet  
Teresa Du Bois Exline Award for Best Practices in Communications and Marketing 
Platinum Finalist –
Gold 
Michigan State University
Brand Marketing Campaign: WHO WILL? SPARTANS WILL  
Silver 
University of Wisconsin-Parkside
'BIG READ' Marketing &Communications Campaign  
Bronze 
Central Michigan University
Put Your Stamp on the World – Integrated Marketing Campaign  
Cleveland State University
Green turns Gold: 50th Anniversary Year & Homecoming 
Best Event on a Shoestring 
Gold 
University of Michigan
Be a #Peecycler: A urine collection drive  
Silver 
University of Wisconsin-Parkside
Big Read Marketing and Communications Campaign
St. Clair County Community College
An Acoustic Evening with Dr. Kevin Pollock  
Bronze 
Siena Heights University
Fireside Chat (Food for Thought)
The University of Wisconsin-Parkside is one of 13 four-year campuses in the University of Wisconsin System. Founded in 1968 to better serve the needs of a growing population in southeastern Wisconsin and northeastern Illinois, UW-Parkside offers undergraduate and graduate degree programs and serves as an academic and cultural resource.