Parkside Degrees Blooming for Racine Family
Published: September 7, 2016
Back in the late '80s, it was much easier to graduate high school and get a well-paying job than it is today. For David Bloom, going to college to pursue a bachelor's degree became less of a priority and he switched from the University of Wisconsin-Parkside to Gateway Technical College where he earned an associate degree in electro-mechanical technology (robotics). 
"I try to give them their space. I want them to have a real college experience without their dad watching over them, so I do not try to seek them out during the school day." -- David Bloom

For years, David worked as a contractor but soon decided that he wanted more for himself and his family. In 2011, he made the decision to go back to Parkside and finish what he originally started decades ago by pursuing a degree in management information systems. "Contracting is really hard on the body," said David, "I did not want to be that 'old guy' who was in the field and suddenly couldn't work anymore."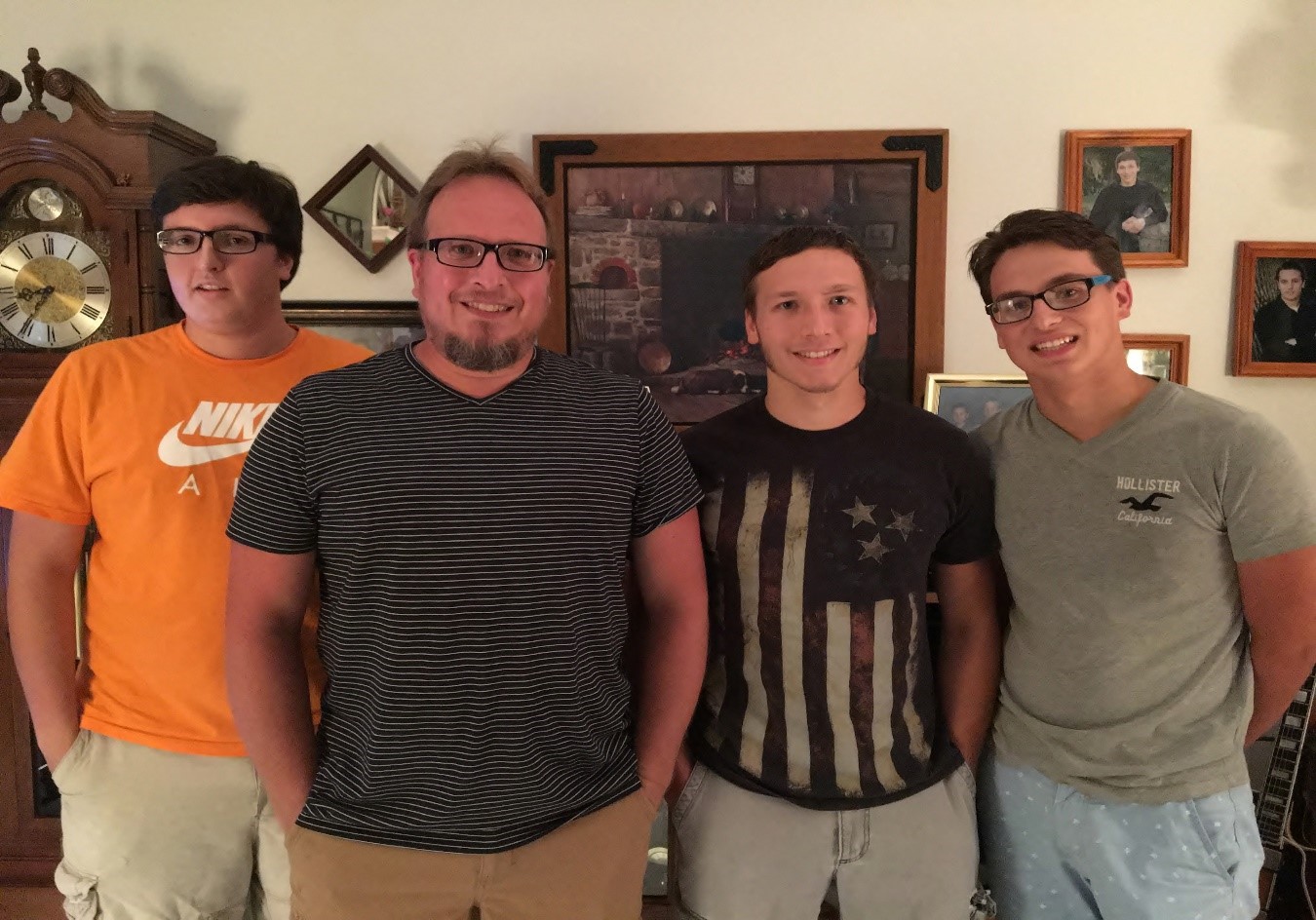 (left to right) Ethan, David, Eli and Noah Bloom

When asked why he chose Parkside to continue his education, David said, "I really liked Parkside when I first attended, I can afford it, it is close to home, and it's a very nice campus, so why not go back there?" He and his wife, Elena, are raising three boys and when it came time for the first, Elijah (Eli), to choose a college, his parents strongly encouraged him to consider Parkside. 
Eli saw the benefits of saving money while also getting a well-rounded education. He applied and began as a student in the computer science and math programs in the fall of 2012. In 2014, David and Eli were joined at Parkside by David and Elena's second son, Ethan, who joined his brother in the computer science program. This fall, the three Bloom men are joined by a fourth, David and Elena's youngest son, Noah, as he begins his pre-med career at the university.
Each member of the Bloom family chose Parkside because of its affordable tuition and its location, which is conveniently close to their Racine home. Having other members of their immediate family at the university had a very small influence on the decision to attend.
David and Eli have had two classes together in the past, which they describe as somewhat awkward. Although it may have been slightly uncomfortable for the two of them, they say they were not treated any differently by other students. As for Ethan and Noah, they will not have any classes with their dad during their college careers.
"I try to give them their space," David said about going to school with his sons. "I want them to have a real college experience without their dad watching over them, so I do not try to seek them out during the school day."
As for the three boys, they have gone to school together for most of their lives so going to the same university seems pretty routine. Ethan mentioned the benefits of being in the same program as his older brother. "I can always ask him for help," Ethan said. The benefit of being able to share books with one another is an added plus.
The Bloom men say that the only downfall of going to school together is the stress leading up to and during finals week – and Elena can attest to that. "It can get pretty scary around here when finals come around … everyone is pretty stressed out and looking to get their work done," she said. Another struggle the family faces is the lack of computers in their home when each Bloom student needs to complete assignments.
Both David and Elena have been encouraging their sons to go to college their entire lives. "I did not want them to do what I did, so we have really tried to make a point of how useful a college degree can be," David said. "I would take them to work with me and give them some of the harder tasks." Eli, Ethan and Noah each work at a local grocery store in Racine. "It is great for them to have these jobs now, while they are getting an education, so that they will appreciate a career that requires them to use the skills they have learned in school later on in life."
Looking to the future, David will graduate this coming May and when the time comes, is simply hoping to find a job in his field. "I am not quite sure what my ideal job would be. I have been taking project-management classes and I am enjoying those, so I am hoping to find something there. My field is very broad so there should be a lot of options."
Eli is currently looking for an internship closer to home, but in the future would like to find a job in another country, preferably Germany. Ethan has a little further to go before looking for internships, but he says he is considering joining Parkside's App Factory. As for Noah, he is looking forward to the Parkside experience and being a part of the pre-med program.