Doctor-Patient Become International Friends
Published: March 14, 2016
October 11, 2002, seemed like an ordinary night for Rodney Borland as he got ready to close his parents' grocery store in Punta Gorda, Belize. As he went through his regular activities, a man with a stocking over his face entered the store and demanded that Rodney give him all of the money in the drawer. Rodney was fearful and thought about his own safety as well as the safety of his mother and little brother, who were upstairs watching television. He stayed in place until the man made his demands for a second time. As Rodney stepped toward the cash register to empty the drawer, the robber flinched and fired the gun. Rodney heard a gunshot and fell backwards, hitting his head on the freezer. When he landed on the ground, the robber ran out of the store in fear and Rodney, who felt a blinding pain in his chest, tried to assess how much damage had been done to his body.
Knowing his mother and brother were at home, Rodney tried calling to get their help but his voice was barely audible and no one could hear him. Blood was now covering Rodney's chest, and he was unable to move, but he tried one last time to get their attention, and he succeeded.
His mother desperately called for help, and a nurse who happened to be passing by came in and applied pressure to Rodney's chest to try to stop the bleeding.
The bullet broke two of Rodney's ribs, punctured his right lung, and severed his spine. As a result of the injuries, Rodney is a paraplegic and has to use a voice amplifying device to speak.
While all of this was happening to Rodney, Dr. Nick Akgulian, a University of Wisconsin-Parkside alumnus, was using his vacation time at Hillside Clinic just outside of Punta Gorda, where Rodney was being treated. "It was on one of these short visits that I met Rodney," Dr. Nick explains. "I was accompanying a Hillside nurse on a home visit to check on Rodney's recovery."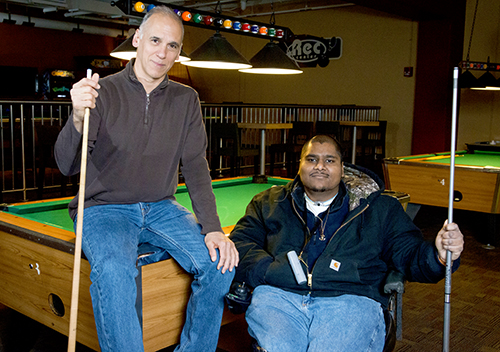 Dr. Nick Akgulian, left, and Rodney Borland

Rodney had a pressure ulcer on his lower back, which immediately became life-threatening. Nurse Patricia, who ran Hillside Clinic at the time, helped arrange for Rodney to be transported to Columbia St. Mary's Hospital in Milwaukee, where Hillside's board of directors was based, so that he could receive a number of necessary surgeries. Rodney spent a lot of time during 2003-2004 in Milwaukee with a foster family who helped him through much of the recovery. During this time, Dr. Nick moved to Belize to become the medical director of Hillside. He was there when Rodney returned home.
A friendship develops

Once Rodney returned to Belize, he and Dr. Nick, along with the rest of Rodney's family, formed a strong relationship through personal visits, clinic work, and by lobbying the government to make the local Punta Gorda university handicapped accessible. Dr. Nick returned to Racine in 2005, but visited Belize multiple times each year since then.
Despite his disability, Rodney attended and graduated high school with honors from the science department. He earned the highest honors in physics, information technology, and literature. In 2009, Rodney was accepted at the University of Belize with a merit-based scholarship to pursue a bachelor's degree in information technology. But in 2012, Rodney had to leave school for additional surgery on his back. During that time, his scholarship ended, making it financially difficult for Rodney to return to school after his recovery. In 2014, Rodney suffered another great loss, his mother passed away due to kidney failure – Rodney calls her his biggest supporter. He says that he felt like his world had collapsed around him but he knew that he could not give up.
"Despite his potentially devastating setbacks, Rodney has held an amazing optimism and warm spirit and has no bitterness," says Dr. Nick. During one of his visits to Belize in 2014, Dr. Nick suggested that Rodney apply to UW-Parkside. He explained that Parkside's small population would be a great fit for Rodney and that it would be extremely beneficial for him to be able to get to his classes without having to leave the building. Dr. Nick was confident that Rodney would succeed at Parkside, especially with access to supportive faculty and staff. Rodney applied, and once he was accepted, he, his father, and Dr. Nick worked together to devise a plan to make Rodney's arrival at the university in August 2015 an easy one.
When Rodney arrived at Parkside, he was pleasantly surprised at how easy it was to get around. In Belize, it was very difficult to go about his day-to-day activities. The buildings and walkways there are not designed for people using a wheelchair. Life in the United States has been far easier.
Rodney says he is impressed with all of the accommodations available for people with disabilities.
On a typical day, Rodney goes from Pike River Suites to school and then back to his suite when class is over. He prefers to study alone, in his room, in peace and quiet. He says it's nothing against the people here, he just produces his best thoughts when he is alone. Rodney says that the people on campus and in the community are very friendly and if there is ever a problem getting around, there is always someone who is willing to help.
When Rodney is not studying, he loves to go to the Parkside Den and play pool. Last November, Rodney won the 8-ball tournament in the Den and hopes there will be another tournament this semester.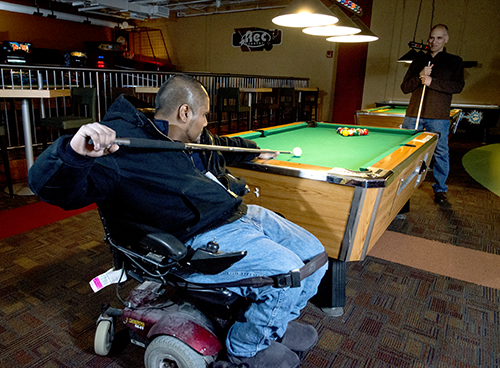 Rodney says another benefit of his move to Parkside is a stronger friendship with Dr. Nick. "When we have free time we go to basketball games here at Parkside, watch football, or play billiards or poker – just guy stuff," Rodney said. Obviously, Dr. Nick has been a great influence in Rodney's life. He has been both a friend and a mentor and Rodney says he appreciates everything Dr. Nick has done for him.
He also appreciates the overwhelming support he has received while living here at Parkside. Life in Belize with a disability such as his is not easy by any means. He speaks of the transition to Parkside as easy and extremely welcoming. Rodney is excited to one day return to his home country and try to implement changes he says are needed to make living with a disability a little bit easier.
When Rodney was 22 (he is now 27), his father and some of his family members encouraged him to consider running for mayor. While Rodney was very interested in the idea of being the mayor of his home town, he was not ready to take that step. "That is something that I would now love to pursue when I return," he said. Rodney says he could see running for an even higher office in the future.
Rodney never believed that he would be where he is today studying at Parkside and has every intention of staying to finish his education. That is, if he can get used to the cold weather. Rodney's tuition has been covered for the remainder of the spring 2016 semester. He is trying to raise money for the years to follow. Anyone interested in supporting Rodney can do so at his GoFundMe page.