Bracelets Support Law Enforcement
Published: November 19, 2015
In many communities today across the nation and around the world, a highly controversial relationship exists between law-enforcement officers and civilians. One in which civilians often see law enforcement officers as their enemies rather than their protectors.
Pages and posts have surfaced over social media promoting support for law enforcement officers. Little did University of Wisconsin-Parkside sophomore Brittany Mueller, and junior Cortnie Schattner know that posting a picture of bracelets they had created to show their support for those in law enforcement to the "Police Lives Matter" Facebook page would generate such a positive response. 
In late June, Mueller and Schattner, both UW-Parkside criminal justice majors from Racine, designed bracelets to support law enforcement officers. What started off as just a small gesture, became a hit well within 24 hours -- not only nationwide, but in a few other countries. The girls posted a picture of their bracelets to the "Police Lives Matter" Facebook page and they received a great response.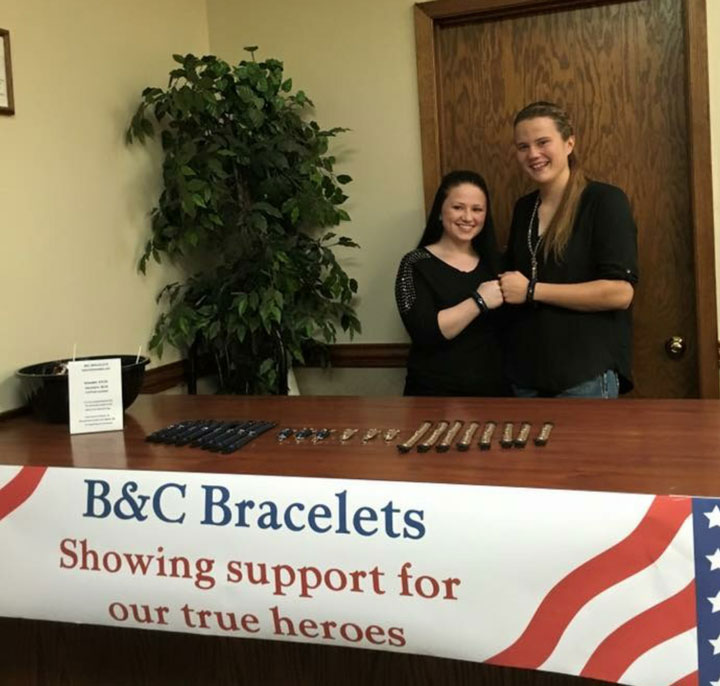 "With the war going on right now toward our police officers, it is important for us to express our support for our heroes," said Schattner. 
The girls have been selling these bracelets since the initial uproar in early July. They have sold the bracelets not only across the country, but also in other countries such as China, Canada, and Australia. In October, the girls traveled to Minnesota to sell the bracelets at a benefit to support the Officer Down Memorial Page. All of the money they raised there supports officers who have been killed in the line of duty. 
During the second weekend of November, the girls sold bracelets at the Racine Policeman's Ball, and all of those funds went towards the local K-9 Units. "We have been thanked more times than I can count," said Mueller, "when officers thank me and Cortnie, it is a feeling that I cannot describe. It is not about us. Never has been, never will be. We want to show these men and women, our brothers and sisters, how much they are appreciated. We look up to every one of them. If only they knew how much we appreciate everything they do!"  
These bracelets can be ordered online at http://www.bcbracelets.com. They are $15 each, and their key chains are $8. To find out more, you can also like their Facebook page: B&C Bracelets.