Bianca Ruffolo 2017 Newman Civic Fellow
Published: November 3, 2017
University of Wisconsin-Parkside molecular biology and bioinformatics major Bianca Ruffolo received a 2017-2018 Newman Civic Fellowship from Campus Compact. As just one element of the fellowship, Ruffolo will attend the Newman Civic Fellows National Conference in Boston Nov. 16-19.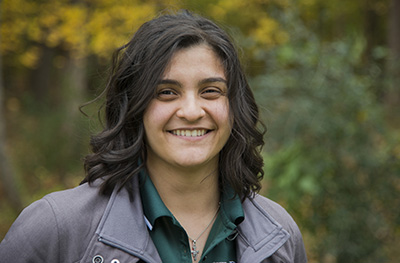 The Newman Civic Fellowship recognizes and supports community-committed students. Named in honor of Campus Compact founder Frank Newman, the fellowship provides learning opportunities focused on the leadership skills students will need to serve as effective agents of change.
As part of the national conference, Ruffolo will have the opportunity to visit the Edward M. Kennedy Institute for the U.S. Senate.
Ruffolo is involved in five UW-Parkside student organizations serving as president of Circle K and the Molecular Biology Club. She also works on campus as a production assistant in the Student Center, a tutor for chemistry and biology courses, and as a research assistant in the Biological Sciences Department.
A graduate of Bradford High School in Kenosha, Ruffolo says she came to Parkside knowing she wanted to pursue medicine. Being introduced to the research-oriented molecular biology and bioinformatics major by Dr. Greg Richards combined with a summer research experience through the UW School of Medicine and Public Health RUSCH program (Rural and Urban Scholars in Community Health), convinced Ruffolo to combine medicine and science.