Parkside Students Score With NBA Franchise
Published: April 6, 2016
When four UW-Parkside students took part in a marketing-research presentation to the executive committee of the Milwaukee Bucks Inc., it was the culmination of a business relationship that started months earlier.
Milwaukee Bucks President Peter Feigin served as Executive in Residence for the UW-Parkside College of Business, Economics, and Computing in September 2015. While on campus, Mr. Feigin met Dr. Peter Knight, chair of the UW-Parkside AACSB accredited Business Department and associate professor of business.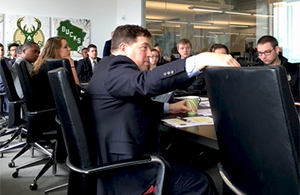 Milwaukee Bucks President Peter Feigin listens to marketing presentation by UW-Parkside and Ohio University students

Dr. Knight happens to have a friend and colleague Dr. Norm O'Reilly who is a top sports-management researcher at Ohio University in Athens, Ohio. At age 37, Dr. O'Reilly has already received the American Marketing Association Lifetime Achievement Award for Sports Management.
"When I mentioned a student-consulting project, and mentioned my colleague at Ohio University, Mr. Feigin was very interested," Knight said. "The combination of us being local and the association with Ohio University was important."
For Tara Knapstein, a Parkside senior business major from Dale, Wis., the opportunity to be involved with the Bucks project was a perfect fit. Knapstein was captain of the Parkside women's basketball team for the 2015-16 season. 
"I was just beginning my upper-level sales and marketing classes last fall, and I had known Dr. Knight from the National Collegiate Sales Competition," Knapstein said. "Dr. Knight knew I would most likely be motivated because of my basketball background."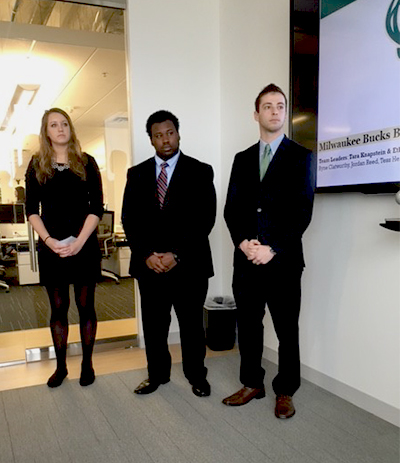 Tara Knapstein (left) with Ohio University students Jordan Reed and Greg Damschroder during the marketing-research presentation to Milwaukee Bucks executive committee

The sport of basketball also meant a quick connection for Parkside students Quinn Manderfield, Darius Hampton, and Ryne Clatworthy. Manderfield called the opportunity a "no brainer" and something that seemed almost too good to be true. "I have been very passionate about the Bucks my entire life," Manderfield said, "and have always referred to working for the Bucks as one of my 'dream jobs.' I am very intrigued by strategic sports marketing, so I was motivated as a passionate fan, and as someone about to graduate looking for the ideal job."
A portion of Manderfield's work was separate from the rest of the group. "This allowed me to think in an abstract manner and approach a portion of the project with a more big-picture philosophy," he said. "I learned how to look past more conventional ways of thinking and to ask the right questions … I found that you have to ask the right questions before you begin your research or implementation."
Dr. Michele Gee directs master's programs at UW-Parkside and serves as the associate dean in the College of Business, Economics, and Computing. "I am extremely proud of the high level of professionalism exhibited by our students," Dr. Gee said. "The academically relevant, community-based activity provided more evidence documenting the quality of UW-Parkside students."
Marketing research at this level demands a large amount of time. "I don't think we realized what a project like this, as well as collaborating with a team in a different state, would entail," Knapstein said. "It was a huge project for us to carry on for several months, but it was the perfect real-world example. We learned the simple importance of communication. Collaborating with Ohio [University] meant we needed to be in constant communication to ensure that our research and presentation were uniform and not redundant. The presentation was honestly the best part. We finally got to see our hard work paying off. It was also great to see all of the Bucks' executives engaged and interested in our research."
Milwaukee Bucks President Peter Feigin said his organization hopes to continue the collaborative relationship with UW-Parkside and Ohio University. "The students did a terrific job putting together insightful research for our organization," Feigin said.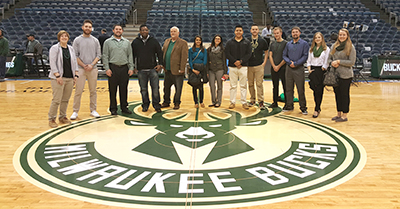 In addition to the research project, 13 sales certificate students from Dr. Knight's Advanced Sales class spent time learning about the Bucks' sales organization and career opportunities. Students met the Bucks Director of Business Development Wes Warne, and UW-Parkside sales certificate and business-management graduate Andy Nefstead, who is now a Bucks' sales representative. The session outlined a day in the life of a sales representative and provided an in-depth look at the organization's sales strategy.