Case IH Dealers Train at Parkside
Published: August 15, 2014
Here's something you don't usually see on a university campus – huge Case IH tractors. At the University of Wisconsin-Parkside, the summer of 2014 was different.
Since early July, Case IH dealers from the United States and Canada arrived almost daily for classroom and hands-on sessions focused on high-tech training with some of the most sophisticated machinery in the Case IH lineup.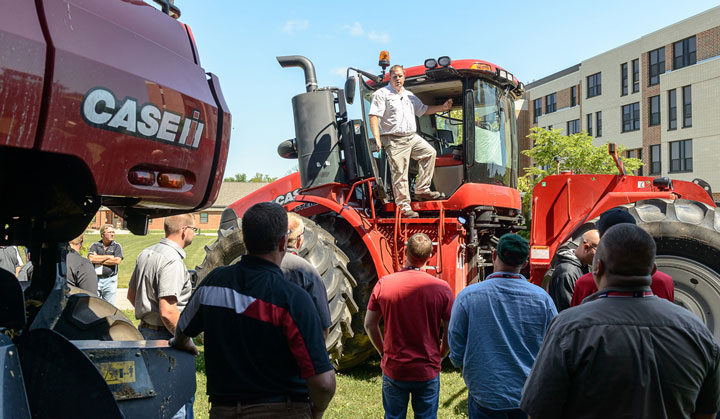 "It used to be that dealers had to be experts on pistons and transmissions," said Leo Bose, manager of Commercial Training at Case IH. "Today they are experts on GPS systems and computer-controlled fuel modules. The skills of our dealer force have changed. To meet those needs, we expanded the training we offer our Red Power team." 
Officials from Case IH, with headquarters in Racine, Wis., selected Parkside for its location and facilities. In addition to Parkside, Case IH training took place on the south side of Racine at a 100-acre company site along Lake Michigan, and at a working farm in western Kenosha County.
Parkside offered Case IH dining services as well as the large University Ballroom for general sessions and conference rooms for breakout sessions attended by hundreds of dealers. The exterior of the university's Student Center proved perfect for hands-on equipment demonstrations. 
"Case IH and UW-Parkside have a long-standing relationship," said Dirk Baldwin, dean of the UW-Parkside College of Business, Economics, and Computing. "We're glad they chose the university to host and train dealers from North America." 
Case IH training wrapped up in mid-August. UW-Parkside Chancellor Debbie Ford said that providing a venue for Case IH aligns with the university's mission. 
"We are a regional resource," Ford said. "Our graduates are employed by Case IH and right now we are preparing the next generation of accountants, sales representatives and engineers." 
According to LinkedIn, close to 100 UW-Parkside alumni are employed at Case IH headquarters in Racine.