Iconic Shoe Company Partners with UWP
Published: April 18, 2016
Chiappetta Shoes, a family run business in Kenosha has been around since 1921. Family members are very committed to community involvement, so much so that they collaborated with the University of Wisconsin-Parkside Typography II art class to create posters and other marketing materials for Chiappetta loyalty programs tailored to please their diverse client base.
Assistant Professor of Art Dr. Carey Watters is the instructor for Typography II at Parkside, and calls the partnership with Chiappetta Shoes a positive experience for the students. "Chiappetta Shoes is the perfect partner for bringing 'real world' experience into the classroom," Watters said. These types of projects give her the perfect opportunity to teach her students about client interactions.
Watters split her class into four groups, each with a communication point person, as well as a project manager so as to not overwhelm the client. The groups were given deadlines to present sketches and design options, with enough time remaining to make revisions. The final products were shown to Mr. Tony Chiappetta who provided each group with valuable feedback. After sharing the proposals with his family and employees, Mr. Chiappetta selected the winning design.
Because the class has 17 students and only one design was selected for the loyalty campaign, Watters made it clear to her students that each design would be a valuable addition to individual portfolios. "It was a fruitful activity for all, and a pleasure to work with a small business in the community," Watters said.
The poster selected was done by Patrick Davis, a sophomore graphic-design major from Burlington, Wis.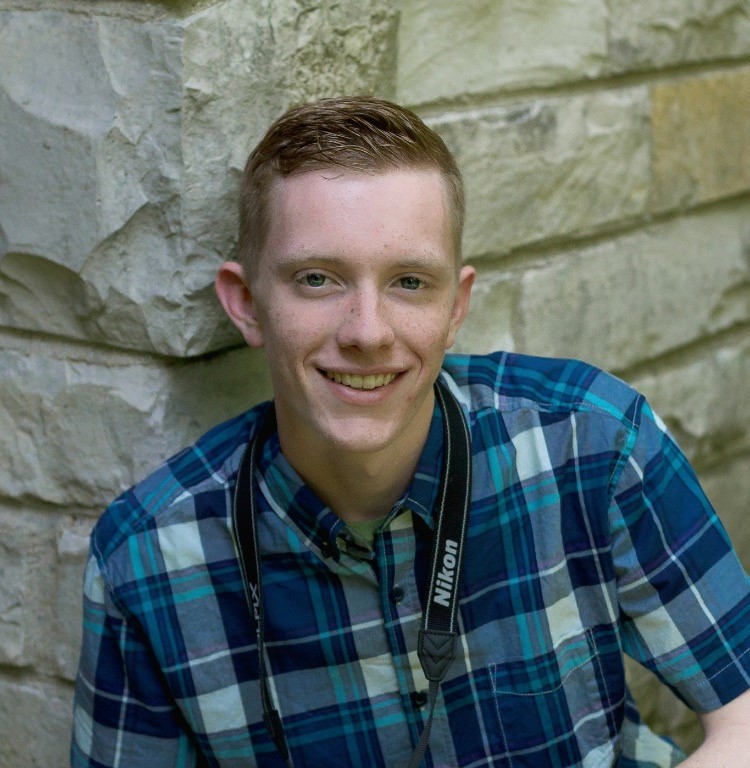 Patrick Davis
His posters are expected to be on display in gymnasiums, workplaces, and hospitals. Davis is currently continuing his work with Chiappetta Shoes. "I am a photographer as well as an in-process designer, so I have some pretty neat stuff lined up for them," Davis said.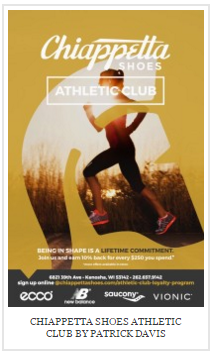 Mr. Tony Chiappetta: "I really wanted to emphasize the Chiappetta icon system. Different images can be inserted behind each icon ... visual hierarchy is used in order to capture the viewer's attention."
Parkside's involvement with Chiappetta Shoes does not stop there. In March, Mr. Chiappetta talked with Dr. Bryan Lewis, assistant to the dean for Health Related Professions and director of UW-Parkside's Pre-Health Program and the Center for Health Sciences. The two discussed building an internship program for Parkside pre-med and pre-health students. The internship starts with a current Chiappetta Shoes employee Michael Molinaro, a sophomore pre-med student at Parkside. "The summer term with our current employee will help us iron out some of the kinks that are bound to happen with a new program," Mr. Chiappetta said. "For the fall semester, we are planning on having a new student start the internship program with a focus on our pedorthic work. This work will include two aspects of the business, the manufacture of custom orthotics and patient care."
Molinaro started working for Chiappetta Shoes while attending high school at Indian Trail in Kenosha. "Coming to Parkside as a pre-medical student, it occurred to me that students interested in the fields of podiatry, physical therapy, orthopedics, etc., could have hands-on training with certified health professionals," Molinaro said.
Given that this is a new internship program, Molinaro is aware of his "guinea pig" status. He also knows he'll have the opportunity to learn beneficial skills working with Tony and Fred Chiappetta making full custom orthotics.
The shoe company is passionate about footwear and dedicated to providing great service to their customers. The employees never want potential customers to feel forced into buying a product they do not need, but they do want the customer to feel open to ask questions about the products and about which product would best serve them.
Chiappetta Shoes is equipped with pedorthic professionals whose mission is to design a shoe with the focus on both comfort and common sense, thus making footwear easy for everyone.