Hector Colon Message to Graduates
Published: December 17, 2016
Hector Colon, director of Health and Human Services for Milwaukee County served as the featured speaker for the Winter 2016 UW-Parkside Commencement. The following is a draft of his remarks.

THANK YOU VERY MUCH CHANCELLOR FORD FOR THE VERY KIND INTRODUCTION.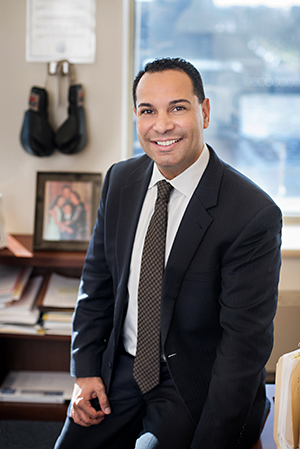 AND THANK YOU TO THE UNIVERSITY OF WISCONSIN-PARKSIDE FOR THE OPPORTUNITY TO BE YOUR COMMENCEMENT SPEAKER. THIS IS TRULY AN HONOR. THE WORK YOU ARE DOING AT PARKSIDE TO RECRUIT, DEVELOP AND EDUCATE STUDENTS -- WHO MAY HAVE NEVER IMAGINED THEY COULD BE HERE -- IS TO BE COMMENDED. YOUR COMMTIMENT TO THESE STUDENTS IS A COMMITMENT TO BUILDING A BRIGHTER, STRONGER FUTURE -- NOT JUST FOR THEM … BUT FOR THE BUSINESES THEY WILL SOON WORK FOR -- AND FOR THE COMMUNITIES THEY WILL SERVE.
I WAS AT THE WHITE HOUSE A FEW WEEKS AGO TALKING WITH THE ADMINISTRATION ABOUT OUR WORK IN MILWAUKEE COUNTY TO END CHRONIC HOMELESSNESS. WITHIN ONE YEAR WE HAVE ELIMINATED CHRONIC HOMELESSNESS IN MILWAUKEE COUNTY BY OVER 75%.  WE WILL BE THE FIRST CITY OF OUR SIZE IN THE UNITED STATES OF AMERICAN TO MAKE A DECLARATION OF ENDING CHRONIC HOMELESSNESS.
I WOULD NOT HAVE BEEN THERE -- I WOULD NOT BE LEADING THE CHANGE I AM LEADING TODAY -- IF I HAD NOT HAD PEOPLE THAT WERE IN MY CORNER AND ORGANIZATIONS LIKE UW-PARKSIDE -- IN MY CASE UW-MILWAUKEE -- WHO BELIEVED IN AND SUPPORTED ME.
LET ME BEGIN WITH A FEW CONGRATULATIONS. HOW MANY OF YOU ARE PARENTS, GRANDPARENTS AND FAMILY MEMBERS OF THE GRADUATES? RAISE YOUR HANDS. CONGRATULATIONS ON YOUR ACCOMPLISHMENT. YOU HAVE BEEN THROUGH A LOT … SACRIFICED A LOT … TO HELP YOUR STUDENT GET WHERE HE OR SHE IS TODAY. I AM THE FATHER OF TWO YOUNG CHILDREN. BEFORE I BECAME A PARENT, NO ONE COULD HAVE EXPLAINED TO ME HOW MUCH WORK -- HOW MUCH LOVE -- HOW MANY SLEEPLESS NIGHTS YOU PUT IN TO RAISE KIDS. AND PARENTS, EVEN THOUGH YOUR BABIES ARE GRADUATING TODAY … YOU PROBABLY STILL HAVE A FEW SLEEPLESS NIGHTS AHEAD OF YOU!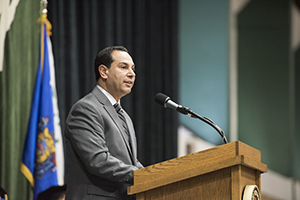 FOR OUR GRADUATES … CONGRATULATIONS. YOUR PARENTS ARE SO PROUD OF YOU. NOW WOULD A GREAT TIME TO ASK THEM FOR MONEY.
YOU WORKED HARD TO GET HERE DIDN'T YOU? TODAY YOU HAVE NEW KNOWLEDGE, NEW SKILLS, AND A WHOLE NEW WORLD AHEAD OF YOU. I REMEMBER BEING IN YOUR SHOES.
I WAS ACTUALLY IN MY 20s WHEN I STARTED COLLEGE. WHEN I WAS VERY YOUNG -- THE THOUGHT OF GOING TO COLLEGE WAS NOT REALLY ON MY RADAR. MY SISTER AND I WERE RAISED ON THE CITY'S NEAR SOUTH SIDE OF MILWAUKEE.
MY PARENTS IMMIGRATED TO MILWAUKEE FROM PUERTO RICO AND WORKED FACTORY OR ENTRY-LEVEL JOBS THROUGHOUT THEIR CAREERS.
THEY ENCOURAGED US TO GET JOBS AND FOLLOW THEIR FOOTSTEPS. BUT I NEW THAT I WAS DESTINED FOR SOMETHING GREATER.
I REMEMBER WALKING TO SCHOOL AS A LITTLE KID AND BEING BULLIED BECAUSE I AM HISPANIC. WHEN I WAS NINE, MY FATHER GOT ME INTO BOXING SO I COULD DEFEND MYSELF.
THIS EXPERIENCE CHANGED MY LIFE. BY THE TIME I WAS 11, I WAS A NATIONAL CHAMPION - THE BEST IN U.S. BY THE TIME I WAS 14, I WAS TRAVELING AROUND THE WORLD WITH THE UNITED STATES NATIONAL BOXING TEAM.
I ENDED UP BEING A 7-TIME NATIONAL CHAMPION IN 7 DIFFERENT WEIGHT CLASSES.
I COMPETED ALONG WITH OSCAR DE LA HOYA, VERNAN FOREST, SHANE MOSELY, AND SOME OF THE BEST WELTERWEIGHTS IN THE ENTIRE WORLD. IT WAS A PLEASURE TO BE AMONG THIS ELITE GROUP.
IN 1992, I WAS FAVORED TO GO TO THE OLYMPICS … BUT I LOST IN THE OLYMPIC TRIALS TO JESSE BRISENO WHOM I KNOCKED OUT IN THE FIRST ROUND FOR THE US CHAMPIONSHIP IN 1993. HAD THE OLYMPICS BEEN IN 1993 I WOULD HAVE GONE AND REALIZED MY DREAMS AND TURNED PROFESSIONAL.
THIS EXPERIENCE WAS TRANSFORMATIVE FOR ME. I HAD DEDICATED MY ENTIRE LIFE TO BEING THE BEST BOXER IN THE WORLD. BUT, I BELIEVE AND I KNOW THAT GOD HAD A DIFFERENT PLAN FOR ME.
BUT THE SAME DEDICATION, DETERMINATION AND DISCPLINE I APPLIED TO BECOME A 7-TIME NATIONAL CHAMPION IN 7 DIFFERENT WEIGHT CLASSES WAS THE SAME DEDICATION, DETERMINATION AND DISCIPLINE I CHANNELED INTO THE NEXT PHASE OF MY LIFE. 
AND MY BOXING SKILLS CAME IN HANDY. THROUGH OUT MY CAREER I HAVE BEEN BOBBING AND WEAVING AND ROLLING WITH THE PUNCHES AND CHALLENGES THAT HAVE COME MY WAY.
I AM GLAD I DEVELOPED TOUGH SKIN BECAUSE I NO LONGER HAVE VASELINE TO PUT ON MY FACE.
I ALSO DON'T HAVE A CUP FOR THOSE LOW BLOWS – AND MAN DO THOSE LOW BLOWS HURT -- BUT I AM TOUGH THANKS FOR BOXING – BRING IT ON!
I ATTENDED THE UNIVERSITY OF WISCONSIN-MILWAUKEE AND GOT MY M.S. DEGREE IN OCCUPATIONAL THERAPY. MY CAREER THEN TOOK ME FROM WORKING IN BEHAVIORAL HEATLH -- TO LOBBYING FOR THE CITY OF MILWAUKEE -- TO WORKING UNDER GOVERNOR JIM DOYLE IN SEVERAL CABINET POSITIONS --- TO TODAY, WHERE I SERVE THE PEOPLE OF MILWAUKEE COUNTY AS THEIR DIRECTOR OF HEALTH AND HUMAN SERVICES.
AS I LOOK OUT AT OUR GRADUATES, I CAN SAY THE WORLD YOU ARE ABOUT TO STEP INTO -- IS VERY DIFFERENT THAN THE ONE I ENTERED AS A NEW GRAD. THERE ARE TREMENDOUS UNCERTAINTIES IN TODAY'S GLOBAL -- POLITICAL AND ECONOMIC WORLD.
AND THERE ARE CHALLENGES YOU MUST OVERCOME.
A RECENT STUDY PUBLISHED IN THE HARVARD BUSINESS JOURNAL FOUND ONLY 33-PERCENT OF NEW COLLEGE GRADUATES ARE READY TO HIT THE GROUND RUNNING WHEN THEY LEAVE COLLEGE. THE OTHER TWO-THIRDS WILL SPEND THE NEXT FIVE TO 10 YEARS AFTER GRADUATION -- STRUGGLING TO FIND THEIR WAY.
I AM HERE TO TELL YOU – YOU NEED YOU TO PUT ON YOUR BOXING GLOVES AND GET READY TO FIGHT -- RIGHT NOW -- FOR YOUR PLACE IN THE WORLD.
DON'T EXPECT THE WORLD YOU ARE ABOUT TO ENTER TO BE FAIR.
DON'T EXPECT SOMEONE TO COME TO YOU WITH THE ANSWERS.
DON'T EXPECT TO GET THE JOB YOU WANT BECAUSE YOU THINK YOU DESERVE IT. DON'T EXPECT PEOPLE TO BE NICE.
WHAT I SUGGEST THAT YOU EXPECT FROM YOURSELF … IS THAT YOU WILL BE PREPARED. YOUR EDUCATION HERE AT PARKSIDE IS A CRITICAL STEP.
AND … SPEAKING TO YOU NOW AS A KID WHO CAME FROM THE STREETS TO BECOME AN ELITE WORLD BOXER …
A KID WHO CAME FROM ALMOST NOTHING TO OVERSEE HUNDREDS OF EMPLOYEES AND A MULTI-MILLION DOLLAR ORGANIZATION, I HAVE 5 LIFE-TESTED STRATEGIES FOR YOU TO CONSIDER.
FIRST – KEEP GOOD PEOPLE CLOSE. 
LET ME BE CLEAR -- THESE ARE NOT PEOPLE WHO ARE GOING TO BE EASY ON YOU. THESE ARE PEOPLE WHO INSPIRE YOU. THEY KNOW YOUR ABILITIES AND WILL PUSH YOU AND SUPPORT YOU. AS A KID, MY BOXING COACH -- LOVED ME -- SUPPORTED ME -- BUT IF I GOT OFF TRACK IT WAS TOUGH LOVE.
AND I KNEW WHEN TOUGH LOVE WAS COMING -- ALL I HAD TO DO WAS MESS UP SOMEHOW.
BUT BECAUSE I DIDN'T WANT TO LET MY COACH DOWN – I LEARNED TO MAKE THE RIGHT DECISIONS -- TO GET HIS PRAISE.
2 -- TAKE CALCULATED RISKS
IN THE LAST FIVE YEARS I HAVE BEEN DIRECTOR OF THE MILWAUKEE COUNTY DEPARTMENT OF HEALTH AND HUMAN SERVICES, WE HAVE BEEN ABLE TO TRANSFORM EVERY ONE OF OUR DIVISIONS.
TOGETHER WE HAVE CREATED 29 MILLION DOLLARS IN EFFICIENCIES, EXPANDED NEW OR ENHANCED SERVICES BY 25 MILLION AND PROVIDED 56 MILLION DOLLARS IN SURPLUS BACK TO THE TAXPAYERS.
THE FINANCIAL IMPACT IS JUST ONE PART OF THE STORY. THE HUMAN IMPACT IS THE MOST IMPORTANT.  
PART OF MY JOB IS TO HELP PEOPLE ACHIEVE THEIR POTENTIAL -- TO HELP PEOPLE WHO ARE AT THEIR VERY LOWEST TO BECOME AS SELF-SUFFICIENT AS POSSIBLE. TODAY WE ARE SERVING MORE PEOPLE -- WITH BETTER OUTCOMES THROUGH MORE EFFICIENT AND EFFECTIVE SERVICE DELIVERY MODELS
CHANGE IS RARELY EASY … ESPECIALLY IN GOVERNMENT.   BUT AS A LEADER – YOU HAVE TO LEAD -- PEOPLE ARE DEPENDING ON IT.
ONE EXAMPLE HAS ALREADY LED TO SIGNIFICANT AND POSITIVE RESULTS. WHEN I BEGAN AS DHHS DIRECTOR, OUR MILWAUKEE COUNTY BEHAVIORAL HEALTH DIVISION WAS IN THE NEWS FOR MULTIPLE, NEGATIVE REASONS.
I BELIEVED VERY STRONGLY WE COULD TRANSFORM THIS SYSTEM. EVERY STEP WE TOOK COULD BE CONSIDERED RISKY, BECAUSE NONE OF THEM HAD BEEN TAKEN BEFORE – WE STARTED BY DECLARING THE CLOSING OF A LONG-TERM CARE INSTITUTION THAT WAS LITERALLY WAREHOUSING PEOPLE WITH MENTAL ILLNESS FOR DECADES AND IN SOME CASES MOST OF THEIR LIVES.
FIRST AND FOREMOST THIS WAS THE RIGHT THING TO DO. NO LONGER ARE WE WAREHOUSING PEOPLE WITH MENTAL ILLNESS – THESE ARE THE DAYS OF THE PAST
THIS WAS ABOUT GIVING INDIVIDUALS THE OPPORTUNITY TO LIVE IN THE COMMUNITY CLOSE TO THEIR LOVE ONES AND FAMILY – AN OPPORTUNITY THAT IS AFFORDED TO THE REST OF US
THIS IS A HUMAN AND CIVIL RIGHTS ISSUE - YES THIS IS THE LAW -
AND WE HAVE BEEN SUED IN THE PAST FOR INSTITUTIONALIZING PEOPLE THAT SHOULD BE IN A LEAST RESTRICTIVE SETTING IN A COMMUNITY OF THEIR CHOICE
NOW THESE PEOPLE ARE LIVING IN THE COMMUNITY WITH DIGNITY, BETTER OUTCOMES AND IN ACCORDANCE WITH THE LAW.
YES THIS WAS RISKY, BUT IT WAS THE RIGHT THING TO DO AND THE SMART THING TO DO.
AND TODAY, WE ARE DEVELOPING A NEW MODEL THAT WILL BECOME A NATIONAL BEST PRACTICE MODEL FOR BEHAVIORAL HEALTH CARE.
3 -- DEFINE SUCCESS
WHEN YOU ENTER THE WORK WORLD, YOU WILL SEE OPPORTUNITIES TO DO THINGS BETTER. DON'T TAKE THE EXCUSE "…. BECAUSE THIS IS THE WAY WE'VE ALWAYS DONE IT" AS A REASON TO KEEP DOING ANYTHING.
WHAT DOES SUCCESS LOOK LIKE – FOR YOUR LIFE -- FOR YOUR WORK -- FOR THE PEOPLE YOU MAY SERVE?
IN MILWAUKEE COUNTY, WE ARE CREATING A NEW DEFINITION OF SUCCESS FOR OUR JUVENILE JUSTICE SYSTEM – TAKING A SMART-ON-CRIME VS A TOUGH-ON-CRIME APPROACH.
WE BELIEVE THAT BY DEVELOPING YOUTH WITH LIFE SKILLS --WITH SELF-ESTEEM, AND SELF-AWARENESS … WE WILL IMPROVE PUBLIC SAFETY, REDUCE OVERALL CRIME AND GIVE THESE KIDS A CHANCE TO FOLLOW IN YOUR FOOTSTEPS SOMEDAY.
4 -- EMBRACE DIVERSITY
MANY STUDIES OVER THE YEARS, INCLUDING A RECENT REPORT FROM GALLUP SHOW THAT COMPANIES THAT ARE DIVERSE AT ALL LEVELS ARE HEALTHIER PLACES TO WORK AND THEY ARE MORE SUCCESSFUL BECAUSE OF THE DIVERSITY OF IDEAS THAT FLOW UP AND DOWN AND ACROSS THE ORGANIZATION.
THE UNIVERSITY OF WISCONSIN-PARKSIDE IS TO BE COMMENDED FOR ITS DIVERSITY. THIS CAMPUS IS ONE OF THE SMALLER IN TERMS OF SIZE IN THE UW SYSTEM BUT IT IS THE MOST DIVERSE CAMPUS BASED ON THE PERCENTAGE OF STUDENTS. ABOUT 30-PERCENT OF THE STUDENT POPULATION IS DIVERSE. AND THE MAJORITY OF PARKSIDE GRADUATES ENTER THE WORKFORCE AND CONTRIBUTE TO COMPANIES RIGHT HERE IN SOUTHEAST WISCONSIN.
DIVERSITY IS THE LIFE-BLOOD OF ORGANIZATIONS LIKE MINE. WHERE DO IDEAS COME FROM THAT HELP US TRANSFORM LIVES -- PUT PEOPLE TO WORK -- IMPROVE THE QUALITY OF OUR SERVICES, AND BUILD PARTNERSHIPS TO SERVE MORE PEOPLE? THEY COME FROM DIVERSE GROUPS -- SHARING IDEAS AND WORKING TOGETHER. THIS DIVERSITY OF THINKING … THIS ACCEPTANCE AND EMBRACING OF DIFFERENCES IS AT THE FOUNDATION OF OUR VERY NATION.
IT WAS THE PROMISE THAT BROUGHT MY PARENTS HERE NEARLY 50 YEARS AGO … MAKING IT POSSIBLE FOR ME TO BECOME THE HUMAN SERVICES LEADER I AM TODAY.
5 -- DEFINE YOUR VALUES
FINALLY, I SUGGEST YOU TO DEFINE YOUR VALUES. AT THE DEPARTMENT OF HEALTH AND HUMAN SERVICES, THE FIVE VALUES OF
PARTNERSHIP,
RESPECT,
INTEGRITY,
DIVERSITY AND
EXCELLENCE.
THESE VALUES GUIDE OUR WORK EACH AND EVERY DAY. TOGETHER, THE FIRST LETTER OF EACH VALUE, SPELLS THE WORD PRIDE. WE UPHOLD THESE VALUES WITH A LOT OF PRIDE.
IN THE NEWS, WE SEE WHAT HAPPENS WHEN BUSINESSES AND EMPLOYEES ARE MOTIVATED MORE BY PROFIT AND SUCCESS THAN BY DOING THE RIGHT THING. THE DRIVE TO SUCCEED AT THE EXPENSE OF OTHERS, HOWEVER, CAN BE EXTREMELY EXPENSIVE.
I PROMISE YOU, THERE WILL BE SHORT-CUT OPPORTUNITIES TO SUCCESS. BUT IN THE LONG RUN, OPERATING FROM A PLACE OF VALUES WILL BENEFIT YOUR CAREER AND THE BUSINESS OR ORGANIZATION YOU WORK FOR.
THIS IS AN EXCITING DAY FOR ALL OF YOU. EVERY ONE OF YOU HAS OVERCOME SOMETHING TO GET TO THIS PLACE TODAY. USE WHAT YOU HAVE LEARNED TO DO THE RIGHT THING AND TO FIGHT FOR YOUR PLACE IN SOCIETY.
BE PREPARED FOR THIS WORLD TO CONTINUE TO CHANGE … AND KNOW THAT YOU CAN PLAY A PROFOUND ROLE IN MAKING THAT CHANGE … GOOD.
I WANT TO END WITH A QUOTE FROM TOM BROKAW:
QUOTE -- WHEN YOU GET YOUR DEGREES: YOU WILL BE EDUCATED. YOUR CERTIFICATION IS IN YOUR DEGREE. YOU MAY THINK OF IT AS THE TICKET TO THE GOOD LIFE.
LET ME ASK YOU TO THINK OF AN ALTERNATIVE. THINK OF IT AS YOUR TICKET TO CHANGE THE WORLD -- END QUOTE
GO OUT THERE AND UNLEASH YOUR GREATNESS AND CHANGE THE WORLD.
GOOD LUCK AND GOD BLESS YOU.