Computer Science Students Impress at Posters in the Rotunda
Published: March 27, 2014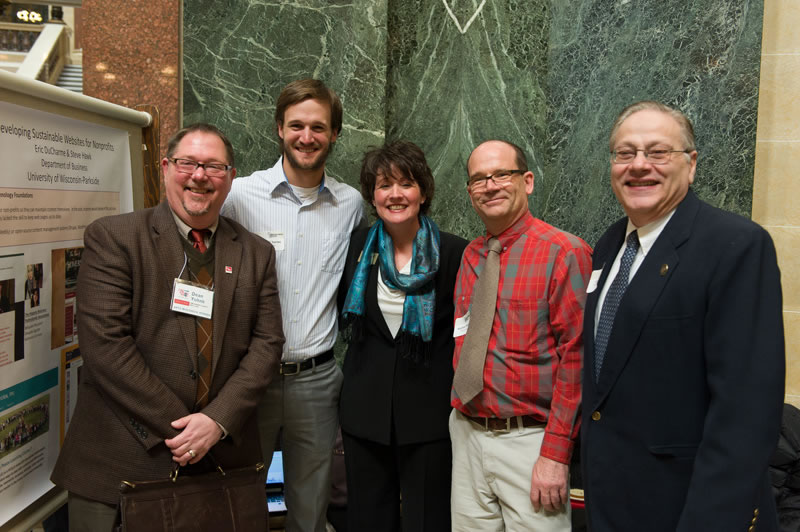 This March called for the annual event, Posters in the Rotunda taking place at the Wisconsin state capitol where students from the UW System present research findings to state legislators, educators and alumni. On Wednesday March 12th, Parkside students presented work that impressed many officials. Several students from the College of Business, Economics, and Computing displayed presentations of a variety of research projects.
Kirsten Thompson presented work completed as part of CSCI 475 Software Engineering. She worked on a project with a team of two other students to develop a mobile application for Dr. David Rodgers in the Parkside Biology department to help Dr. Rodgers and his students collect data about plant species found in Wisconsin forests. The tool allows the user to select the type, quantity, location, and other attributes and it allows the user to save a picture of the specimen as well. This data can then be used later to catalog species density and trends over time.
Christopher Krempp presented work completed as part of CSCI 475 and continued as an independent study. His project worked with a local company, Silver Linings, to develop an interactive web tool for cost estimation. Silver Linings designs custom heat exchangers for data centers, and the tool Krempp developed allows a user to enter their specific information about their data center and get an accurate estimate of the size, cost, and efficiency of a heat exchanger.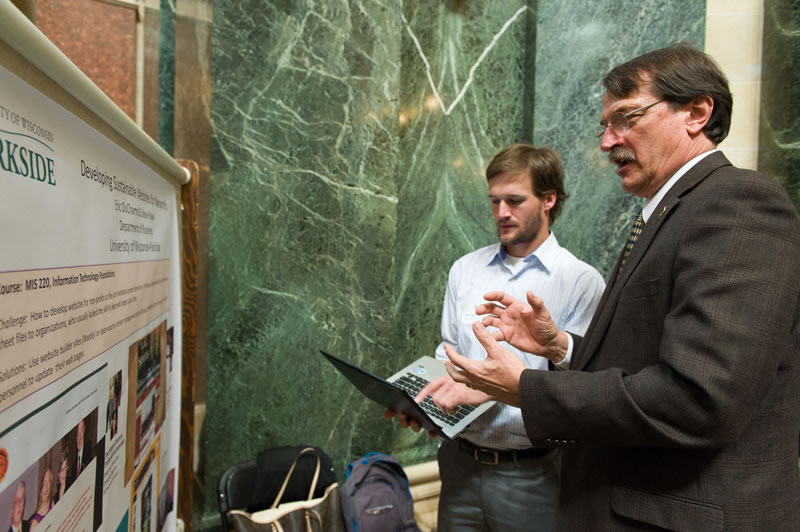 Eric DuCharme presented work done as part of field projects in MIS 220, Information Technology Foundations. DuCharme and other students in four project teams developed websites for The Arc of Racine, Hispanic Business Professional Association, Peace Learning Circles and the Town of Somers. The tools used to deliver the websites made it easier for the personnel of the non-profits to maintain the content on their websites without the need to hire outside experts to do this for them.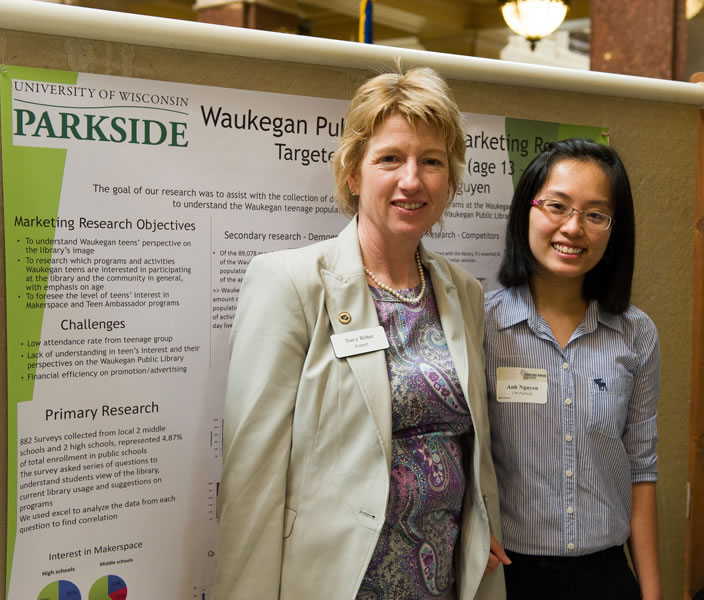 Anh Nguyen presented work performed for the Waukegan Public Library over two semesters for Multi-cultural Marketing (MKT 357) and Market Research (MKT 354) Classes. The teams surveyed over 1100 high school and public school students in Waukegan and also received best practices for public libraries across the nation who are facing immense challenges to remain relevant. The teams provided a number of actionable program recommendations which truly thrilled their client.
Nguyen commented "I never would have thought that my group's research would have been taken so seriously and reviewed so thoroughly by Wisconsin State Legislators. The program allowed me to showcase our work and I believe that we are the future leaders who are ready to make changes."
The poster presentations were very well-received. Most of the state lawmakers who represent this area visited the posters and were impressed by the students' work, including: Bob Wirch, John Lehman, Robin Vos, Samantha Kerkman, Peter Barca, Pat Strachota and Cory Mason.