UW System President Ray Cross Returns to UWP
Published: March 25, 2015
UW System President Ray Cross returned to the University of Wisconsin-Parkside campus Wednesday to provide students, alumni, faculty and staff with an update on the 2015-2017 state of Wisconsin biennial budget process. Cross also shared a vision.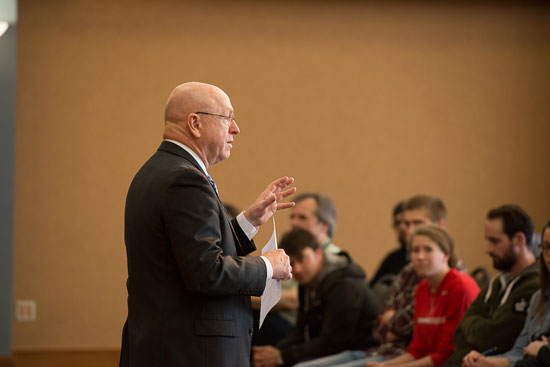 "Part of my job as a leader is to express a vision of what the future can be like," Cross said. "In a way, I hope, that instills hope. I'm envisioning a UW System in the future that I call the UW System 3.0 -- a UW System of the future that is not only efficient, but effective. A system measured not just by the students and faculty who work there, but by people outside of that industry, as the best in the world.
"I envision a system that is incredibly creative and has the flexibility to do things it has never been able to do in the past and is willing to do so. And I envision a system that serves as a magnet for the best in the world who compete to work here.
"I think that's the UW System that I want to be a part of."

Cross also answered questions from faculty and staff that had been submitted in advance. He first addressed the success of advocacy efforts at UW-Parkside and other campus locations in the UW System. 
"Every legislator, regardless of party, is sympathetic to reducing the cut to our budget," Cross said. "So something is working. What we want to do now is strengthen the advocacy role. If you choose to be engaged, now is the time to concentrate your requests to legislators." 
Governor Scott Walker's budget proposal called for reducing UW System support by $300 million for the 2015-2017 biennium. Cross said the Wisconsin Legislature, which now has control of the governor's budget proposal, is faced with a difficult challenge.
"There are two big challenges," Cross said. "One of them is that the Legislature is faced with budget deficit. There are non-discretionary items in the budget that are pushing them, whether they like it or not." 
As an example, Cross said the Legislature must deal with a Medicaid increase of $800 million. "We must understand the situation they are in," Cross said. "Their revenue stream is not growing as fast as their forced expenses."