UW-Parkside to enter Lake Andrea Dragonfest 2019
Published: June 27, 2019
By:

UW-Parkside Marketing & Communications
SOMERS - UW-Parkside is looking for interested and excited, students, faculty, and staff to join our Dragon Boat Team for a day as we compete as participants in the Lake Andrea Dragonfest! Dragonfest is held at Prairie Springs Park on Lake Andrea in Pleasant Prairie on Saturday, July 13, 2019.
UW-Parkside has participated in the race for many years and we're excited to come back this summer! Like past years, we will be competing against other local high schools and colleges, community organizations/groups. Teams of 20 paddlers, a drummer and steersperson race in authentic Hong Kong-style, 46-foot-long dragon boats. All skill levels and physiques can paddle, making it the ultimate team building sport, requiring paddling in sync, more than power, to win.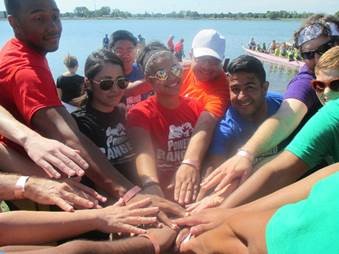 Most paddlers have no previous experience in a dragon boat, so let this be your first! There will be a Practice Day to be announced before the Race Day. This is a great way to meet other students, staff, and faculty and engage with the local community.
here is no charge to participants. T-shirt and food donation of $10 is appreciated, however. Invite your family to come cheer on the Parkside Team – "The Powered Rangers"!

More information is provided in the links below:

To view what a dragon boat race looks like, check out this video on YouTube:
Video

Lake Andrea Dragonfest website can be found below:
Dragonfest Site

If you are interested in participating, please click on the link below to sign up. Please note that you must register via the Qualtrics link to participate in the event. 
Registration Form

After you sign up, we will then contact you with more information including available practice times. Go Go Powered Rangers!