Dr. Robert Ducoffe Named as Provost
Published: December 4, 2015
Officials at the University of Wisconsin-Parkside announced the appointment of Dr. Robert Ducoffe as provost and vice chancellor. Dr. Ducoffe is currently dean of the Judd Leighton School of Business and Economics at Indiana University South Bend.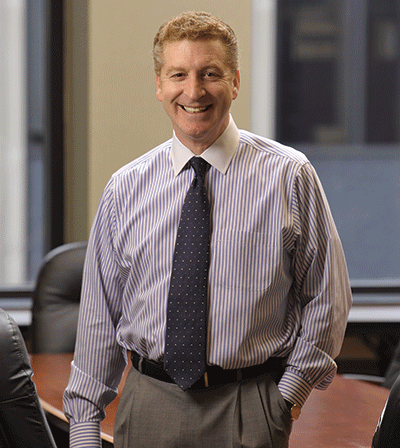 Dr. Robert Ducoffe

"During the entire search-and-screen process, including the on-campus open forums and in private conversations, it was clear that Dr. Ducoffe values and embraces our mission and vision," said UW-Parkside Chancellor Debbie Ford. "In his current position, he has helped IU South Bend establish a true sense of purpose and relevance in the community. I know he is excited to continue that legacy here in southeastern Wisconsin."  
At IU South Bend, Dr. Ducoffe led his colleagues in maintaining students' extraordinary learning outcomes on national examinations measuring knowledge of business and economics; in achieving historic enrollment levels; in growing student scholarships; as well as increasing first-to-second year retention rates. He also led the business school's successful 2015 strategic planning and maintenance of the Association to Advance Collegiate Schools of Business (AACSB International) accreditation and authored the AACSB International Fifth-Year Maintenance Report.  
"The opportunity to have an impact in a new role in a great university with a similar mission is what makes this so exciting!" The communities UW Parkside serves, like those in north central Indiana, need more university-educated graduates to ensure growth and prosperity," Dr. Ducoffe said. "Our students who graduate have the possibilities we all seek for meaningful and fulfilling lives and careers. Combine that with an outstanding, highly credentialed faculty, and it's quite evident why Parkside is such an important resource."
In 2012, Dr. Ducoffe helped secure a single-donor gift of $4 million to name the Judd Leighton School of Business and Economics, the largest single-donor gift in IU South Bend history to that time. The funding supports undergraduate scholarships, graduate fellowships, student success, experiential learning, and faculty development. Dr. Ducoffe, through collaboration with his colleagues, developed an innovative strategy to offer market salaries to recruit new faculty and merit-based equity adjustments to senior colleagues that over time have yielded competitive salaries across the Leighton School.  
Dr. Lori Allen, associate professor of chemistry at UW-Parkside and chair of the search and screen committee, acknowledged the work of committee members in finding the right choice for UW-Parkside. "The committee members were meritorious in their dedication to this important task and I thank them for that effort," Allen said. "The timing of the search and the participation and support of the committee and the broader campus throughout the process produced a very strong candidate pool from which Dr. Ducoffe emerged as the best fit for our university."

Outside of his responsibilities at IU South Bend, Dr. Ducoffe has chaired AACSB peer review teams for business schools at the University of Southern Maine, Shippensburg University, and the University of Illinois at Springfield. He conducted strategic planning facilitation for South Bend Civil Rights Heritage Center and the Greater South Bend-Mishawaka Association of Realtors and served as board chair for the Michiana YMCA.

He will take over for Dr. Fred Ebeid, who has served UW-Parkside as interim provost and vice chancellor for more than three years. Dr. Ducoffe will join the UW-Parkside learning community in spring 2016.
Dr. Ducoffe earned a Ph.D. in mass media (now media and information studies) from Michigan State University, a master's in communications management from the University of Southern California, and a bachelor's in political science from McGill University. He and his spouse, Sandy, an adjunct professor of marketing in the business school at Notre Dame, have five children, three boys and two girls.