Student Perspectives: Estefania Alonso Reflects on her Academic Journey as a First-Generation Student
Published: January 31, 2023
By:

Morgan Niesen, Communications Graduate Assistant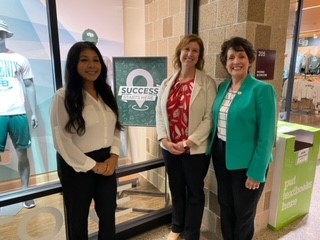 Estefania Alonso is extremely passionate about dedicating her studies and future to healthcare and medicine, especially within underrepresented communities. Not only is she excelling academically, but she is also involved in campus life and the surrounding community.
Estefania is a first-generation Mexican American student here at UW-Parkside. She transferred to UW-Parkside after her freshman year of college and declared her major in Biology with a minor in Chemistry.
On campus, Estefania is a member of "Latinos Unidos", a multicultural student organization, which she has been a part of since she transferred to UW-Parkside. The intent of this organization is to establish a community of support where educational experience can be shared, with the goal of providing cultural education and support as Latino Students.
Estefania explains that she "found comfort in being around people who valued advocating for the voices of the underrepresented. Coming into a space where I didn't recognize any body, meeting people in this club with similar backgrounds made me feel welcome." Being a first-generation pre-med student, Estefania also wisely joined the pre-health club, which has helped provide some guidance and insight.
Not only is she involved in these on-campus organizations but is also a part of a program called Rural and Urban Scholars in Community Health (RUSCH) Program from UW-Madison. Estefania says, "The RUSCH program has been the most meaningful and valuable thing I have become a part of in undergrad. It has provided me with guidance, knowledge, insight, and mentorship through this premed path. I recently completed the first summer of this program and was placed at my top choice internship: Medical College of Wisconsin – Cancer Center. This experience with clinical research in Milwaukee completely changed the way I see the medical field and how I want to carry out my career goals. I became aware of just how many professions and areas of medicine there are for us to aspire to."
Estefania has faced and overcome different challenges throughout her educational path thus far. She shares the most challenging thing she's had to overcome as a student, saying "As a student, the hardest thing I have had to overcome is the fact that my journey is not identical to any of my peers. Accepting that we all have different stressors in our lives and different academic outcomes has been difficult."
Another challenge Estefania has had to face is being a fist generation college student. She describes, "this learning process has often been lonely and tough to handle. Especially making big decisions like where I was going to go to college, transferring, or figuring out my timeline. Not having anyone in my life I could easily turn to and ask for advice with things such as FAFSA, taxes, loans, college applications, or courses. I often had to go that extra mile and try to figure these things out as best as I could to not make a mistake."
Estefania has without a doubt overcome the challenges she has been faced with in her academic career and has strived to be as successful as possible. She says that her biggest motivation is focusing on her goals. This is what pushes her to be so resilient and hardworking.
Estefania offers advice to her peers saying, "I would tell other college students to always strive to be as thorough as they can with anything they do. This takes great effort, attention, and time, but in the end, you will only get out what you put in! If any task is truly meaningful to you, all of these factors will be worth it. When it comes to certain levels of education, there will certainly be sacrifices you have to make, but it's important to have these conversations with yourself to establish what is worth your time and energy, because these are the things that will receive the biggest payoff."