Faculty and Staff Fall 2022 Convocation Awards
Published: August 31, 2022
UW-Parkside is proud to present our Fall 2022 faculty and staff convocation award winners:
Academic Staff Distinguished Service Award - Oliver Johnson
University Staff Distinguished Service Award - April Puryear and Janine Chiaverotti
Faculty Distinguished Service Award - Theresa Castor
Excellence in Advising Award -  Katie Abbott
Community Engaged Learning and Research Award- Penny Lyter
Excellence in Research and Creative Activity Award – Hom Kandel
Early Career Excellence in Teaching Award- Madhumita Banerjee
Early Career Excellence in Research and Creative Activity Award- Meredith McGinley
Stella C. Gray Teaching Excellence Awards - Lisa Marie Barber and David Higgs
*Note: You can find last year's award winners here.
---
Academic Staff Distinguished Service Award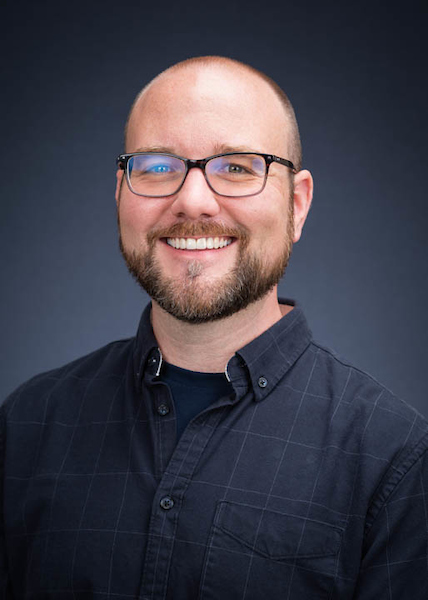 Oliver Johnson | Marketing Coordinator
Oliver Johnson is a marketing and communications professional who specializes in the arts and education. Oliver is a beloved member of Parkside's University Relations team having served as marketing coordinator for the College of Arts and Humanities, Professional and Continuing Education, and many student-serving areas such as advising, tutoring, career services, community-based learning, internships, and academic success programs. Prior to working at Parkside, Oliver led a nonprofit arts organization for six years and co-owned a café and gallery that provided opportunities to emerging artists and formerly incarcerated individuals. Oliver is dedicated to his community, as an engaged member and volunteer of the Young Nonprofit Professionals Network of Milwaukee, Urban Ecology Center, Milwaukee Riverkeepers, and chair of marketing for the Milwaukee Children's Choir. Although Oliver is leaving Parkside to lead marketing and communications for UW-Milwaukee's Peck School of the Arts and the School of Architecture and Urban Planning, he wishes to thank the people at Parkside who make it a special place to learn and to serve. He congratulates his fellow nominees, and dedicates this award to the countless people who enrich the lives of Parkside students through their work, whether behind the scenes or in front of a classroom. Oliver is many things to Parkside: a patron, donor, advocate, and alumnus. He is, and will always be, a Ranger.
---
University Staff Distinguished Service Award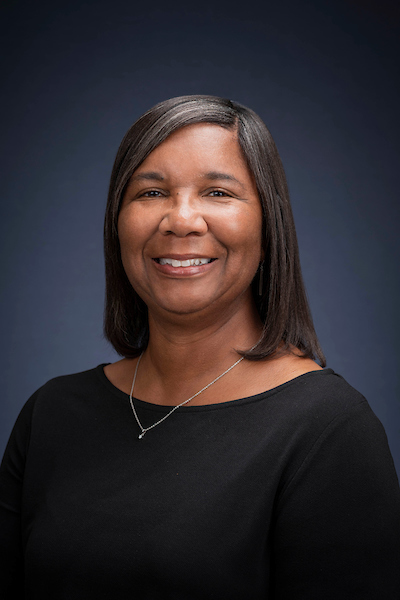 April Puryear | University Services Program Associate

April Puryear – affectionately known as 'Miss April' to our students – is a warm, friendly and familiar face not only to students, but to everyone on campus. April recently has taken on administrative responsibilities in Campus Activities and Engagement on top of her already busy role as a Program Associate for OMSA. She plays a key role in helping students on campus by making sure they know where to go, how to get to events, or simply being a listening ear. She also helps out with special multicultural campus events while always providing a welcoming attitude. April has a special way about her where she always makes people feel like they belong. April is a proud alum, and we in turn are proud to honor her with the University Staff Distinguished Service Award.
---

University Staff Distinguished Service Award
Janine Chiaverotti | Graduation Services Coordinator
Janine Chiaverotti has been a Parkside employee for 13 years and recently transferred from the Admissions office to the Registrar's office. Janine's co-workers warmly describe her as someone who exemplifies positivity with an immense desire to serve students. It's no secret that the entire Admissions office looks forward to her jovial personality and optimistic outlook on life; it's just one of the many reasons everyone looks up to her. Janine has mastered the Transfer Student realm in Admissions and has trained over half of the Operations staff. She was also the key organizer of the Parkside Admissions Summer Olympics where she goes above and beyond of what is asked of her. She appreciates the satisfaction of being able to positively impact students' lives first-hand and nothing is more evident of this than two of her proudest accomplishments – her two daughters – both UW-Parkside graduates.
---
Faculty Distinguished Service Award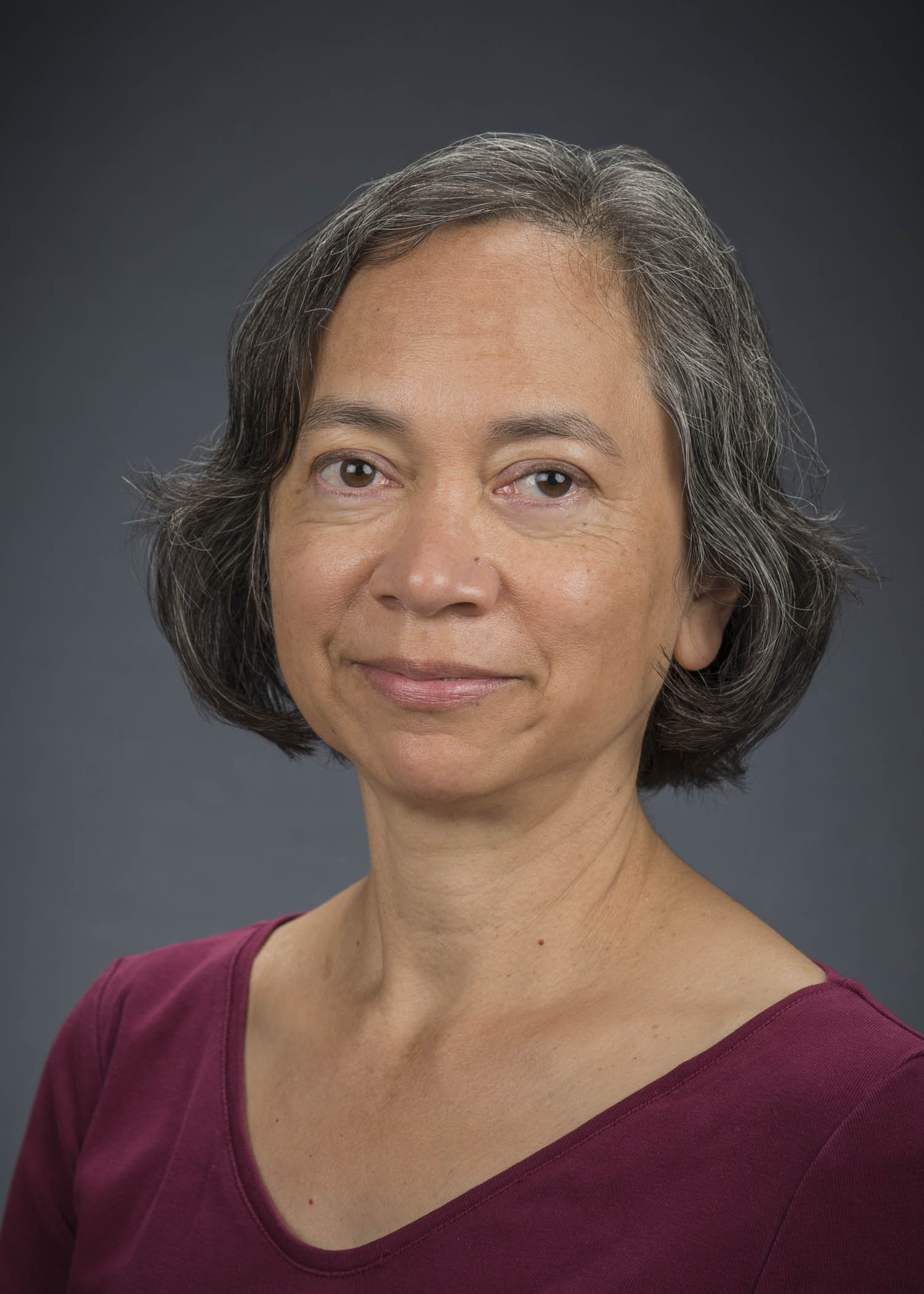 Theresa Castor | Professor, Communication Department
Dr. Theresa Castor is a Professor of Communications and the Faculty Director of Internships at the University of Wisconsin-Parkside. She teaches courses in organizational communication, professional communication, and health communication, among other areas. Her research is on organizational decision-making, crisis communication, and language and social interaction.
She is a Principal Investigator, along with Drs. Peggy James and Melissa Gregg, for a National Science Foundation Planning grant on "Essential Decision-Making Skills for the Future Workforce in Smart Manufacturing."  She is the author of Climate Risks as Organizational Problems and co-editor of Water, Rhetoric, and Social Justice: A Critical Confluence.
Castor is also a board member of the International Association for Dialogue Analysis and on the editorial review board for Management Communication Quarterly. Dr. Castor has published in Management Communication Quarterly, Language and Dialogue, the Journal of Pragmatics, Critical Sociology, Communication Research and Practice, and the Journal of Business Communication, among other journals and edited collections. In addition to receiving the 2021 UW-Parkside Excellence in Research and Creative Activity award, she has also received the 2019 Community-Engaged Learning and Research award, and has received numerous awards for her research through the International Communication Association. She is a member of the inaugural group of National Society for Experiential Education Fellows, and an invited keynote presenter for the 2021 International Association for Dialogue Analysis conference.
---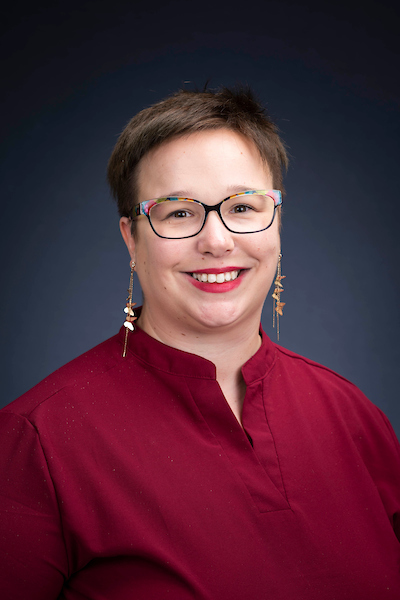 Excellence in Advising Award
Katie Abbott | Academic Advisor, College of Arts & Humanities
Katie Abbott-Davis is a proud alumna of the University of Wisconsin-Parkside who has been grateful to return to her alma matter as an advisor for the College of Arts and Humanities. As a student, Katie held leadership positions across campus, including three years as the Women's Center Coordinator and a year as a psychology research assistant. Katie earned a Bachelor of Science in psychology and a Bachelor of Arts in English.
As an advisor, Katie loves working with students to build and support their paths to success! She also supports and connects with alumni as the Vice President for the Parkside Employee Alumni Group. At home, Katie and her wife have rescued over 50 dogs in the past two years through their rescue work and are looking forward to even more.
---
Community Engaged Learning and Research Award
Penny Lyter | Faculty Director of Community-Based Learning | Academic Director of Master of Science in Health and Wellness Management | Professor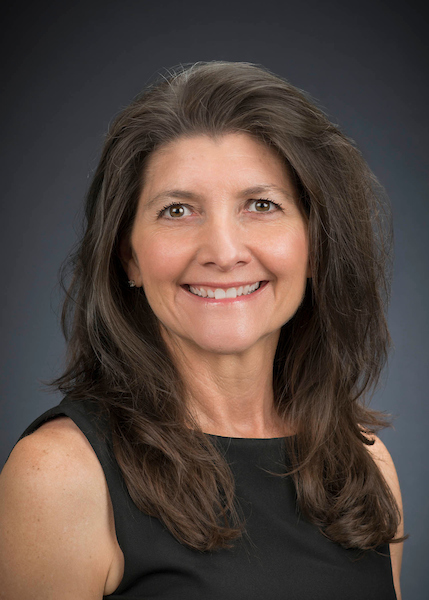 Dr. Penny Lyter has been not only a committed practitioner of community engaged learning and research throughout her career, but also a leader and advocate for the growth and expansion of community based experiential learning at UW-Parkside. She led her department (HKSM) in imbedding required fieldwork/internships and personally supervised over 250 students in these experiences. She designed and developed partnerships for four community-based learning courses, which engaged thousands of students over time. She created longstanding partnerships with community organizations, including the Women's Resource Center in Racine where her students did CBL projects and where she serves as volunteer board member working to address domestic violence in the community. From 2017-2022, Dr. Lyter served as UW-Parkside's Faculty Director for CBLR. In this role, she mentored dozens of faculty members and expanded their professional development in CBL to a year-round Fellows program. Dr. Lyter was also outstanding in delivering faculty training, making it engaging and fun while modeling successful reflection practices for the participants to use in their own courses. She was instrumental in UW-Parkside's efforts to increase quality and equity in community-based learning. She led the CBL Steering Committee in designing common learning goals for CBL and creating a designation and assessment process for CBL courses. It is her passion for student success that led Dr. Lyter to community-based learning; moreover, her unique energy, compassion, insight and expertise made her an outstanding practitioner and leader in the field.
---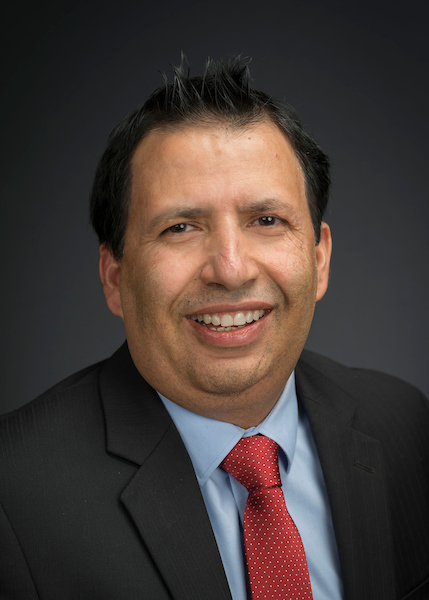 Excellence in Research and Creative Activity Award
Hom Kandel | Associate Professor, Physics Department | Director of the Applied Physics Laboratory
Dr. Hom "Henry" Kandel is an Associate Professor of Physics and Director of the Applied Physics Laboratory at the University of Wisconsin-Parkside. He Joined UW-Parkside in 2016 after serving as a Research Scientist at the National High Magnetic Field Laboratory at Florida State University. He has taught physics, mathematics, and computer science courses for over 20 years in the US and overseas.
Dr. Kandel has been named PI or Co-PI in over $2 million grants, including from the US Department of Energy, National Science Foundation, and UW System, by collaborating with researchers from other universities. He has published over 30 peer-reviewed journal papers, 2 granted US patents, and 50 conference talks and presentations, including many with his students. One of his patented inventions was applied to build the world's strongest superconducting magnet.
He has mentored over 15 students and has peer-reviewed substantial journal articles and grant proposals, including from the US Department of Energy. He has a track record of high-quality research and student mentorship, as evidenced by two first-place awards in the 2021 WiSys/UW System Statewide Research and innovation competition and WiSys quick pitch competition by a student and his published work with another student. Dr. Kandel serves as the Editor of an international journal paper and as the Faculty Advisor to the Parkside Journal of Science. He is an active member of the American Physical Society and is also involved in educational outreach in Kenosha and Racine communities.
---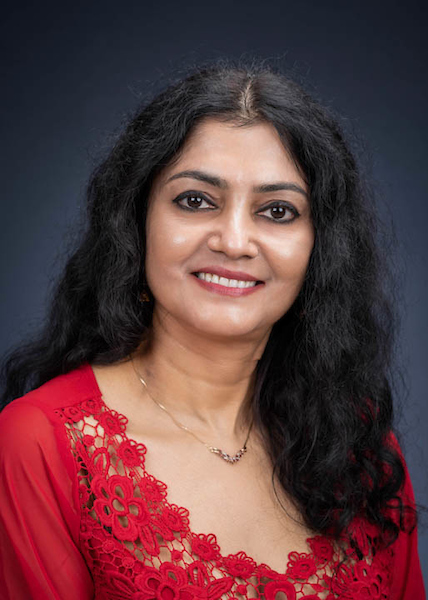 Early Career Excellence in Teaching Award
Madhumita Banerjee | Assistant Professor, Sociology Department

Dr. Madhumita (Mita) Banerjee is an Assistant Professor of Sociology at the University of Wisconsin - Parkside. She teaches courses in Social Inequality, Public Health, Sociology of Education, Statistics, and Research Methods at the undergraduate level and Data Visualization courses in the Applied Professional Studies master's program (MAPS). Her current research interest lies in gaining insight into factors that motivate and deter underserved and underrepresented students in choosing online courses and the areas of improvement necessary to enhance their online learning experience. Dr. Banerjee is also the Academic Director of the Sociology Online Degree Completion Program.
---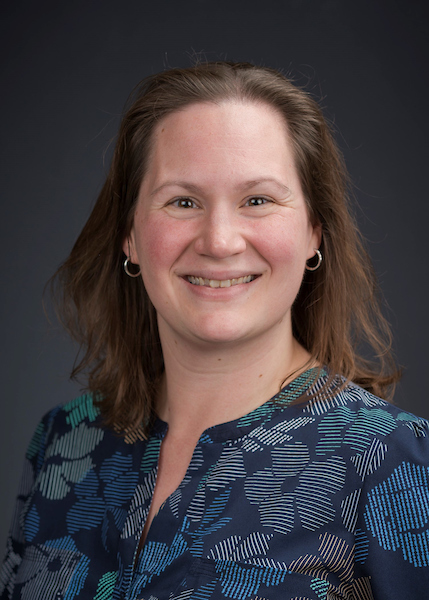 Early Career Excellence in Research and Creative Activity Award
Meredith McGinley | Assistant Professor, Psychology Department
Dr. Meredith McGinley is an Assistant Professor of Psychology at the University of Wisconsin-Parkside. She teaches courses in developmental psychology, introductory psychology, and statistics. Her research centers on the social, emotional, and cultural influences on moral development and mental and behavioral health across the lifespan. Within these investigations, she also focuses on the application of advanced statistics and establishing the psychometric properties of measurement tools.
She is currently a Co-Investigator on a NIH grant entitled "Workplace Harassment, Macro-Level Stressors, Substance Use and Health Outcomes: A Long-Term Follow Up." Since her arrival at UW-Parkside in Fall 2017, she has published twelve journal articles, and was the first-author on six of these publications. Additionally, she was invited to discuss her research at the 2019 Moral Development preconference, and her work examining the effects of helicopter parenting on prosocial behaviors has been featured in media articles.
McGinley also serves as an associate editor at Psychological Reports and on the editorial review boards at the Journal of Youth and Adolescence, the Journal of Genetic Psychology, and the Journal of Applied Developmental Psychology. She is currently co-editing two special issues at the Journal of Social and Personal Relationships and Social Sciences.
---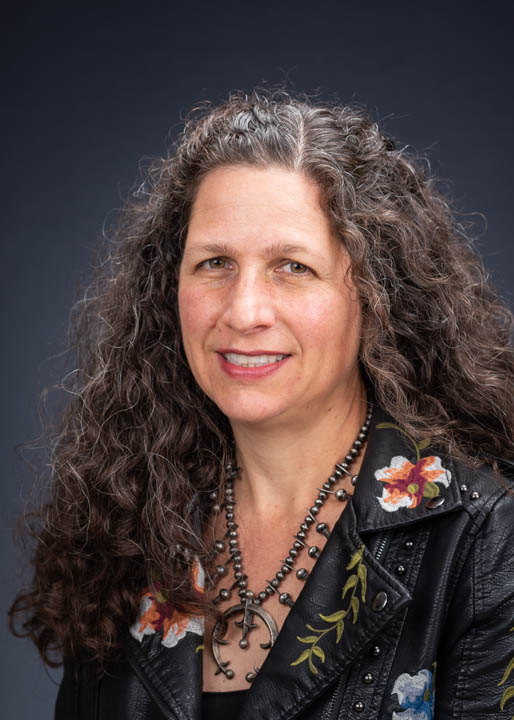 Stella C. Gray Teaching Excellence Award
Lisa Marie Barber– Professor of Art | Director of Liberal Studies | Academic Director of UW Collaborative AAS
Barber earned her Bachelor's of Science in Sociology from Northern Arizona University and Master's of Fine Art from the University of Texas at Austin. She has also served as a long-term substitute teacher in large public high schools in Arizona and California, led youth art camps in Texas, was an adjunct at a community college, and taught three years as a fulltime lecturer at a private university in the San Francisco Bay Area before coming to UW-Parkside. Barber loves teaching. For her, it's never been just about having a job that pays artist bills; it's part of who she is, and it's a vocation proudly held by many in her family.
A Full Professor in the Department of Art and Design, Barber has taught Ceramics, Drawing, Life Drawing, 3D Design, Professional Practice, and various Senior Seminar courses. She created, researched, and launched a new General Education Diversity course where she shares her love for street art, fashion, and the Mexican American art. Barber also serves as the Liberal Studies Program Director, Parkside's Academic Director for the UW Collaborative Online Associate of Arts and Sciences, the College of Arts and Humanities Community Arts Liaison, and frequent Chair of the Committee on Academic Planning. In 2016, she received Parkside's Faculty Distinguished Service Award.
---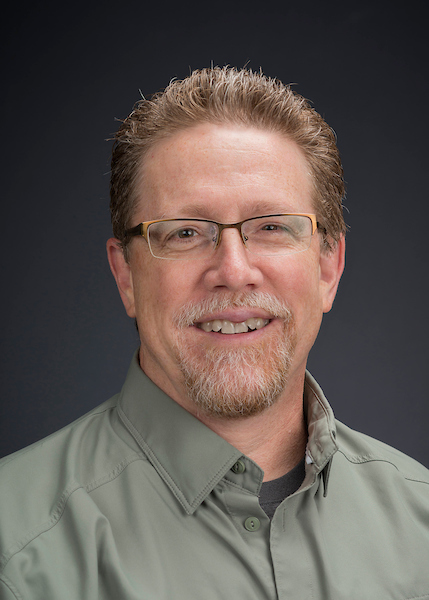 Stella C. Gray Teaching Excellence Award
David Higgs- Professor of Biological Sciences
 
David Higgs is a Full Professor in the Department of Biological Sciences, where he has been a faculty member for the past 23 years. For six of those years, he was Departmental Chair. David has taught a wide range of courses, including a science general education course, an introductory course in biological sciences, Sophomore-level genetics lecture and laboratory courses, upper-level undergraduate lecture and laboratory courses in molecular biology and plant physiology, and graduate-level Masters of Science courses. He emphasizes inquiry-based learning through practical and hands-on activities with students. 
Higgs is a strong advocate for student involvement in research and creative activities. For this, he works collaboratively with undergraduate and graduate students in his research laboratory. His field of research is in the areas of genetics, molecular biology, and gene regulation with a focus on studying photosynthesis and nitrogen metabolism in green algae and plants. He also organizes, promotes, and supports students across UW-Parkside to attend and present at local, state, and national student conferences. 
Higgs earned his B.S. in Genetics and Cell Biology at the University of Minnesota, Twin Cities; Ph.D. in Molecular, Cellular, and Developmental Biology at Iowa State University; and Postdoctoral training at the Boyce Thompson Institute for Plant Research at Cornell University.