Griselda Feliciano Rangers in Action I.D.E.A.
Published: September 30, 2015
What diversity means to Griselda Feliciano

Diversity means having differences, and this is great, however it is inclusion that provides context to diversity. 
Diversity and inclusion give us the opportunity to learn from each other. In interacting with individuals from diverse backgrounds we can seek to understand and celebrate our differences. 
Diversity, when paired with inclusion, is a wonderful opportunity for growth. I am grateful to be a part of the diverse community here at UW-Parkside. It is a privilege to get to know and learn from our students, faculty, and staff.
Griselda joined the UW-Parkside learning community August 2013 as a residence hall manager for Pike River Suites. She earned her bachelor's degree in political science from Dominican University and an M.B.A. with emphasis in project management from Saint Xavier University.
Congratulations, Griselda!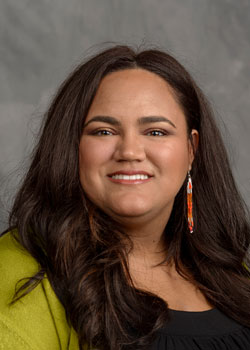 The University of Wisconsin-Parkside learning community is one of the most diverse in the entire UW System. It is the diversity that enhances and broadens the educational experience UW-Parkside students enjoy and from which they benefit.
The UW-Parkside Rangers in Action: I.D.E.A. (Inclusion, Diversity, Equity, and Accountability) Leadership Champion Awards, sponsored by the Office of Diversity and Inclusion and the Inclusive Excellence Committee, recognize individuals dedicated to ensuring that UW-Parkside is place where diversity and inclusion efforts are intentionally integrated into the core aspects of our campus.