UW-Parkside's Uncovering Alternative History Program Inspires Students through Unique Experiences
Published: August 10, 2022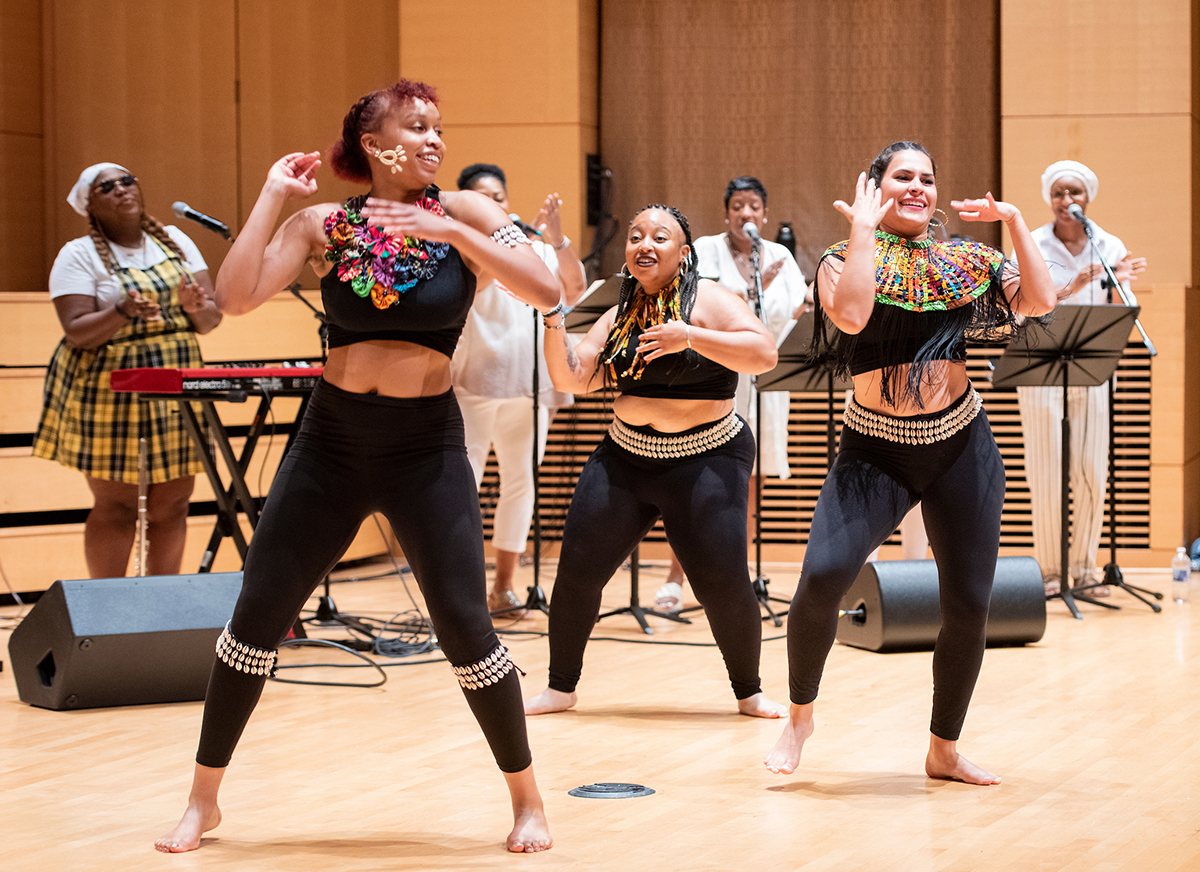 The Rita came alive with music, dance, and color to the delight of students and teachers in the African American History class. In addition to informative and unique classroom sessions, UW-Parkside's uncovering Alternative Histories program employed a variety of innovative and engaging interactive learning sessions. Employing the mediums of dance and music, the program provided an invigorating learning experience that allowed students to learn while expressing themselves and actively participating in the learning process.
The class featured dance studio sessions where students could learn different styles of dance and express themselves. The culmination of the individual sessions was the Hip Hop DNA concert performed by Flutes at Dawn where students were invited to join the professional dancers at the end of the show to use the skills they had learned. Flutes at Dawn is a not for profit organization that specializes in providing high-quality education and mentorship through vulnerable communication, cultural relevance, and shared positive experiences.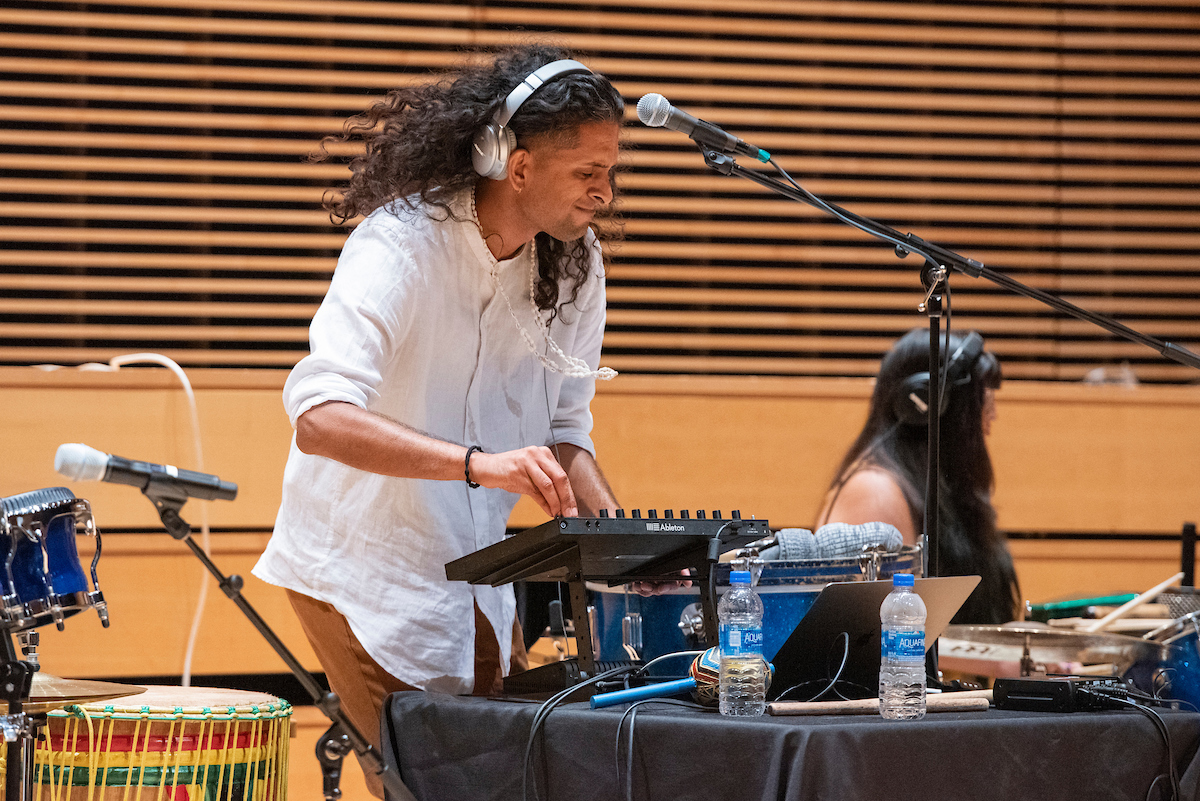 Founder, Director, and Instructor Kiran Vedula is an Indian-American musician, producer, and educator who combines hip-hop and experimental electronic music with traditional folk influences from around the world. He creates compositions, performances, and youth programs that are entertaining with a focus on studying history and building community. He founded the nonprofit org Flutes at Dawn in 2021 to provide high quality media-based mentorship for young people ages 8-24.
Vedula explains, "My favorite thing was seeing and hearing the students recognizing and singing along with the songs during my talk and the performance. It proved that those songs (among many others) have a lasting quality of nostalgia and importance in the culture. It's all about connecting with people and creating a sense of belonging."
The goal of the Hip Hop DNA program is to demonstrate the richness of Hip Hop music, dance and culture beyond the images of violence, sex, drugs, and crime. The show was also designed to exhibit how Hip Hop is part of the lineage of African American music and dance from the Blues and Jazz, to Rock, R&B, Funk, Soul, and Disco; and how that lineage still maintains characteristic roots that trace back to African traditions, and Afro-Latin diasporic traditions throughout the Caribbean, Central America, and South America. The show illustrated the influences from Asian and European traditions while presenting the information in an accessible, entertaining, and interactive format that engages a wide range of ages and musical tastes.
Vedula explains that while this was the first time Flutes at Dawn had conducted a program with this particular format, they found it to be a positive experience for everyone and would love to use this format again in the future. "This was the first time presenting Hip Hop DNA in an academic setting. The overall format of workshops the day before and then the talk and performance were such a success, it's now the model for how I want to continue building. I'd love to take this on the road, a college tour, starting with the whole UW system," Vedula says. 
Afro-Latin Dance and Drums workshop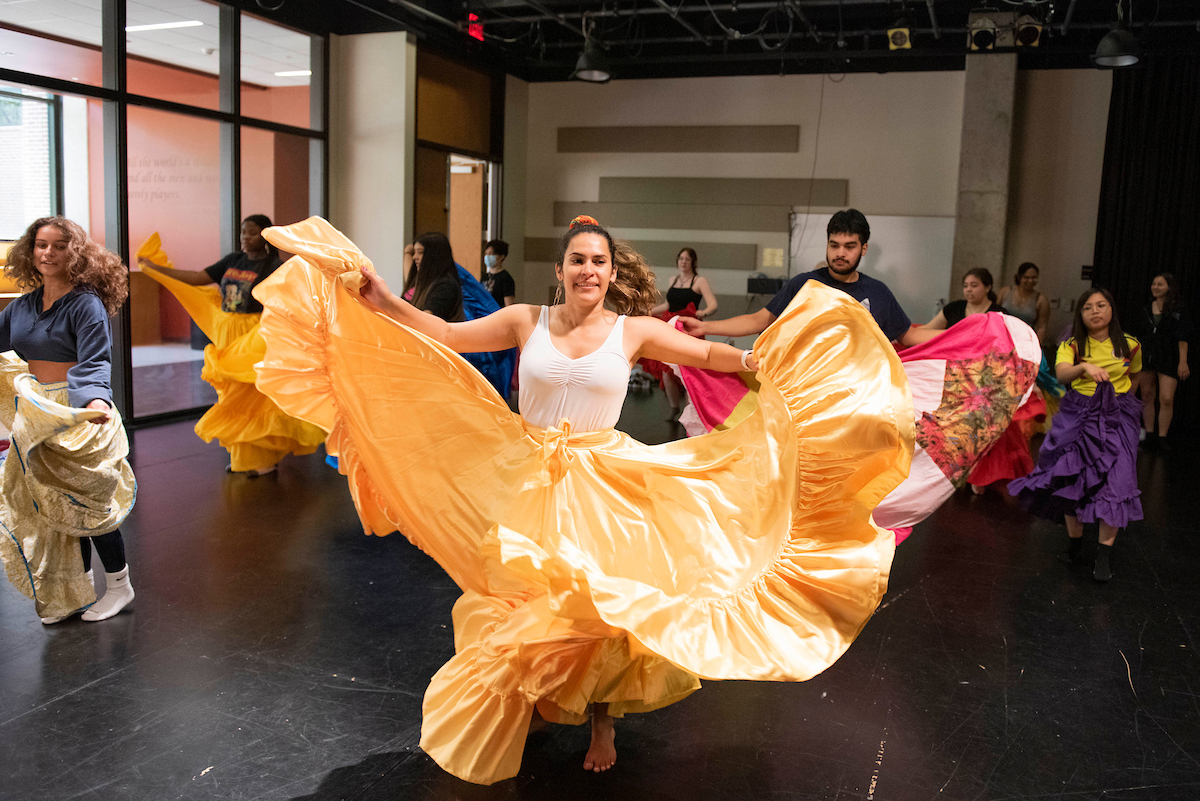 Students learned the Bomba Sica' (from Puerto Rico) from Karlies Kelley, MFA (UW-Milwaukee), founder and director of Panadanza Dance Company, a community-based organization focused on Afro-Latin diasporic dance and live music. Panadanza Dance Company strives to create belonging and healing spaces for youth groups and adult groups.
Kelley was joined by Bony Benavides, MFA, freelance performer and educator specializing in Latin percussion, working with groups including Bembe Drum and Dance and De La Buena. Benavides, who is originally from Colombia, is also a UW-Parkside Alumni. They have both worked in traditional Bomba settings and more Modern interpretations. The rhythms, song, dresses, and dancing in the show were as close to traditional as possible.
Hip Hop Dance session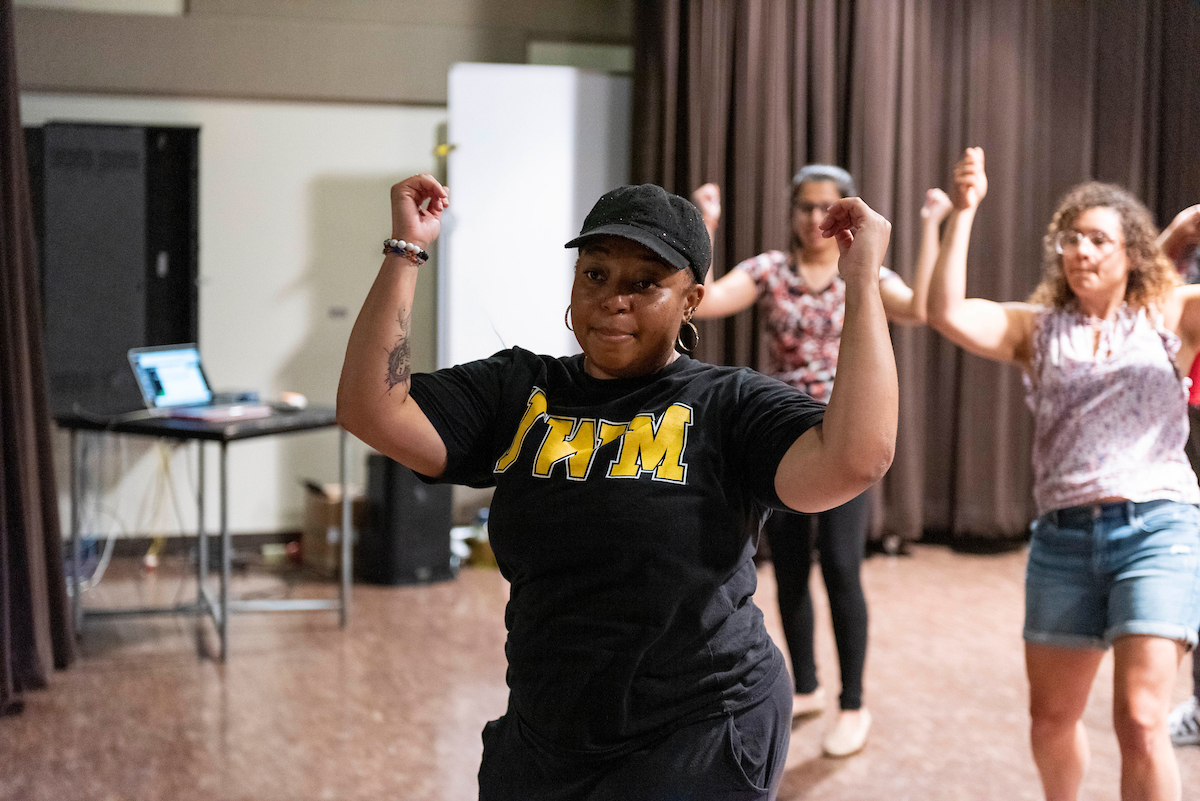 Kira Hogan, an alum of UW-Milwaukee, youth worker, dancer, and teacher, from Madison led the Hip Hop dance session. Hogan created the choreography was by using a combination of moves from the show and other moves related to the songs she used in class. The main track was "Mask Off" by Future, which is also part of the show and some of the choreography in class was created during the class through improvisation with the students and basing it off of their own abilities and vibe.
Beat Making Session
There was also a beat making session led by Vedula in which students learned about the genesis and development of hip hop music production. Each student in the class made their own beat using the same 5 elements. They learned about chopping and manipulating samples, and creating different patterns within a 4/4 grid, and learned about ways to engage with the community.
Hip Hop DNA Concert
The concert featured music from three cultures. The Afro-Cuban "Son Clave" rhythm, which originated in West Africa, is directly connected to a very common/iconic kick drum pattern in many hit hip hop/rap songs. Started with "Chan Chan" by Buena Vista Social Club and transitioned into "Teach Me How to Dougie" and "Up" by Cardi B.

To begin the show, dancers and drummers performed the West African Guinean rhythm called Sinte which was mashed up with "This is America" by Childish Gambino. Sinte is a celebration dance and rhythm. Bomba Sica' from the classes was part of the performance as well as tap dancing and various forms of modern hip hop dance, including Trap, New Orleans Bounce, and social media trend dances.
Afro-Latin Dance and Drums Workshop