UW-Parkside Faculty and Staff Address Food Insecurity on Campus
Published: August 11, 2023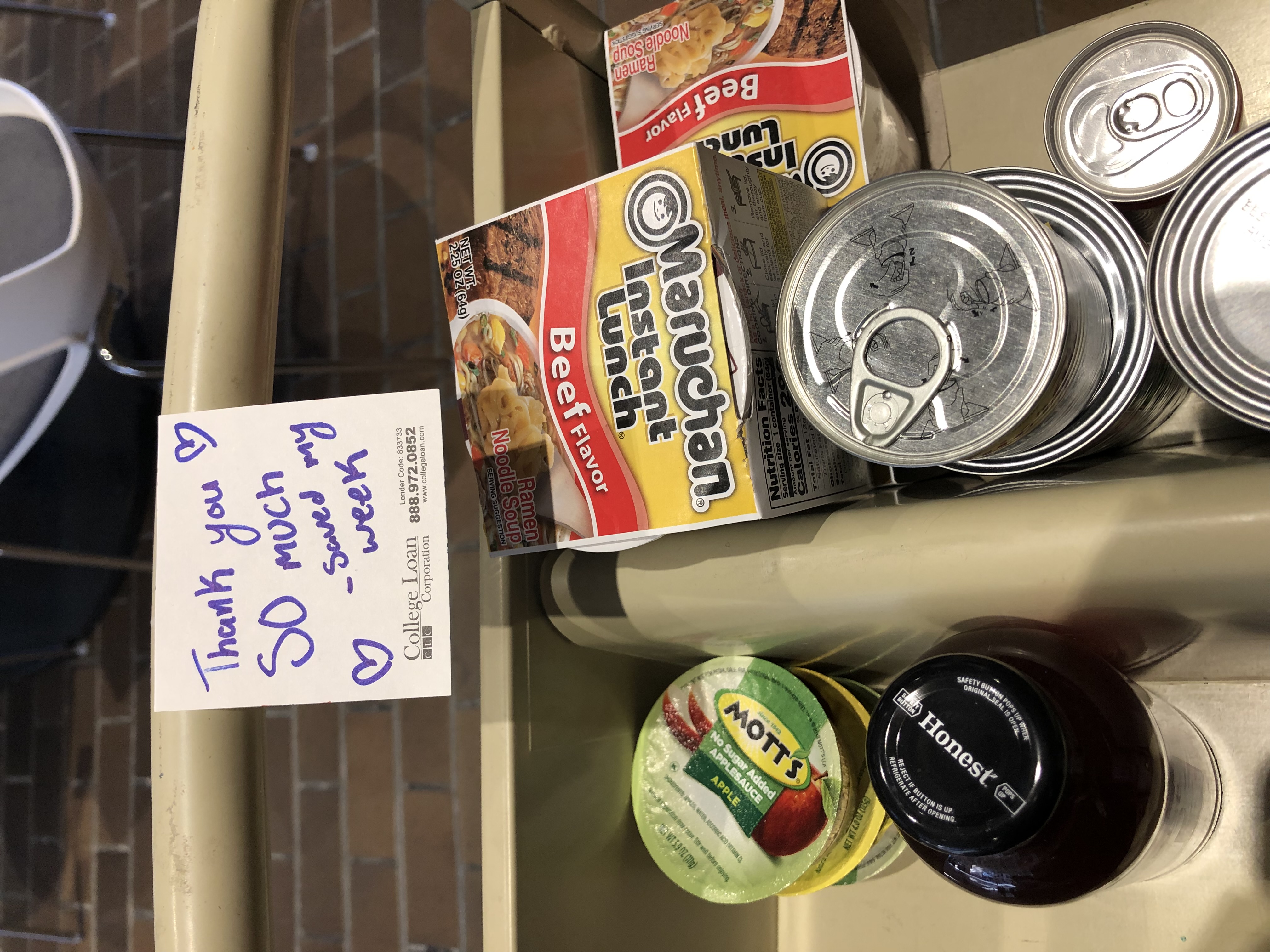 University of Wisconsin-Parkside staff, along with the help of an AmeriCorps VISTA member, are seeking to address food insecurity among current students, a common issue across the nation among college students. Molly Reid, a UW-Platteville graduate in Business Administration from Janesville, WI, has accepted a position as a volunteer food security VISTA.
Reid will be working with the campus community for a year on addressing food security among students. Having a VISTA whose full-time role is to work on food insecurity on campus and in the community will help UW-Parkside build its capacity to address the issue. Reid will also work with the Shalom Center food pantry.  
 In 2012 an AmeriCorps VISTA member who was working both on campus and in the community partnered with a University of Wisconsin-Parkside Community Based Learning course to conduct a survey concerning food insecurity. The survey revealed that 73% of UW-Parkside students were experiencing some degree of food insecurity. Several different efforts attempted to address the issue and on 2019, UW-Parkside began a partnership with the Shalom Center food pantry that allows anyone with a UW-Parkside ID to access the food pantry.
With the advent of the COVID-19 pandemic, Debra Karp, director of Alan E. Guskin Center for Community and Business Engagement, asked Dr. Helen Rosenberg to replicate the 2012 survey to re-evaluate the issue. In winter of 2021, a similar survey was distributed to all students titled Food Security among College Students. The report revealed that 60% of our students were still experiencing food insecurity, despite previous efforts. The data also demonstrated that food insecurity affected students of color disproportionately.
In response to the information, student Joe Trujillo, a 2022 graduate who had assisted on the survey, helped the UW-Parkside Center for Community and Business Engagement form a volunteer food insecurity team. The team serves the campus community by establishing initiatives and hosting events that aim to alleviate this challenge on campus.
Karp explains that beyond the obvious goal of providing food for those in need, the team also offers education about available resources. "The team helps our students (and staff) who are experiencing food insecurity by providing opportunities to supplement their diets with free food and learn how to access community resources. Research shows that food insecurity is a barrier to student retention and graduation," Karp explains.
The team has already taken concrete steps to help address food insecurity on campus. They have created and updated a food resources webpage that lists resources on campus, local food and shelter resources, and additional county resources. Karp adds that the team also conducted outreach to educate students about their eligibility for federal food programs. They have held several food give-away events with Feeding America WI and the Shalom Center.
Another important addition in the effort to alleviate food insecurities on campus has been the creation of the Sharing Shelves.  Led by Nicole Ryan, Laura Briskie, and Charmaine London, this initiative provides shelves where non-perishable food items can be donated for those in need. It is located in Wyllie Hall near the elevator in lower Main Place as well as five drop-off sites across campus. Karp notes that while the campus community has been very generous, the food that is donated is in high demand and is used up quickly. 
She asserts that donations of non-perishable food, gift cards and funds to buy food are some of the most helpful things that can be done. More information can be found on the Sharing Shelves webpage. Interested students, faculty or staff members can contact Debra Karp (karp@uwp.edu) to join the Food Security committee.
---
The University of Wisconsin-Parkside is committed to high-quality educational programs, creative and scholarly activities, and services responsive to its diverse student population, and its local, national, and global communities. We are a dynamic learning community grounded in academic excellence and focused on student success, diversity, inclusion, and community engagement. The campus serves as a premier comprehensive public institution and a destination of choice, serving as a focal point of local, regional, and global progress.
---
Media contact:
Derek Fye
Communications Manager
University of Wisconsin-Parkside
Fye@uwp.edu | (262) 771-5419