Chancellor Ford Reaction to Budget Proposal
Published: February 10, 2017
Students, Colleagues and Friends of UW-Parkside

I'm encouraged that through his 2017-2019 biennial budget proposal, Governor Scott Walker recognizes the vital role UW-Parkside and the entire UW System play in strengthening Wisconsin's economy and workforce.
His budget proposal reflects the guiding principles of UW-Parkside relating to student success and affordable access to a university education. His budget proposal also includes key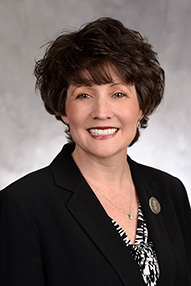 priorities the UW System outlined in its strategic framework – 2020FWD – aligning UW System resources with the greatest needs of the state.
The UW System capital budget request includes funding for much-needed infrastructure repairs and upgrades to Wyllie Hall at UW-Parkside. The Wyllie Hall upgrades were identified as a priority for the current biennium, however, the projects were not funded by the State of Wisconsin. The delay in addressing the issues in Wyllie Hall has increased the cost of the project. When the final version of the budget is crafted and approved, I'm hopeful that adequate funding is included to address capital project priorities throughout the UW System, including Wyllie Hall at UW-Parkside.
As we know from past biennial budget debates, we are in the first few miles of a marathon. However, inclusion of a compensation increase for faculty and staff is an important step. The inability to properly compensate UW-Parkside faculty and staff for their continued dedication and commitment to student success is both challenging and frustrating. By including funds to address compensation, Governor Walker recognizes that our faculty and staff are key to the success of our students, our institutions, and our state.
The faculty and staff at UW-Parkside are great stewards of our financial resources – those provided by our students through tuition and fees, those provided by our state and federal governments, and those provided by our passionate and generous donors.
UW-Parkside offers the most affordable tuition in the UW System, and we remain accountable to our students, taxpayers, faculty and staff, and our government representatives at the local, state and national levels. UW-Parkside and the UW System offer a strong return on investment – and we appreciate that Governor Walker's proposed budget reflects many of the priorities in 2020FWD.
As a learning community, we look forward to working with our legislative delegation and advocating for a 2017-2019 biennial budget that promotes student success and access to quality and affordable, higher education at UW-Parkside and across the UW System.
Debbie Ford
Chancellor