Chancellor Ford Spring Commencement Comments
Published: May 16, 2015
Graduates, family members, friends and guests. Welcome to the Spring 2015 Commencement ... a very PACKED Spring 2015 Commencement. We have 500 students eligible to participate in today's ceremonies and that is the largest number in our history. You may be interested to know that during the past five years, UW-Parkside has awarded more undergraduate and graduate degrees than during any other five-year period since the university was founded in 1968.
Ladies and gentlemen, I could not be more proud of our students and the levels of success which they are achieving … and I could not be more proud of our faculty and staff for providing a highly relevant educational experience. Today, close to 60 percent of you are the first in your family to earn a university degree … as was I. Whether you are the first in your family or the second or third, today is a special day. 
Some of you will take today's success and continue on to graduate school or medical school. Some of you will take today's success and start a career. Others will take today's success and start a business! Whatever you do, it is the dedication and commitment to learning that has prepared you to take that next step. And it will be your dedication and commitment to LIFELONG learning that enables you to continually reach new levels of success. 
While you are working toward the next level, be certain to stay connected to your community. The reason you have worked hard and put in long hours of study to achieve success at UW-Parkside is so that you can be a valued contributor to your community and to our society. 
Today, you join thousands of proud and innovative UW-Parkside alumni who are highly engaged citizens and contribute to our communities as doctors, authors, attorneys, elected officials, artists, educators, entrepreneurs, business professionals, engineers, and scientists, just to name a few. 
Later, I will proudly hand you your diploma cover. As you accept the university's recognition of your accomplishment, you are also accepting the responsibility to carry the great legacy of UW-Parkside forward as engaged citizens. 
From where I stand, I see tremendous potential … and I'm going to stop … for a moment … to share this view with you. (Chancellor takes photo from her perspective).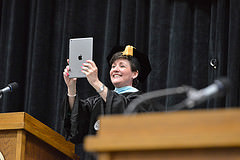 We're going to post the photo right now on social media … #parkside grad … so the entire world can see what I see … the next generation of success from the University of Wisconsin-Parkside!

Today is most certainly about you. Take time to reflect on all that you have experienced at UW-Parkside -- the people you have met, the successes you have enjoyed, and the opportunities you have embraced. Today is also about the contributions you have made and will make to the lives of those you hold most dear, and the communities in which you live … work … grow … and contribute.  
Tomorrow … well that's also about you, too. What you make of your tomorrow is directly related to the knowledge you seek and the new knowledge you embrace. Much like you, what UW-Parkside makes of tomorrow is directly related to how the faculty and staff seek and embrace innovation in teaching methods, the way in which information is shared, and new areas of study. 
Among our 500 degree candidates today are two students graduating in fields of study that did not exist here at Parkside just a few years ago. Chinyere Uchegbu is our first graduate from the collaborative online UW Health Information Management and Technology bachelor of science degree program which began in fall 2012. Congratulations, Chinyere! 
Traci Dawicki is our first graduate from the collaborative online UW Sustainable Management master of science degree program, which began in spring 2013. Congratulations, Traci! 
These new, highly relevant programs illustrate innovation on the part of the University of Wisconsin System and the University of Wisconsin-Parkside. In order for you and future UW-Parkside graduates to be prepared to embrace tomorrow's opportunities, and to be confident that your degree will be valued, you have my assurance that UW-Parkside will continue to be an innovative leader in higher education. 
As graduates in the 2015 spring commencement ceremony, I know you will enjoy the day. On behalf of the faculty and staff, I thank you for allowing the University of Wisconsin-Parkside to help shape your future! 
Congratulations to the Class of 2015!