Assembly Committee Testimony
Published: August 4, 2017
The following is a transcript of Chancellor Debbie Ford's testimony Thursday, Aug. 3, before the Wisconsin Assembly Committee on Jobs and the Economy public hearing regarding Foxconn state support legislation. A link to the complete UW System testimony can be found at the end of Chancellor Ford's transcript.
Good afternoon, our university was founded to serve Kenosha and Racine County. Thank you for this opportunity. More than 70 percent of UW-Parkside students are from Kenosha, Racine and Milwaukee counties and the majority of our graduates stay in the area.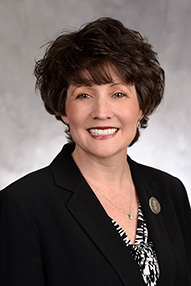 We are minutes from leading global companies and we have numerous partnerships that benefit our students, our faculty, those organizations, and our communities.
We work closely with Gateway Technical College to offer clear pathways to four-year degrees – most notably in the areas of IT and business management.
An opportunity to partner with Foxconn, and companies Foxconn may attract, will take the educational experience for our students and faculty to a new level.
Ninety percent of UW-Parkside pre-med graduates are accepted to the medical schools of their choice – more than double the national average. We offer an elite pre-med program.
It's beyond exciting to think about how a connection with top medical and biotechnology research supported by Foxconn – which was noted in a Milwaukee Journal Sentinel story on Tuesday – might elevate the learning experience of our pre-med and biotechnology students.
The same is true for information technology.
The number of students in our computer science and MIS programs has doubled in the past decade. Our placement rate for computer science graduates is 99 percent. The program is home to the Parkside App Factory, developing mobile-app technology used around the world, including the FRANK LLOYD WRIGHT Trail app here in Wisconsin
If you are a student interested in the health sciences, technology or business, you will want to study in Wisconsin and establish your career in Wisconsin because you understand the value of a resource like Foxconn. We need to be prepared for unprecedented growth in many of our academic programs at UW-Parkside and throughout the UW System.
One definition of horizon is the limit of a person's mental perception. Companies like Foxconn are far beyond the technology horizon, and – as President Cross said – this has the potential to transform Wisconsin and the UW System. Wisconsin becomes a destination for education because it becomes a destination for exciting careers beyond today's horizon.