Chancellor Ford Remarks from Fall Convocation
Published: August 26, 2015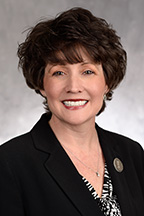 Good morning everyone. From all that we have seen and heard this morning, it is another GREAT day to be at UW-Parkside!  
I know some of you had already viewed the "Real. Amazing." video we just shared … but I think it was worth another look. 
Watch Video
I hope you saw what I saw … the joyful emotion of our students whose lives are being transformed. Colleagues, YOU are making that happen, YOU are transforming and inspiring lives. 
On occasion, people will ask: "What keeps you up at night?" Certainly the challenges we all face as educators in today's fast-paced environment. But, I always transition the conversation to what motivates me each day. So, let me ask you: "What gets you going in the morning?"  
For me, it's the inspiring work we do for and with our students … and one another … each and every day. As Troy Moldenhauer, our director of recruitment and admissions pointed out, we don't just recruit students, we are recruiting graduates, future UW-Parkside alumni!  
And once our future graduates are on campus, our shared focus turns to SERVING, LEADING, and EDUCATING. 
Today marks the official beginning of the 2015-16 academic year … but before we say good-bye to summer, I want to share a few UW-Parkside highlights. It's important – and healthy -- to pause, catch up, and remind ourselves of all we do on behalf of our students and our community:
Many faculty taught courses, completed book projects, conducted research, earned seats in competitive workshops, and engaged in high impact practices. Specifics have been noted on our Website at the faculty and staff page.  
Fifteen of our dedicated faculty participated in the Online Summer Workshop bringing the total number of UW-Parkside faculty teaching online to 61.  
Faculty from the College of Business, Economics, and Computing participated in the Educause Breakthrough Academy in Chicago to facilitate development of business degrees delivered online and in the flex-option format. 
We signed new international partnership agreements with universities in Russia, Germany, and Italy to further expand our impact around the world. In fact, next week, 12 executive M.B.A. students from Russia and France will be on campus studying with our own Dr. Abey Kuruvilla. 
A number of our faculty led study-aboard trips to Italy, Finland, and Germany, while other faculty conducted research and were invited to present papers in Canada, Mexico, and China. 
Students participated in high impact practices, field experiences, and internships within their majors or future areas of research.  
Here's just a brief list of impressive examples: 
Eugene O'Neill Theatre Center 
Mielke Arts Center 
First Midwest Bank Amphitheatre 
Santa Fe Opera 
Kenosha Youth Performing Arts Center  
Bristol Renaissance Festival  
Stagecraft Institute of Las Vegas, and 
Venezuelan Embassy in Chicago 
Our RUSCH students completed community health internships in southeastern Wisconsin and their eight-week research program with the UW School of Medicine and Public Health.
Sport management and exercise science students completed more than 9,000 hours of internships and fieldwork with professional and amateur sports teams, parks and recreation departments, nonprofit sports organizations, and media outlets.
Six communication students experienced the value and importance of summer internships at Jockey International, Culinary Infusion, the Racine Art Museum, and 95 WIIL Rock here in southeastern Wisconsin, the Sporting News in North Carolina, and the National Armed Services Network in Sicily.
Students in the College of Social Sciences and Professional Studies continued the archeological survey and excavation at the location of the earliest known cabin in Kenosha County.
Students in the College of Natural and Health Sciences continued undergraduate research with faculty on campus and were awarded research stipends form the Modine Science Research Fund. 
I am proud to report that UW-Parkside was awarded the largest grant in the university category from the Aurora Health Care Foundation to address sexual assault and domestic violence issues in our community. We are partnering with Women's and Children's Horizons, Gateway Technical College, and Carthage College on this important initiative. 
 The Student Support Services TRIO program received a highly competitive U.S. Department of Education grant that could be worth up to $1.5 million dollars over the next five years. 
Colleagues in Campus Technology Services, Facilities, and Custodial Services were busy upgrading the IT infrastructure, improving classrooms, cleaning the inside and outside of campus windows, and preparing the campus for another academic year. This summer we invested almost 1 million dollars in improvements and upgrades to our learning environment!
Hardware was purchased to increase network bandwidth to most of our buildings from one gigabyte to 10 gigabytes. The hardware will be deployed this fall improving transmission rates and setting us up for an increase in the delivery of distance courses and other video content.
Additional document imaging – ImageNow - licenses and new scanners were purchased to further automate Admissions processes, cutting processing times from weeks to a few days.
The Learning Technology Lab received yoga tablets, flexible furniture, and a "short-throw" projector. This is our first showcase classroom for active-learning furniture equipment.
Eleven classrooms in Molinaro and Greenquist halls received major technology upgrades such as new podiums, control units, and projectors, some with interactive and mobile-projection features. Many of the projectors will be connected to the campus emergency notification system. 
The campus has been abuzz all summer with camps, conferences, foreign films, events, and lots of recreation … and we were well represented at several regional summer highlights:
The Racine 4th of July Parade lead by our Alumni Association. 
UW-Parkside night at the Kenosha Kingfish – the Kingfish, by the way just won the Northwoods League Summer Collegiate World Series – we had a tailgate with incoming students, our enrollment services team, many alumni, and our dedicated UW-Foundation Board Members.
Twilight Jazz at the Anderson Arts Center -- hosted by the UW-Parkside Foundation – that featured the UW-Parkside Jazz Combo and the Parkside Reunion Band.  
Oh, what a summer! 
I could stand here all day and tell you why I think UW-Parkside is a Real and Amazing University. Instead, I want to share some statistics from the most recent Beginning College Survey of Student Engagement – or the BCSSE. 
Eighty percent of the UW-Parkside respondents to the 2015 survey indicated Parkside as their first or second choice. And following on Troy Moldenhauer's theme of recruiting graduates, take a look at this, also from the BCSSE.  
Back in 2011, just over half of BCSSE respondents indicated that they planned to graduate from UW-Parkside. 
In 2015, more than 72 percent – a 30 percent increase -- indicated that they planned to graduate from UW-Parkside … a 30 percent increase in just four years.  
Colleagues, we
are
recruiting graduates. Students who start here want to stay here because of what we do each day in the classroom, in the residence halls, in the advising and student support offices, and across our campus.
We promise a "Real. Amazing." experience when they first visit our campus … and we are delivering on our promise. This is what gets me going in the morning … knowing that we are transforming and making a real difference in our students lives. And knowing that we are inspiring one another and our communities. 
The changes we are seeing in our students approach to our university, the very reasons they are here, is result of hard work. Each of you has contributed to great thought-work, strategies and plans that have brought us to this point. A point of great change, a point of great opportunity, and a point of great pride. 
Sometime this semester, take a moment to revisit our vision and mission statements, and our academic and strategic plans. They are founded in academic excellence and student success, the tenets that will guide us to 2018 … our 50th anniversary. 
Academic excellence and student success is why we are here and it is what this university is all about. For almost five decades, we have been a part of serving, leading, and educating in southeastern Wisconsin. 
What will UW-Parkside look like when we celebrate Fall Convocation 2018 and kick off our 50th anniversary year … just three years from now? What will be different? What will be the same? Who will we honor with awards? Who will celebrate retirement for a job well done? The actions we take, the decisions we make, and the stories we create today will build the Parkside of tomorrow.  
Elle Luna, in her book titled, "The Crossroads of Should and Must: Find and Follow Your Passion," says:

We arrive at this crossroads over and over again, and every day we get to choose…the most life-affirming thing you can do is to honor the voice inside that says you have something special to give, and then to heed the call and act. 

Thank you for acting and for sharing your something special in the UW-Parkside learning community. Our collective passions, and acting on the "musts" and "shoulds" we face, make UW-Parkside a great place to work, to learn, to grow, and to contribute. 
We are recruiting real, amazing graduates! Join with me in building on our positive momentum, removing barriers that block our success, and illuminating the many bright spots on our campus.  
The photos you see on the screen (Flickr photo album of faculty and staff) clearly show what being a proud member of the UW-Parkside learning community is all about … learning at a great place, knowing you are making a difference, and enjoying the opportunity to engage with real, amazing students, colleagues, and alumni.

We are the University of Wisconsin-Parkside - a university that transforms and inspires lives!