Chancellor Ford Message to Campus
Published: May 19, 2015
Colleagues: Congratulations, and thank you for a "Real. Amazing." year!
Student Success
At Saturday's Commencement, 500 students were eligible to graduate. That is the largest number in our history. During the past five years, we have awarded more undergraduate and graduate degrees than during any other five-year period. 

That means more student success in the past five years than ever before. I invite you to visit uwp.edu to read about the tremendous excitement and celebration of student accomplishments. You might also visit UW-Parkside Social to engage in the social media conversation around our proud students, parents and supporters.
Our Legacy of Learning, Service and Accomplishment
I had the honor of sharing Friday evening with eight accomplished alumni and almost 200 of their family and friends during the second annual Traditions of Excellence. Our campus community recognized Parkside graduates who are making a real difference in their communities.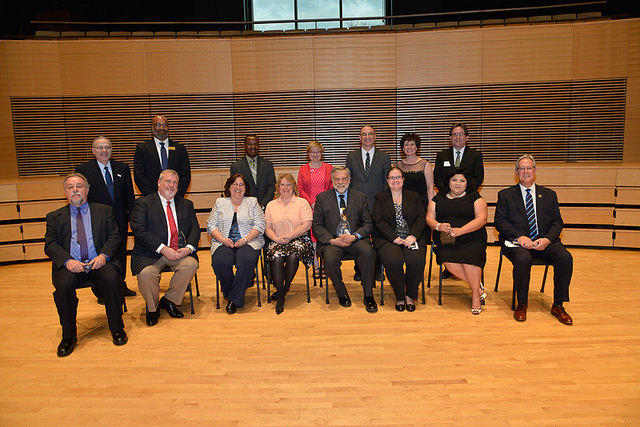 In a few weeks, I'll share a video recap of the program. I know you will be proud, as I was Friday evening, to hear our awardees tell of the important role UW-Parkside has played in their lives. Please take time to read about this year's distinguished alumni.  More>
Sustaining and Growing our Mission
Affordable access to higher education, student success, and community engagement are at the foundation of our mission. These constructs were the driving force behind Wisconsin Senate Bill 48 introduced in January 1965 that called for the building of two new four-year universities; one of which would become UW-Parkside.
What makes our success this year even more amazing is that it was accomplished during important debate regarding the state's 2015-2017 biennial budget. On our Budget Update webpage I've included a summary of budget actions in the coming weeks. The budget could easily have been a distraction. Instead, our focus was keen and we provided our students with the educational experience they need and deserve.
Moving Forward
Celebrating our success is important, but we can't become complacent. To remain a valued and relevant resource for our students and our communities, we must continue to understand and meet the current and future needs of our region. 
We arrived at our current level of success through careful strategic planning and alignment of resources. To reach new levels, we will continue thoughtful strategic planning combined with the willingness to embrace a new alignment of resources.
As I mentioned at our most recent Leadership Assembly, five themes guide our decision making-
Academic Excellence
Innovations in Learning and Growth
Student Success
Partnerships and Community Engagement
Fiscal Stability
A new alignment of resources and responsibilities at the Cabinet level will include -
Student Success Units
Marketing and Communications
Innovations in Learning and Growth
Distance Education Leadership
IT and Library
Enrollment Services
How will these new alignments affect you?
You may find yourself working more directly with team members who were previously outside your particular department or division. The goal is to strengthen our campus and achieve new levels of success as we approach our 50th anniversary in 2018 and beyond.
Summer Plans
The coming summer months give us an opportunity to implement new alignments and strategies as we prepare for the 2015-2016 academic year.
Summer is also an important time to recharge and refocus. The pace is a bit slower … but not by much. Faculty are engaged in teaching, scholarship and service; and together we welcome new students and their families during orientation. 
This past year, you probably noticed that there was a tour of prospective students going on almost every day. Congratulations to Troy Moldenhauer and his recruiting team for bringing more than three thousand prospective students and their families to campus. Early enrollment indications for fall 2015 look very positive.
Summer is also a time when our outstanding Facilities team completes important projects and readies the campus for another academic year. Our campus is approaching 50 years old, yet it continues to look fresh and beautiful thanks to their great work and the care and consideration of our faculty, staff and students.
We had a great year and I thank you, again, for all you do to make UW-Parkside the most vibrant learning community in our state. I know we are ready to take our success to the next level.
Regards,
Debbie
PS: Mark your calendars; Fall 2015 Convocation is right around the corner – Thursday, Aug. 27, 8:30 a.m.