Chancellor Ford Applauds Gateway Promise
Published: February 11, 2016
University of Wisconsin-Parkside Chancellor Debbie Ford added her support to the "Gateway Promise" calling the free-tuition initiative announced Thursday, Feb. 11, by Gateway Technical College an important step toward improving affordable access to higher education.
"In terms of economic development, our region is quickly becoming the most vibrant in the state," Ford said. "The businesses and organizations in this area – and those that are coming to this area – require a diverse and highly skilled talent base upon which to build their future success.
"The Gateway Promise has the potential to motivate more students to pursue higher education immediately after graduation from high school. Those who take advantage and earn an associate degree from Gateway have the opportunity to pursue a bachelor's degree at UW-Parkside thanks to almost 20 academic partnerships between the two institutions."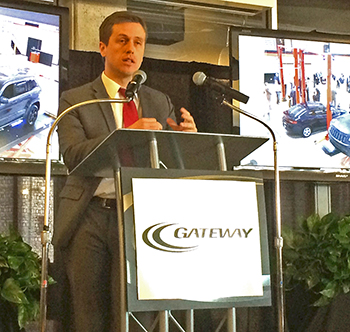 James Schuelke, deputy director at Civic Nation read of letter of support from President Barack Obama during the Gateway Promise program announcement.

In addition to addressing the region's growing need for talent, statistics show that individuals who hold an associate degree or bachelor's degree have increased earning capacity and, as a group, experience lower unemployment.
"We often hear that without education, there is no opportunity; and without access, there is no education. The Gateway Promise is about access to education," Ford said, "and that leads to opportunity."