We're All About Student Success
Published: September 8, 2016
I am currently reading a new book published by the Association of American Colleges & Universities (AAC&U) titled "Becoming a Student-Ready College: A New Culture of Leadership for Student Success."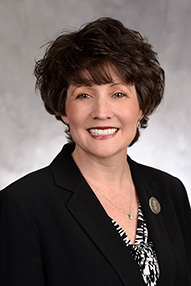 Many of the authors' suggestions are relevant to our work. One of the quotes particularly captured my attention:
"Educating all of America's students, especially underrepresented students, is a national imperative, as it can lead to positive impacts for individuals and entire communities."
UW-Parkside is the most diverse campus in the UW System as underrepresented minorities account for more than 25 percent of our students (notice the significant increase in that percentage for fall 2016 freshmen below). That distinction creates a vibrant learning environment which more closely reflects our communities and better prepares our students to successfully interact in tomorrow's society. That same distinction brings with it an important responsibility to improve access, persistence and completion for all students. As the authors of "Becoming a Student-Ready College" suggest, our efforts will lead to positive impacts for individuals and our community.
Even though we have just started classes and enrollment changes will occur through the 10th day of the semester, take a look at an early snapshot of our most recent incoming class … the graduating class of 2020.
The UW-Parkside Class of 2020
Profile for new Freshmen as of Sept. 6 (subject to change)
49% of applicants enrolled
651 new freshmen enrolled
54% female; 46% male
36% underrepresented minority students
87% Wisconsin residents; 13% nonresidents
60% from Kenosha and Racine counties
Average ACT 20.89
Profile for new Transfer students as of Sept. 6 (subject to change)
72% of transfer applicants enrolled
19 new transfer students
54% female; 46% male
37% underrepresented minority students
70% Wisconsin residents; 30% nonresidents
51% from Kenosha and Racine counties
30% age 25 or older
Inspiring Success for our Students of Color – Discussions with Community Leaders
Earlier this year, we initiated discussions with leaders in the community to discuss how we can work together to improve access and success for students of color. We will continue these discussions this fall and develop an action plan that establishes UW-Parkside as THE destination for students of color – a destination where students are welcomed, and a destination where students succeed. Heather Kind-Keppel and Damian Evans will lead these discussions and we will engage faculty, staff, students, and alumni in the process.
Fall seasons are in full swing for our student athletes! Put on your Ranger gear, grab your Ranger Card and come cheer on the Rangers! Students and staff are admitted FREE with your Ranger Card. Follow the Rangers at parksiderangers.com
Cross Country competes Saturday beginning at 10 a.m. on our home course, the Wayne E. Dannehl National Cross Country Course – one of the top CC courses in the nation. Volleyball is hosting an eight-team tournament all day Friday and Saturday in De Simone Gymnasium. Ranger soccer teams are on the road this week but return home Friday, Sept. 16, and Sunday, Sept. 18, for noon starts at Wood Road Field.
The Rangers had a great season in the classroom and on the field of competition in 2015-16. Join me in congratulating Ranger Athletics on their real and amazing success!
The Rangers completed the year with a 3.01 departmental GPA. The following programs received academic recognition: wrestling, men's and women's cross country, men's and women's basketball, volleyball and golf.
Rebecca Roembke, volleyball, American Volleyball Coaches Association (AVCA) Honorable Mention All-American and AVCA All-Region Honors.
Nick Becker was named Division II Wrestling Coaches Association Regional Wrestler of the Year and was the undefeated NCAA DII National Champion at 174 pounds.
For the first time in school history both the men's and women's cross country teams qualified for the NCAA DII Nationals. The men's team finished seventh.
Men's basketball, under the direction of Great Lakes Valley Conference (GLVC) Coach of the Year Luke Reigel – Luke earned the honor for the second year in a row – won its fourth straight GLVC East Title; and for the first time in program history the team was ranked number one in the Midwest Region and hosted an NCAA DII Regional.
Andy Mazurczak was honored as GLVC Player of the Year; All-Region Midwest Team; National Association of Basketball Coaches (NABC) First Team All-District; Honorable Mention All-American by DII Bulletin; and toured Brazil this summer with the USA Division II Men's Basketball All-Star Team.
Please join the Athletics Department in welcoming four new staff members.
Roger McAfee will serve as the new Assistant Athletic Director of Sports Media Relations;
Thomas Breitbach serves as the new men's and women's Head Cross Country and Track Coach;
Lemont Johnson joins UW-Parkside as the new Assistant Cross Country and Track Coach; and
Kristin Ortman will serve as the new Head Softball Coach.
Weeks of Welcome
Take a few moments to join the Weeks of Welcome Events to meet new students and reconnect with former students!
Stay Informed with the Midnight Ranger
And, for the most up to date information on campus and to share activities, programs, or news from your department, check out the Midnight Ranger, published weekly. Here's a link to the submission form: https://uwparkside.co1.qualtrics.com/jfe/form/SV_5A72dw8nwkRdc9f
Help Us Improve Awareness of Sexual Assault and Campus Climate
As we celebrate the start of another exciting academic year, let us also be aware of challenges facing every campus around the world and every segment of our society. In partnership with Gateway Technical College, Carthage College, and Women and Children's Horizons, UW-Parkside received the Better Together Grant from Aurora Health Care in 2015. The grant is designed to help raise awareness around the issue of sexual assault, reduce sexual assault, and build a "Better Together" network of resources for victims of sexual assault.
As part of this important initiative, we will launch the Sexual Misconduct Climate Survey to gather input from students, faculty, and staff. The survey includes sections that will ask about your knowledge of social situations, perceptions related to sexual misconduct, and awareness of resources available on campus.
As part of the Aurora Health Care Better Together Grant, UW-Parkside houses a Women and Children's Horizons Advocate on-campus one day a week throughout the academic year. This semester, Krista Mouck will be at the Student Health and Counseling Center on Wednesdays from 9 a.m. to 4 p.m. She can be reached via email at coordinatorsa@wchkenosha.org