Advocate for Our Core Values
Published: September 9, 2016
Diversity, Inclusion and Community
Our work in higher education is more important than ever as soundbites and rhetoric capture attention and distract us from learning and deeper understanding. At UW-Parkside, we are focused on providing quality, engaging, inclusive, and respectful learning experiences inside and outside of the classroom.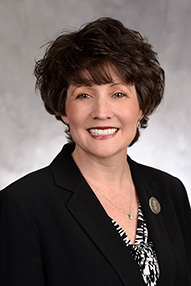 Being civil and tolerant are core expectations in our learning community and something we strive for in all of our actions. I know you share with me the deep conviction in our promise to create and uphold a diverse and inclusive learning environment.
The unrest in Milwaukee earlier this summer – which had a direct impact on many of our students, faculty, staff, and alumni – reminds us of the importance of our work as educators. I invite you to read a commentary by Dr. Eve Hall, president and CEO of the African American Chamber of Commerce of Wisconsin and a member of the UW Board of Regents, about how we can make a difference.
During Convocation, I acknowledged the power of "We" and how I value the way in which we show compassion for one another. Thank you for your continued commitment to model the way we live our core values of Inclusion and Deeper Understanding in your conversations, teaching, listening, and actions.
Show your commitment to our values by wearing your "I Pledge Respect" T-shirt on the second Tuesday of each month.
Step Up & Lead for Equity
The Association of American Colleges & Universities (AAC&U) report, "Step Up & Lead for Equity," includes key actions for us to do as a campus community to further enhance our diverse learning environment:
Know who our students are and will be;
Have frank and challenging dialogues about the climate for underserved students with a goal of effecting a paradigm shift in language and actions;
Invest in culturally competent practices that lead to success of underserved students;
Set and monitor equity-minded goals – and allocate aligned resources to achieve them;
Develop and actively pursue a clear vision and goals for achieving the high-quality learning necessary for careers and citizenship, and therefore essential for a bachelor's degree;
Expect and prepare all students to produce culminating or Signature Work at the associate and baccalaureate levels to show achievement of Essential Learning Outcomes, and monitor data to ensure equitable participation and achievement among underserved students;
Provide support to help students develop guided plans to achieve Essential Learning Outcomes, prepare for and complete Signature Work, and connect college with careers;
Identify high-impact practices (HIPS) best suited to our students and their quality framework of Essential Learning Outcomes, and work proactively to ensure equitable student participation in HIPS; and
Make student achievement for all students visible and valued.
Throughout the academic year we will use these key actions as we develop the Diversity and Inclusion Plan; Civic Action Plan; and review our Academic Plan. Join with me in Stepping UP and Leading for Equity and be a strong advocate for our core values.
Civic Action Plan
UW-Parkside, in partnership with Campus Compact, joins a national movement of college campuses re-committing to the importance of students and campuses as engaged citizens. I, along with more than 450 chancellors and presidents, signed a pledge to develop a Civic Action plan by March 2017. This new Civic Action Plan will align with our Strategic and Academic plans, and identify key metrics for assessment. Debra Karp is leading this effort for our campus and you are invited to join the planning process. Information-gathering will take place this fall and the plan will be designed early in the spring semester.
UWP Welcomes ELS Language Center
In August, the English Language School (ELS) opened their newest language center in Wisconsin here at UW-Parkside in Tallent Hall. ELS offers English language classes to students from around the world. The first group of students from Japan will arrive on campus later this month. Once the students complete their English courses, they plan to enroll in U.S.-based colleges and universities. It is our hope that the students in the UW-Parkside ELS center and other ELS programs will join our real and amazing learning community. Take a look at this announcement from Study Travel Magazine.
50th Anniversary Planning
Before you know it, 2018 will be here and the UW-Parkside learning community will be celebrating 50 years of providing quality, affordable, public higher education in Southeastern Wisconsin. If you are interested in serving on the 50th Anniversary Year Planning Committee, send your contact information to Diane Donnelly at donnelly@uwp.edu. The committee will begin meeting in October.
We are Real and Amazing Because of You
Based on my conversations with students, faculty and staff … it has been a successful, energizing, and inspiring first week of the semester. It's awesome to see the classrooms, labs, dining facilities, residence halls, offices, fields, courts, halls and the Library energized with the desire to learn.
Take a few minutes to share your favorite story of the opening week with a colleague, family member or friend. Through your continued advocacy, more of our friends and neighbors will understand and appreciate our core values, and more will know the UW-Parkside stories of success!
Follow us on Twitter and Facebook for the latest campus and UW System news.