In Memoriam - Frances Jaeschke
Published: March 29, 2016
FRANCES JAESCHKE (1919-2016)
With the passing of Frances Jaeschke Sunday evening, March 27, UW-Parkside Chancellor Debbie Ford says the university lost its No. 1 cheerleader.
Mrs. Jaeschke, 96, was an advocate for the University of Wisconsin-Parkside long before students first entered the new classrooms in 1968. She was one of just a few females on the "Committee of 100," the original advocacy group that worked to garner support in the community and throughout the Wisconsin Legislature to establish a four-year UW campus in southeastern Wisconsin.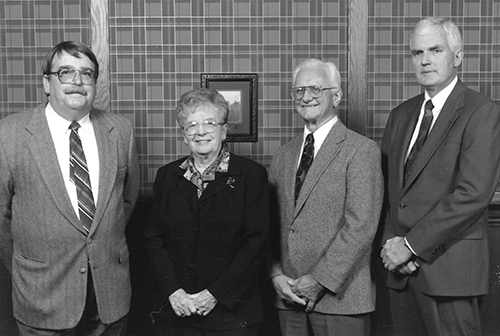 (l to r) James Jaeschke, Frances Jaeschke, Richard Derks, Delbert Warosh from 1996

"Fran was one of the women coaching the men on the Committee of 100," Ford said. "She was passionate about all forms of education and remained a lifelong learner."
In addition to her efforts that helped create UW-Parkside, Mrs. Jaeschke was among the first to earn a degree from the new UW campus. She walked across a small stage in Greenquist Hall in May 1971 as the Outstanding Graduate for the second UW-Parkside commencement.
Following the death of her husband, Ralph, in 1996, Mrs. Jaeschke continued the couple's efforts to support student success at UW-Parkside. The Jaeschke's created scholarships that today provide access to education for students in each of the university's four colleges.
In 2005, Mrs. Jaeschke established the Ralph Jaeschke Solutions for Economic Growth (SEG) Center in memory of her husband.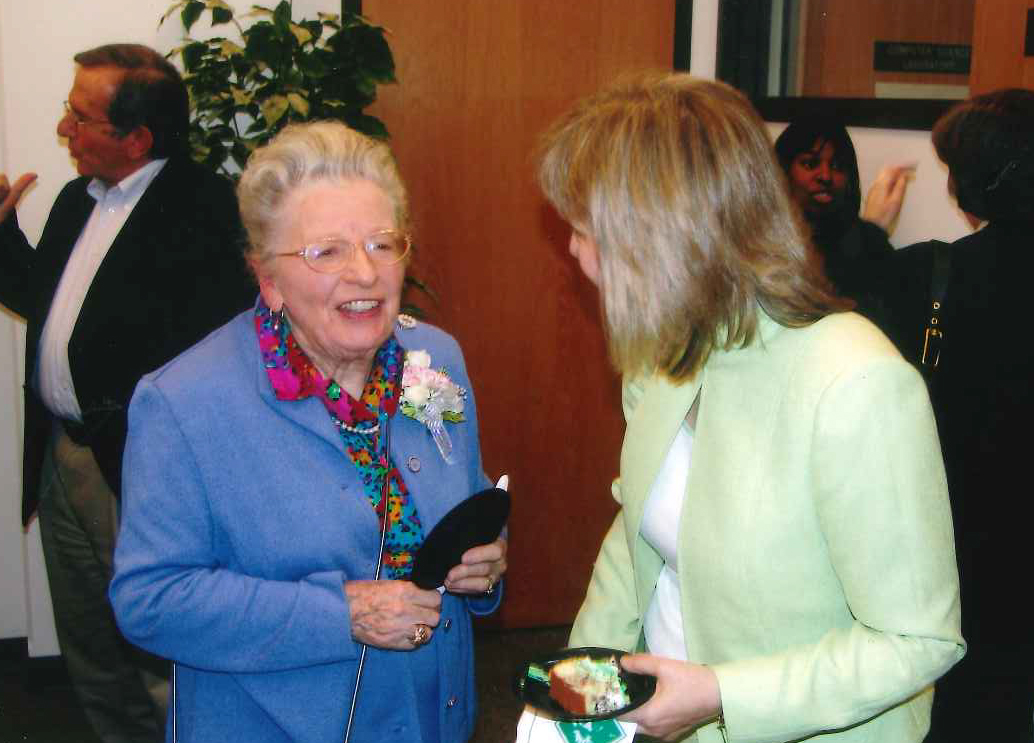 Frances Jaeschke at SEG Center dedication in 2005

Each year, hundreds of Parkside students in the College of Business, Economics, and Computing, under the guidance of UW-Parkside faculty, make a difference in the community by working on business, IT and marketing challenges with companies and nonprofit organizations throughout the region.
Mrs. Jaeschke was selected as the featured speaker for the Winter Commencement Ceremony in December 2009. As part of her introduction, Chancellor Ford told the packed De Simone Gymnasium: "Fran Jaeschke is an indispensable person in the history of UW-Parkside and a person I am proud to know. She is a strong advocate for education, and worked tirelessly to make this university a reality…"
In October 2013, Chancellor Ford took the opportunity to honor Mrs. Jaeschke's commitment to education by introducing her to the UW System Board of Regents during the Regents' meeting at UW-Parkside. Chancellor Ford described Mrs. Jaeschke to Regents and to her chancellor colleagues as a "UW-Parkside giant of education and learning." Chancellor Ford then presented Mrs. Jaeschke with a commissioned sculpture "Come About" created by former UW-Parkside art student Mallory Olesen.
"Come About," which is on permanent display in the Rita Tallent Picken Regional Center for Arts and Humanities, will long honor the memory of Parkside's No. 1 cheerleader – Mrs. Frances Jaeschke.