Andrew Gavin Named Future 5 Young Professional
Published: March 12, 2019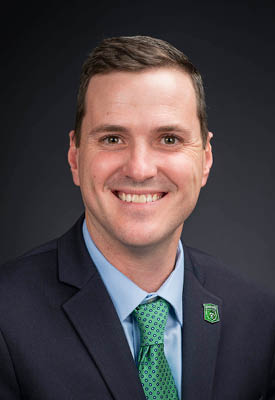 UW-Parkside's Director of Athletics Andrew Gavin will be honored as a Future 5 Young Professional at a community awards program managed by YLink, Kenosha's young professional organization, Thursday, April 25, from 6 to 9 p.m. at the Stella Hotel & Ballroom in Kenosha. This unique event includes live performances from local musicians, local food & drink, the awards program and more.
The Future 5 Award honors five people who live or work in the Kenosha area, and are positively influencing quality of life in the community through professional accomplishments, community involvement, civic engagement, and leadership. The Future 5 Young Professional Awards is the signature event of YP Week in Kenosha, a week-long, statewide platform for learning and facilitating conversations about the issues that matter to young professionals.
YP Week activities take place April 19-27 in more than 25 cities across the country. Organizers expect over 250 events and over 25,000 attendees. To see all of the week's programming visit ypweek.com/community/kenosha.
Gavin joined UW-Parkside in August 2017, leading Rangers' athletics department and its 15 varsity sport programs. In his first year, Gavin guided the university's decision to join the Great Lakes Intercollegiate Athletic Conference (GLIAC) and worked to build capacity and operational efficiency throughout Ranger Athletics while providing a support structure for Parkside's student-athletes and coaches. Gavin also launched the creation of the Parkside Athletics Corporate Partners program and the Ranger Impact Fund, the primary fundraising arm of Ranger Athletics. He oversaw the process to identify a new sports medicine partner, leading to a multi-year contract with Aurora Sports Health.
Prior to joining UW-Parkside, Gavin served his alma mater Centre College in Kentucky as associate athletics director for advancement and external relations. Prior to his position at Centre College, Gavin was assistant director of athletics at the University of Wisconsin-Green Bay. A native of Madison, Ind., Gavin and his wife, Ashley, live in Kenosha and are the parents of a daughter, Peyton, and son, Wyatt.
The other Kenosha Future 5 award recipients are Jackie Schmit, Boys & Girls Club of Kenosha; Tyler Cochran, Kenosha Police Department; Alex Kudrna, Backyard Dream Studios; and Katie Chada, Aurora Health Care.