GEMS Comes to UW-Parkside
Published: January 25, 2018
More than 300 middle school girls from the Racine area filled the UW-Parkside Student Center and Molinaro Hall eager to participate in the 5th Annual GEMS Conference, Thursday, Jan. 18. GEMS, Girls Empowered by Math and Science, introduces girls to the many possibilities offered in the math and science fields. 
After check-in, a welcome from UW-Parkside Chancellor Debbie Ford and Racine Unified School District Superintendent Lolli Haws, the day kicked off with an exciting presentation from keynote speaker Florence Tan, Deputy Chief Technologist from NASA. Ever since she saw Star Trek re-runs on Malaysian TV in the mid '70s, Tan always wanted to be involved with space. With her parents' encouragement and support, Tan and her siblings were the first in their family to graduate from college. Despite an attempt by a school counselor to keep her from following her dream of majoring in aerospace engineering, she prevailed and made her way to an engineering school. Over the past 32 years, Tan served as a systems engineer, designer, manager, and instrument operator at the Goddard Space Flight Center in Maryland.
She is currently the Deputy Chief Technologist at the Science Mission Directorate at NASA Headquarters in Washington, D.C. For the past several years, at least once a month, Tan has dedicated her time reaching out and working with STEM students and the community.
After the presentation, the students engaged in a panel presentation by Tan, two Case High School students, and four UW-Parkside students; Bianca Ruffolo, Chloe Calderon, Julia Alberth, and Rachel Mutchler. Besides Tan, all of the panelists were young women pursuing STEM majors. The panel sessions were two 30-minute sessions where the middle school girls asked questions about anything related to STEM careers and college life. Students on the panel were recommended by faculty and staff for their exemplary work in the classroom and their demonstrated skills as female leaders and role models in a STEM field or major. UW-Parkside students also participated as workshop presenters for the conference. During the panel, students eagerly asked questions about the earning potential in a STEM field, paths they took to pursue science, and why they decided to pursue science. They also asked about advice on transitioning from middle to high school, and even advice on choosing the perfect major in college.
After lunch and the panel presentation, the students participated in several science-based workshops throughout the rest of the day. Workshop contributors included several UW-Parkside staff, as well as volunteers from the community such as Lindsey Slater from WISN-TV 12 News. She conducted a workshop titled "The Fun and Challenges of Broadcast Meteorology."
A group of 7th graders from Mitchell Middle School said they felt more inspired to pursue a career in a STEM major. One of the students said, "Getting to talk to someone from NASA is what really inspired me." They got to see robots in action, perform scientific experiments, and one of the students even got a chance to see a real human brain.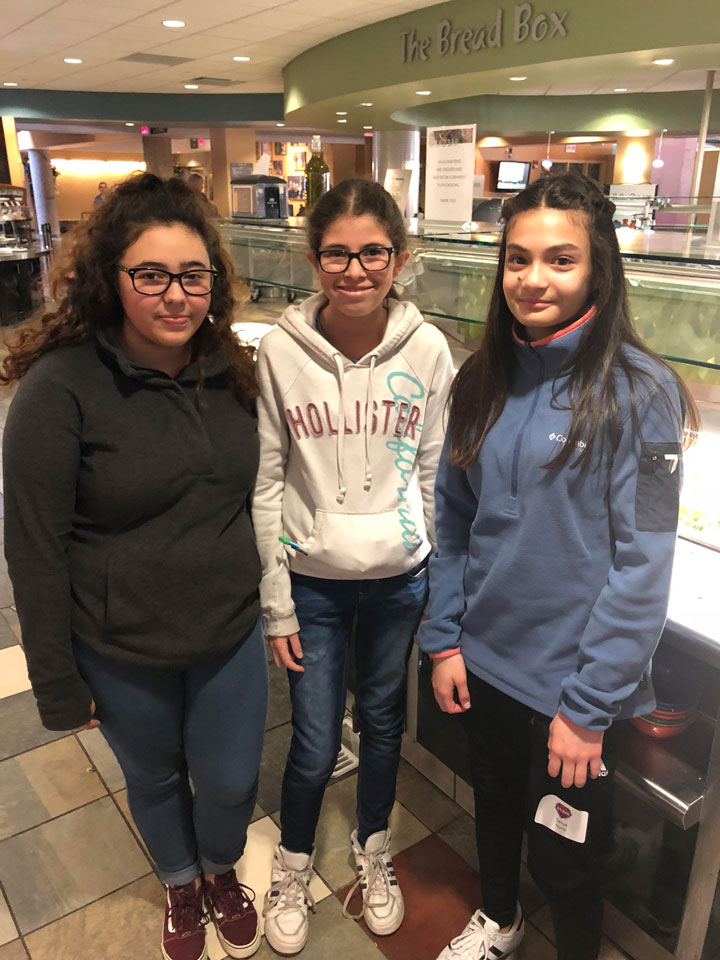 UW-Parkside along with SC Johnson, United Way, AAUW, RUSD, SAFE Haven, Girls Inc. of Racine, Educators Credit Union, and Gateway Technical College all partner to make the conference happen. There is more than a year of planning that goes into coordinating the event. CNHS Outreach and Enrollment Liaison Heidi Ertl is the GEMS Steering Committee member representing UW-Parkside. University faculty and staff come together to volunteer and plan hands-on workshops, UW-Parkside students serve on the student panel, facilities helps coordinate room assignments and campus use, and dining services provides lunch to all who participate in the event.
Throughout the day, students learned the value of education, and following their dreams. Many of the young girls felt inspired to pursue a career in a male-dominated field.
"UW-Parkside was very proud to have had the opportunity to host the 2018 GEMS Conference," Ertl said. "The GEMS Conference is a wonderful way for young women to explore different career opportunities and get excited about and engaged in a variety of STEM fields. This year the young ladies also had the opportunity to hear from some excellent role models and experts in their chosen fields."