GEMS Conference Empowers Youth
Published: May 20, 2016
More than 200 Racine Unified School District (RUSD) middle-school girls gathered at the University of Wisconsin-Parkside, where the university's College of Natural and Health Sciences hosted its second GEMS conference May 18. GEMS, Girls Empowered by Math and Science, is designed to introduce girls to the many possibilities offered in the math and science fields.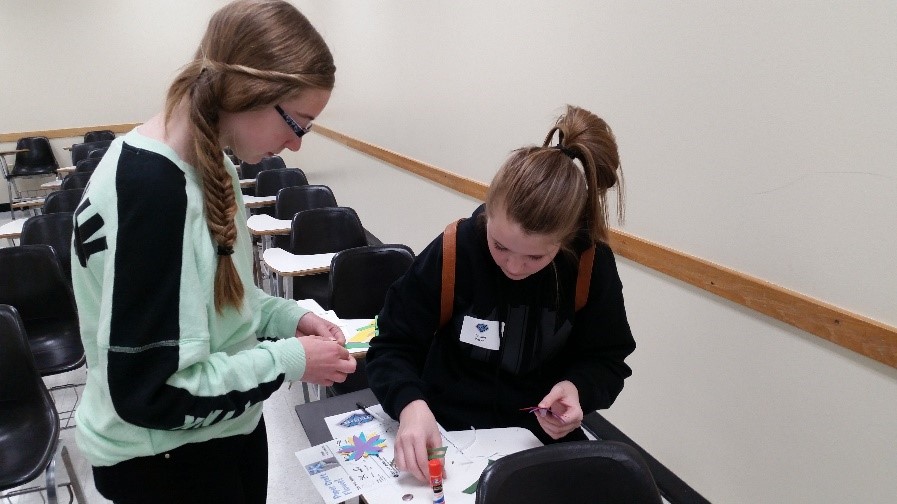 Rayann Wood and Megan Hutchison, two Mitchell Middle School 8th graders, participate in McKinley Middle School's Michael Maxwell's LED Redux workshop. The students made flowers that light up out of paper, conductive tape, an LED light bulb, and a small battery.
The day started in the UW-Parkside cinema with keynote speaker Kayla Carter. Originally from Racine and a graduate of The Prairie School, Carter earned her bachelor science degree in bioengineering from Syracuse University, obtained her master of science in healthcare technology management from Marquette University, and in the fall will become a Ph.D. candidate in engineering education at Purdue University.
Carter had extremely powerful words to share with the RUSD students. "We have to support each other," said Carter of all women, "we have to pick each other up when we fall and be supportive of each other's accomplishments."
After listening to Carter's speech, the students broke up into smaller groups to attend different hands-on workshops put on by UW-Parkside staff, along with other members of the community such as Elizabeth Ehrke, an engineer at We Energies. Her company helped sponsor the GEMS conference. Ehrke's presentation involved having students drop heavy objects onto sheet metal to demonstrate one of the ways in which engineers solve problems. Each workshop had different topics and each provided something unique to the conference. 
Read GEMS coverage in Amy Jahns' blog and watch her video post on YouTube. Jahns serves in media relations at We Energies.

Throughout the day, students attended panel presentations that consisted of UW-Parkside students, alumni, and female role models from the community. The first panel included Stephanie Blaha, a biological sciences major from Racine who graduated just last week and intends to go to medical school; Holly Beard from Racine, a senior biological sciences major who also plans on attending medical school; Anna Gashi from Uppsala, Sweden, a senior chemistry major with a focus in biochemistry; and Karmel Cardenas from Racine, a senior biological sciences major who dreams of becoming an emergency room physician.
Denise Anastasio represented alumni on the panel. Anastasio received her degree in English at UW-Parkside and went on to earn a certificate in health information administration from Seattle University, a master's in public administration from UW-Parkside, and a Ph.D. in higher education from Loyola University – Chicago. Anastasio served as a manager in the Health Information Department at St. Mary's Medical Center in Racine for 10 years. After that, she joined the faculty at the College of Lake County in Illinois where she taught health information for almost 20 years. She then went on to serve as the dean of biological and health sciences where she oversaw the departments of biology, chemistry, and horticulture, as well as several health programs.
The second panel included Carissa Rohde from Oconomowoc, a psychology student at UW-Parkside who is also taking prerequisite courses to get into medical school after graduation. Lt. Krista Eschelman from Germantown, Md., served on the second panel. Eschelman attended the U.S. Naval Academy where she played volleyball and studied oceanography. After graduation, Eschelman reported to USS Mesa Verde (LPD 19) on the ship's maiden deployment. She served as the combat electronics division officer and legal officer. During this time, the ship deployed to Libya for 11 months.
The students were given the opportunity to ask panel members questions about college, careers, and setbacks. In each session, panelists were asked if they were ever doubted, especially by men. Beard mentioned her dream of becoming a surgeon. "I was told that the world of surgery is a man's world and that women do not belong there," Beard said. "The only way I can prove that it isn't true is to prove them wrong and allow myself to enter that world."
Throughout the day, students learned the value of an education, and all about how possible it is to be a successful woman in whatever career they choose. Each student was encouraged to work hard and to make the absolute best of their college experience. Surrounding these students with powerful female role models such as those at the conference, allowed the attendees to see the value of an education, especially one in a math or science field, and the value of following their dreams and working hard. The women at the conference set an example for the attendees that will continue to influence the girls throughout high school, college, and their careers.