Parkside adds German partner
Published: March 21, 2016
The University of Wisconsin-Parkside signed a memorandum of understanding (MOU) with Duale Hochschule Baden Wuertemberg in Karlsruhe, Germany. DHBW is part of the Baden Wuertemberg cooperative university with 34,000 students and 9,000 corporate partners. 

Associate Professor of Business Dr. Abey Kuruvilla and UW-Parkside Provost Dr. Fred Ebeid (left) meet with officials from Duale Hochschule Baden Wuertemberg

The Karlsruhe campus is similar to UW-Parkside and has 3,200 students and more than 1,400 corporate partners. The school follows a cooperative model where students alternate semesters between the university and a corporate partner.
UW-Parkside Provost Dr. Fred Ebeid emphasized the global classroom model that UW-Parkside envisions when signing new international agreements. He spoke about how such partnerships create an invaluable learning experience for students. DHBW Rector Dr. Stephan Schenkel said he believes in the internationalization of his own campus and the value it brings to his students. UW-Parkside Associate Professor of Business Dr. Abey Kuruvilla, who also serves as special assistant for international relations to UW-Parkside Chancellor Debbie Ford and who initiated the partnership as a visiting professor to Karlsruhe last year, talked about the tangible possibilities in aligned goals for both universities.
After the MOU signing, DHBW hosted a visit to Daimler Benz, a strong partner and the world's largest truck plant.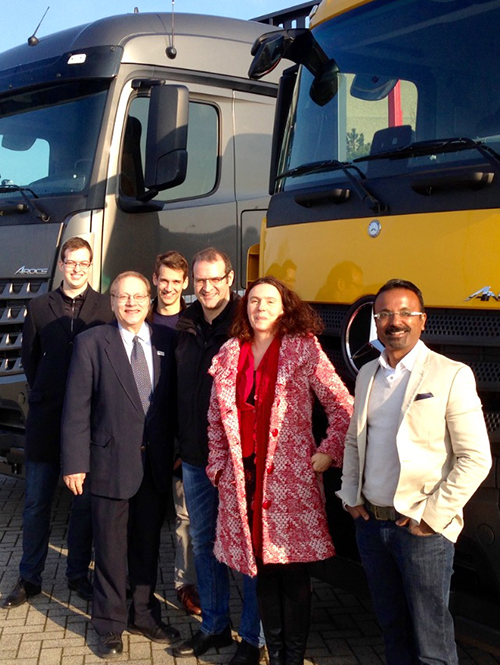 UW-Parkside and Duale Hochschule Baden Wuertemberg officials tour Daimler Benz truck facility

DHBW students presented research using Google glasses to develop training modules for employees.
Located just three hours from Paris and even closer to the borders of France and Switzerland near the Black Forest, DHBW offers great opportunities for UW-Parkside students. The partnership allows students from Parkside to attend DHBW for a semester and vice versa. The partnership also opens doors for creative exchanges between the two institutions in specific courses for student groups as early as fall 2016.