UW-Parkside Partners with Hawthorn Hollow
Published: November 16, 2018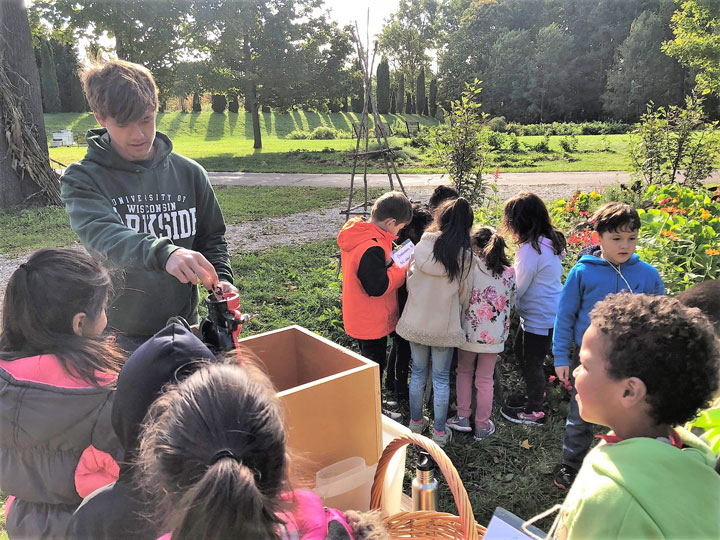 This year, students in UW-Parkside's HESM 280 Sports and Fitness Nutrition course got the opportunity to get hands on teaching experience while engaging with the community through a community based learning partnership with Hawthorn Hollow's Growing Healthy educational Program.
The instructors of HESM 280, Stefanie Strauss-Thompkins and Jon Verdegan, supervise the UW-Parkside students and help them properly educate the Hawthorn Hollow students. 
UW-Parkside Community Engagement Specialist Amy Garrigan plays a vital role in the arrangement of community-based learning (CBL) opportunities at UW-Parkside. Garrigan facilitates connections between community entities and Parkside faculty to help embed volunteer opportunities that connect to the content of a particular course.
UW-Parkside's HESM 280 Sports and Fitness Nutrition course has had a CBL component for years and is one of a variety of service options the university offers its students. Garrigan learned about Hawthorn Hollow's Growing Healthy program over the summer. She recognized the potential connection with Hawthorn Hollow's emphasis on healthy eating and the learning goals of the HESM 280 course. Garrigan met with Nancy Carlson at Hawthorn Hollow and Carlson was excited about the possibility of having Parkside student volunteer for, participate in, and learn from the program.
UW-Parkside students jumped at the opportunity to learn while engaging with the community. A total of 18 UW-Parkside students signed up as volunteers. Overall, the UW-Parkside students provided over 100 hours of volunteer service this semester.
Garrigan is glad she was able to make this connection and that UW-Parkside students were able to learn from this experience. "Our students have had a wonderful opportunity to engage in the community and provide a meaningful service. They helped deliver healthy eating information to hundreds of elementary students. In addition, the surplus food grown in the garden is donated to local food pantries. Finally, our students had the opportunity to learn about nonprofit management and environmental stewardship from the passionate and knowledgeable staff at Hawthorn Hollow," Garrigan says.
Sadie Vanderwall is a freshman communication major from Antioch, Illinois, at UW-Parkside. During her experience at Hawthorn Hollow, Vanderwall assisted Nancy Carlson, of Hawthorn Hollow Nature Sanctuary and Arboretum, with developing and implementing the curriculum for the Growing Healthy program. She got the opportunity to work with the first graders to teach them how to make chicken food, feed the chickens, and make necklaces. Vanderwall states that this community based learning opportunity was very educational and a very rewarding experience. "Working with the kids was so much fun and they were so eager to learn. I got to see how hard it was to work with groups of kids but also how fulfilling it is for them to enjoy learning," she explained.
Vanderwall also appreciated the great opportunity to get involved with the community. "Being able to volunteer was a great way to get to know the community, to meet new people, and to find new things I enjoy. I got to learn a lot about taking care of chickens and how to garden and was super educational for me as well," she said.