Guttormsen Family Literacy Lab: A Place to Read
Published: November 16, 2016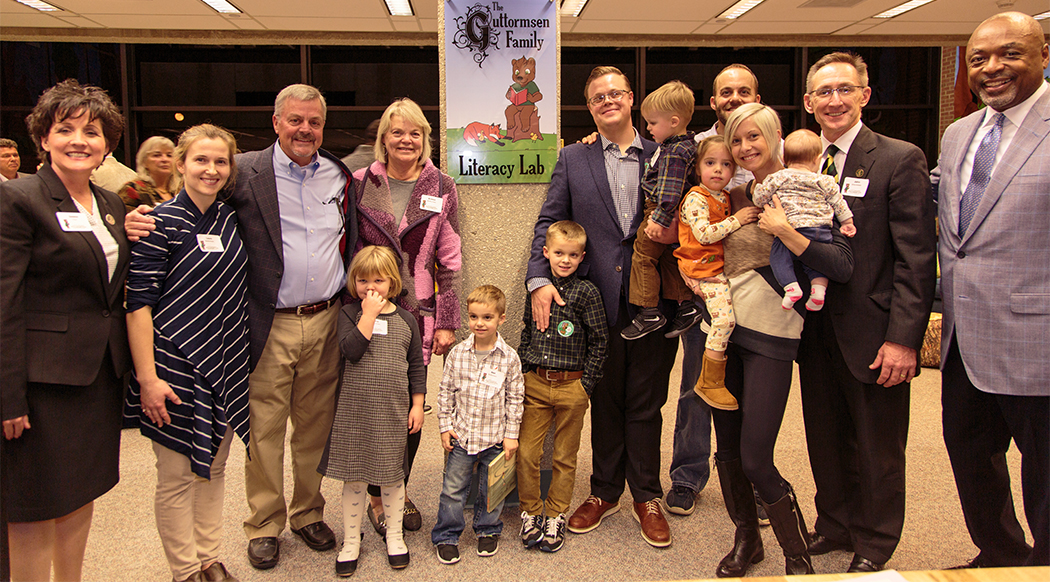 Neil and Kristen Guttormsen and their family with Chancellor Debbie Ford (left), and John Jaraczewski and Tim Mahone (right)
The naming ceremony for the Guttormsen Family Literacy Lab took place, Wednesday, Nov. 16, in the University of Wisconsin-Parkside Library. Close to 100 members of the community were on hand celebrate the new learning space. UW-Parkside student and current Miss Kenosha Brynn Weinzirl debuted her new book "Bee and the Book."
A Space of Importance
UW-Parkside Assistant Chancellor for University Advancement John Jaraczewski said the generosity of the Guttormsen family has established a special connection with early learning and literacy educators at UW-Parkside.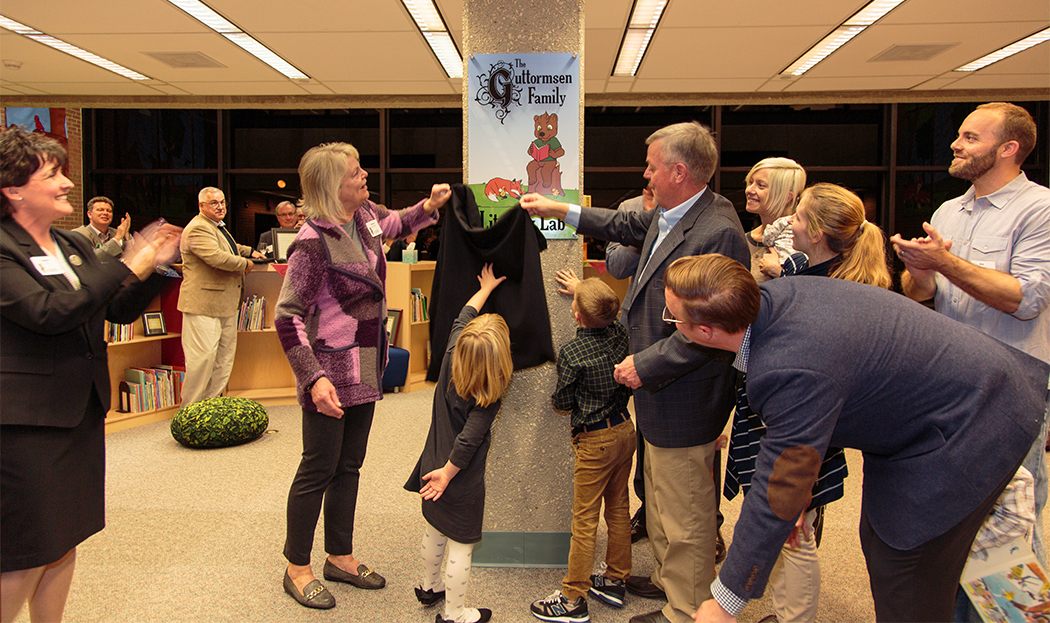 "The Guttormsen Family Literacy Lab and the Mrs. Lois Guttormsen Elementary Education Book Collection offer dynamic, multigenerational educational experiences, drawing attention and resources to the vital work of early learning and literacy," Jaraczewski said.
Lois Guttormsen's son Neil, his wife, Kristen, and many of their children and grandchildren, were on hand to accept thanks and congratulations from UW-Parkside students, faculty, staff and community members. For Neil Guttormsen, the importance of reading began with his grandmother who always made sure he received a book as a Christmas gift.
"My mother followed suit with her grandchildren," Neil said. "Reading was a very big part of her life and I know that if she were here today, this would be a warm feeling for her because this is exactly what she believed in."
The Guttormsen Family Literacy Lab is an advanced instructional space that supports highly innovative and applied learning for teacher education students from the UW-Parkside Institute of Professional Educator Development (IPED), including elementary education majors.
 
"As we prepare our teacher candidates to be effective educators, the opportunity for them to learn and work with children in an environment similar to what they will encounter after graduation is an important aspect of their preparation," said Annie Grugel, UW-Parkside Assistant Professor of Education. "The generosity of the Guttormsen family will have a lasting impact on professional educators and area school children in southeastern Wisconsin for decades to come."
The space is also an educational and community resource for K-12 partners and the greater community to explore opportunities in early learning and literacy.
 
UW-Parkside Library Director Anna Stadick said the Guttormsen Family Literacy Lab will help the library serve students and the community in new ways. "It supports adult students who might study with their own children. It enhances the education of future teachers for our area, and it invites children to sit on a bean bag log and choose a great book as they learn the incredibly important skill of reading," Stadick said.
The naming ceremony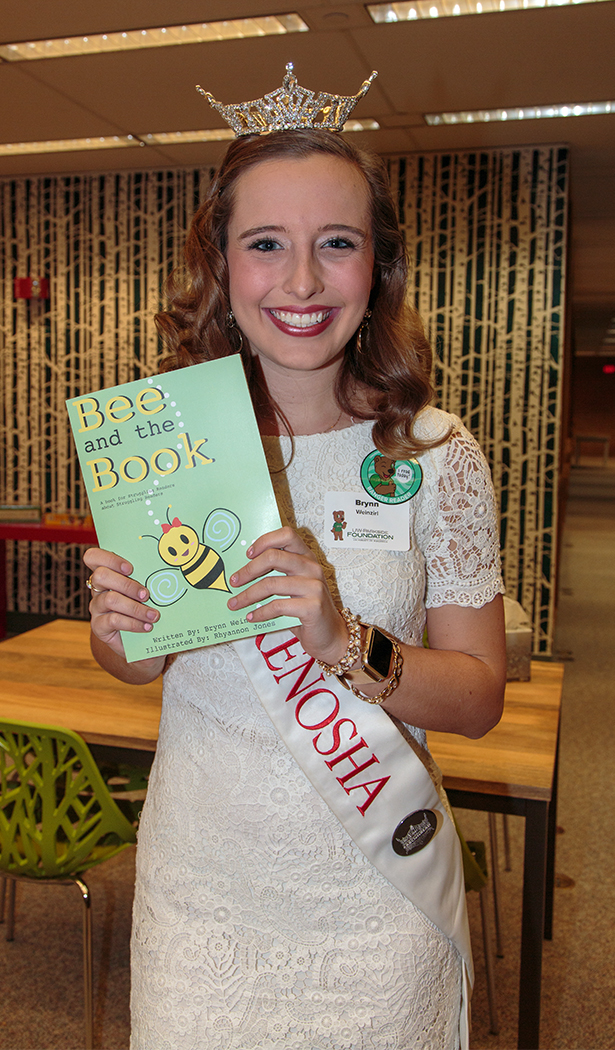 marked the debut of "Bee and the Book," a book for struggling readers about struggling readers written by Weinzirl and illustrated by UW-Parkside student Rhyannon Jones. 
"As a third grader, I was told in the middle of my classroom that couldn't read," Weinzirl said. "'Bee and the Book' is a representation of my reading struggles. I created the book about a struggling reader that a new reader could read almost independently."
"Bee and the Book" was printed by the UW-Parkside Creative Services Department to commemorate the opening of the Guttormsen Family Literary Lab.
The Guttormsen Family Literacy Lab also features new UW-Parkside characters Ranger Reader and Friends created by UW-Parkside student illustrator Danny Daniel.
All gifts to the university in support of the Guttormsen Family Literacy Lab are coordinated through the University of Wisconsin-Parkside Foundation. For more information on supporting the Guttormsen Family Literacy Lab visit the UW-Parkside Giving page.