HARIBO AND UW-PARKSIDE ANNOUNCE 10-YEAR PARTNERSHIP TO BENEFIT STUDENT SUCCESS
Published: October 15, 2019
By:

UW-Parkside Marketing & Communications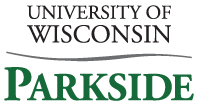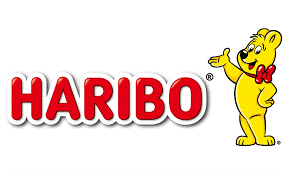 SOMERS – Officials representing HARIBO of America, Inc. and the University of Wisconsin-Parkside today announced a 10-year, wide-ranging partnership that will provide more access to higher education for students, create internship and career opportunities, and jumpstart an impactful facility enhancement.
During the announcement on the Alfred and Bernice De Simone Gymnasium competition court – which will be named "HARIBO Court" in recognition of the partnership – UW-Parkside Chancellor Debbie Ford highlighted how UW-Parkside students will benefit from the agreement. "This exciting, new relationship with HARIBO of America provides additional financial and educational support for current and future UW-Parkside students," Ford said. "The majority of our students are the first in their families to attend college. Thanks to this new partnership with HARIBO of America, our Future Focus Scholarship will provide more opportunities for students to achieve their education goals. It also provides the start to an important capital-improvement campaign."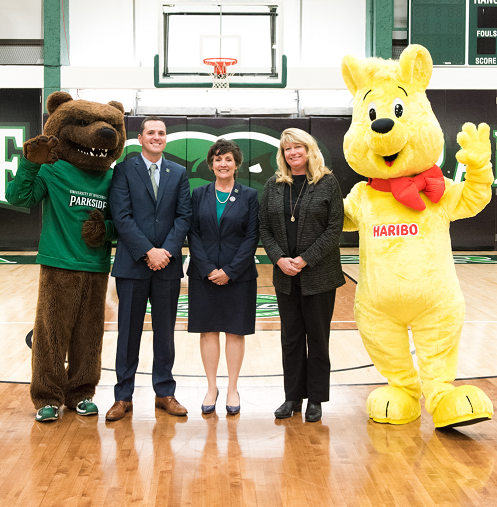 UW-Parkside mascot Ranger Bear, UW-Parkside Director of Athletics Andrew Gavin, UW-Parkside Chancellor Debbie Ford, HARIBO of America HR Director Toni Hansen, and HARIBO mascot Gold Bear celebrate the new HARIBO of America partnership with UW-Parkside.
 
HARIBO of America Chief Financial Officer Wes Saber said his company knows the importance of family and education. "We believe everyone should have access to affordable education," Saber said. "HARIBO of America has been warmly welcomed to the communities of southeastern Wisconsin and our new partnership with the University of Wisconsin-Parkside is an opportunity to give back to our new neighbors and invest in the future."
UW-Parkside Director of Athletics Andrew Gavin said he was thrilled to be collaborating with HARIBO in conjunction with this university-wide partnership.
"I've thoroughly enjoyed learning more about HARIBO of America and building a relationship with their leadership team," Gavin said. "We're proud to spotlight this partnership and recognize the HARIBO brand in our historic De Simone Gymnasium, and beyond."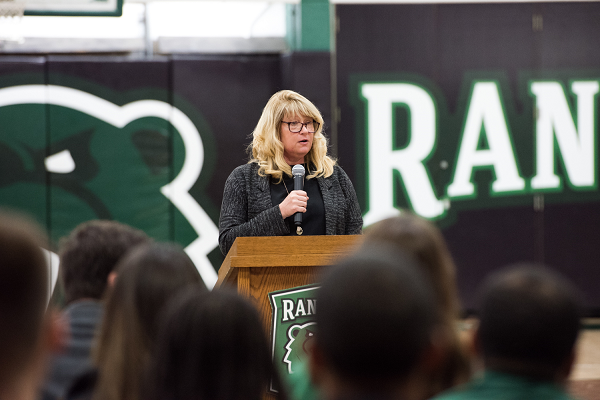 HARIBO of America HR Director and UW-Parkside alumna Toni Hansen talks about the value a new partnership with UW-Parkside.
 
Gavin said the partnership will jumpstart a fundraising campaign to enhance the university's Sports & Activity Center, highlighted by a complete seating reconstruction in the De Simone Gymnasium.
"The De Simone Gymnasium has been an asset to this university for nearly half a century," Gavin said. "We thank HARIBO for embracing and supporting our vision to return this historic venue to a place that energizes our campus community, enhances recruiting efforts and our student-athlete experience, and welcomes our community and visitors to a state-of-the-art facility."
More than just an athletics venue and home to UW-Parkside men's and women's basketball, volleyball, and wrestling teams, the De Simone Gymnasium welcomes tens of thousands of guests each year. Three UW-Parkside commencement ceremonies, the Gateway Technical College commencement, as well as various camps, clinics, sporting events, and community activities take place in the De Simone Gymnasium. UW-Parkside is Wisconsin's NCAA Division II university. The Rangers compete in the Great Lakes Intercollegiate Athletic Conference (GLIAC).
FUTURE FOCUS SCHOLARSHIP FUND
The 10-year agreement also helps support the UW-Parkside Future Focus Scholarship, a new initiative of the UW-Parkside Foundation to provide need-based support to UW-Parkside students.
"The goals of the scholarship program are to reduce student loan debt and help UW-Parkside seniors reach their goal of graduating with a university degree," said Emily Lawrence, president of the UW-Parkside Foundation Board of Directors.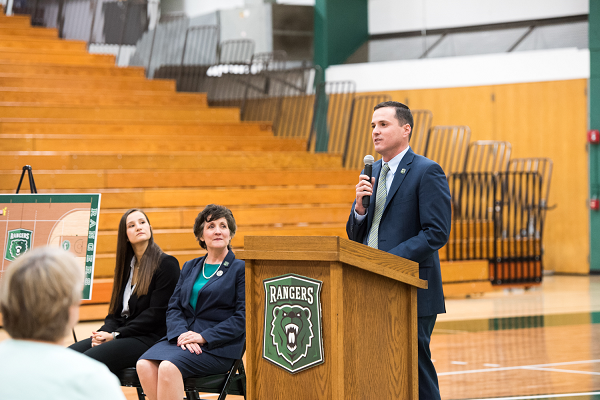 UW-Parkside Director of Athletics Andrew Gavin describes how the new HARIBO partnership will benefit Parkside Athletics.
 
HARIBO's contributions to the scholarship program will be spotlighted on Parkside Day, an annual day of giving set for March 5, 2020. Parkside Day will provide opportunities for alumni, supporters, and businesses to engage with the university and contribute to the Future Focus Scholarship Fund or other meaningful programs to support students.
UW-Parkside tuition and fees are among the lowest for four-year universities in Wisconsin. However, many students and their families still find it challenging to afford a college education. Approximately 65 percent of UW-Parkside students are eligible for federal Pell grants, meaning that they come from low-income households. The UW-Parkside Foundation has raised approximately $400,000 for the Future Focus Scholarship, thanks to generous donations from individuals, businesses and organizations.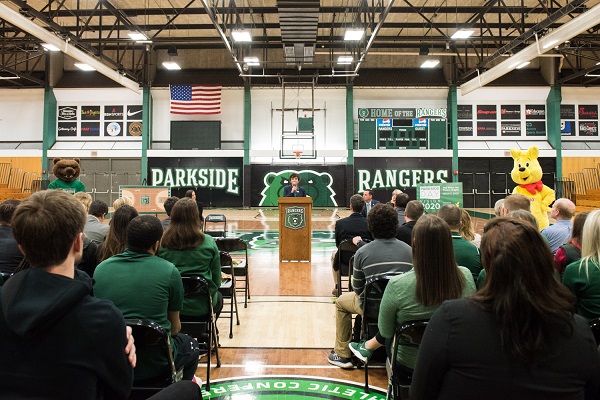 UW-Parkside Chancellor Debbie Ford thanks representatives from HARIBO of America for the company's investment in student success.
 
According to HARIBO of America officials, the company's commitment over the next decade will exceed $300,000.
ABOUT HARIBO
HARIBO is the world's leading manufacturer of gummi products, most famous for our beloved Goldbears. Globally, the business employs nearly 7,000 Associates and operates 16 production sites in 10 countries. A family-owned business with a century long heritage, our founder, Hans Riegel, built HARIBO on a foundation of quality and delivering moments of childlike happiness through our products. Established in 1920, HARIBO is the acronym that comprises our founder's name and the city in which the company was born (Bonn, Germany): HAns RIegel BOnn. We pride ourselves on making playful gummies that are meant be shared so our inner-child can always experience joy through sweet treats. HARIBO global headquarters is in Grafschaft, Germany and its U.S. headquarters operates out of Rosemont, Ill. For more information, visit www.haribo.com.
ABOUT THE UNIVERSITY OF WISCONSIN-PARKSIDE
The University of Wisconsin-Parkside is one of 13 four-year campuses in the University of Wisconsin System. Founded in 1968 to better serve the needs of a growing population in southeastern Wisconsin and northeastern Illinois, UW-Parkside offers undergraduate and graduate degree programs and serves as an academic and cultural resource. The campus is located at 900 Wood Rd. in Somers.