Hector Colon Winter 2016 Commencement Speaker
Published: December 16, 2016
Héctor Colón is a results-oriented senior executive with extensive health care and human services experience. He has a solid track record of producing results in large, complex organizations through innovation, adaptive leadership and employ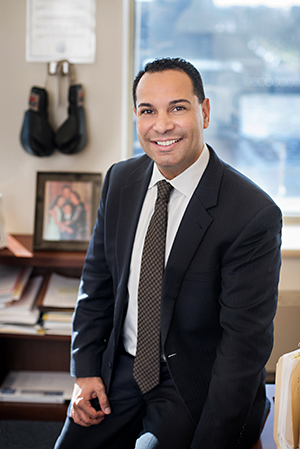 ee empowerment.
Colón has led organizations with budgets in the hundreds of millions of dollars with more than 1,000 employees. He has demonstrated skills in achieving alignment, integration and coordination of systems that have led to improved organizational performance and outcomes. Colón has been recognized for his ability to establish effective strategic partnerships to address complex issues affecting people, systems and communities.
Currently, Colón is the director of the Department of Health and Human Services for Milwaukee County where he oversees more than 800 employees and a $320 million budget. The department of Health and Human Services consists of the Behavior Health Division, Delinquency and Court Services, Housing Division, Disabilities Services, and Management Services.
In his current position, Colón is in a position – through his efforts and those of his staff – to make a real difference.
In a recent commentary, the Milwaukee Journal Sentinel wrote:
Hector Colon has repeatedly demonstrated an ability to bring people together to solve complex problems. Colon and his staff have a long list of accomplishments: winning the White House Healthy Communities Challenge to expand health care coverage; ending a 30-year wait list for people who need long-term care supports to live in the community; decreasing chronic homelessness by 75%; ending a 12-year waiting list for low-income housing assistance; and transitioning hundreds of people with mental illness and intellectual disabilities out of long-term care services and into community living arrangements.
The commentary was endorsed by Milwaukee Mayor Tom Barrett; United Community Center Executive Director Ricardo Diaz; Metropolitan Milwaukee Association of Commerce President Tim Sheehy; Boys and Girls Club of Milwaukee President Vincent Lyles; and many others.
Colón is helping people who may have few alternatives other than to "beat the odds."
Maybe that's because Colón, himself, had to beat the odds. Growing up on the south side of Milwaukee, Colón was often bullied. As a way to direct that negative energy, his father introduced him to boxing.
Colón's boxing coach called him a natural and predicted future championships.
By the time he was 18, Colón had a number of welterweight titles, but lost an Olympic trial match to Jesse Persino in 1992. A year later, Colón avenged the loss knocking out Persino in the first round of the U.S. Championship.
Colón has competed alongside some of the best in the world --Vernan Forest, Shane Mosely, and Oscar de la Hoya to name just a few.
Colón says the skills he learned in the ring have been invaluable to his life outside the ropes. And for those in the community who are trying to beat the odds, who better to have in their corner. In the five years he has held his position, he has launched efforts to end chronic homeless in Milwaukee County, transform the behavioral healthcare system, reform juvenile justice and help all disabled youth graduating from high school in Milwaukee County get jobs.