UW-Parkside Sport Management Program Ranked Fifth in Nation
Published: May 9, 2018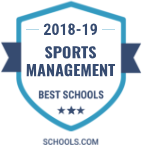 The UW-Parkside Sport Management program has earned the number-five ranking by schools.com for "Best Colleges for Sports Management Degree Programs 2018-2019." The criteria considered in compiling the list included in-state undergraduate tuition and fees, graduation rate, accessibility, institutional spending, student-to-faculty ratio, flexibility, and size of program.
Dr. Bill Miller, associate professor in the Department of Health, Exercise Science and Sport Management (HESM), explains that to him this recognition represents a validation of the hard work and dedicat6ion of the faculty and staff as well as the long-term success of the students. "This is a special day for our program. It is nice to have external validation as to the quality and value provided by a UW-Parkside sport management education," Miller said. "This honor speaks to the ongoing efforts of our sport management faculty and staff along with our colleagues throughout the university to build and maintain a great sport management program.
"Perhaps more importantly, I think it also reflects well on the accomplishments of our students and many alumni located around the world."
Christopher Salazar, a recent graduate of the sport management program, is also very excited about the program receiving this honor. "The Sport Management program being recognized in this fashion is a testament to the tremendous work being done in the industry by our alumni. Their work has helped take the reputation of the program and UW-Parkside as a whole to another level," he said.
Salazar goes on to state that Dr. Miller's involvement in the program is a big part of its success and his knowledge and experience greatly benefit his students and the program in general. "Dr. Miller's industry success, guidance and willingness to help his students succeed plays a large role in the success of this program," Salazar said. "I personally am indebted to him for all he's done for me and I am aware of many alumni who also express their gratitude due to their experience of just being around him."
Salazar recognizes the benefits that the program and this award have on the students of UW-Parkside. "The success of the program benefits the current students because as our alumni continues to succeed, the degree's reputation grows," he explains.
The sport and fitness industry has grown dramatically over the past 20 years. The need for expertise in sport management has developed into a discipline where specialization exists in a multidimensional sense.
At schools.com a description of the sports management field states: "Students who love the business side of athletics often pursue degree in sports management. These programs can lead to many career possibilities in the field of sports and athletics, including working as an account manager for the National Football League or an entry-level position with one of country's powerhouse sports talent management firms."
According to schools.com, UW-Parkside earned this rank based on quality and affordability. "This public four-year university ... makes our rankings in the middle spot due to its low cost of in-state tuition. At $7,431, UW-Parkside had the second-lowest cost of tuition among our 10 featured schools for on-campus and online sports management degrees."
For the complete list visit: https://www.schools.com/programs/sports-management