Summer Scholars: The first step toward graduation
Published: November 10, 2016
By:

Joshua Albert, Higher Expectations
In 2008, the Racine County Workforce Development Board embraced a vision: A fully employed workforce by the year 2020. The board brought together educational, private, public, nonprofit, and faith-based organizations to address the root causes of chronic underemployment in the county, particularly for the inner city of Racine.
A clear challenge was identified in the disparity of education success between students of color and white students. Across the nation, graduation rates for students of color are lower than white students. In Racine County, one of the state's most diverse counties, the gap between black students and white students is about 20 percent at the high school level.
An increasing number of today's career opportunities require post-secondary education.

To amplify educational success and increase career opportunities, the Racine County Workforce Development Board created Higher Expectations, an initiative involving the StriveTogether Cradle to Career Network – a national network of 68 community partnerships in 32 states and Washington D.C. StriveTogether works to improve education success by bringing together cross-sector partners around a common vision.
Higher Expectations has been working with UW-Parkside and Gateway Technical College to better understand strategies that improve post-secondary success. In order to raise graduation rates at the university level, students must be prepared for an educational experience far different than high school. A grant from the Lumina Foundation allowed Higher Expectations and UW-Parkside to collaborate on a pilot program – Summer Scholars.
CONNECTING TO SUCCESS
Summer Scholars is a four-week program designed to help incoming freshman transition to university life, including more stringent academics. The program also gives students the opportunity to gain a sense of belonging and build a student community before they start their first academic semester. This experience can strengthen their connection with the university and help them build relationships with faculty and fellow students to achieve success in their post-secondary careers and future employment.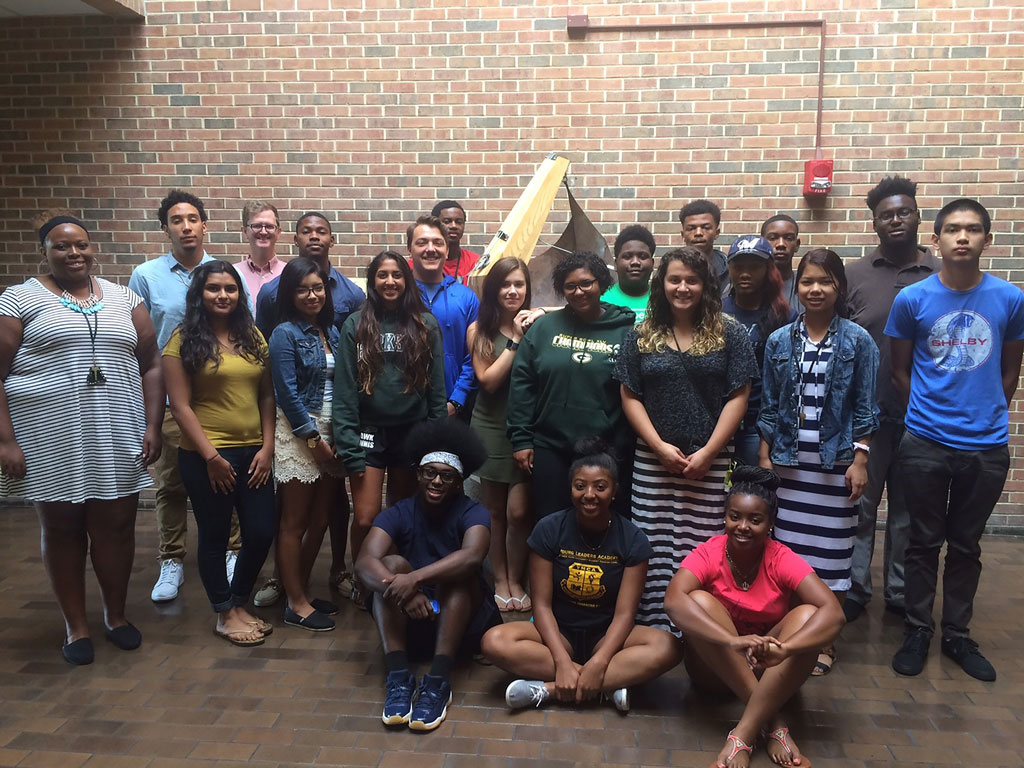 One student, Anmol, who commutes to school and wanted to be more involved, plans on joining student government. "It's hard to make friends when commuting," she said. "Summer Scholars helped my transition by exposing me to different staff members, students, and clubs."
To prepare for the academic demands of a university, Summer Scholars required students to enroll in a rigorous introductory philosophy course. UW-Parkside Professor Dr. Christopher Hudspeth taught the course and expressed excitement when he talked about his experience teaching the four-week class and the students' abilities within such a short period of time.
"When students put their minds to it, they can accomplish anything," he said. "I look forward to doing this again next year."
Weekly activities were held to engage students and university staff. A ropes course in Lake Geneva, Wis., was among the highlights. Alivia, a Summer Scholars student and now UW-Parkside freshman, called the ropes course her favorite activity. "It built trust between me and the other students," she said. "Summer Scholars made the transition to college a lot easier because I knew people, networked with staff, and had support from my counselors."
By establishing a cohort of new students, Summer Scholars can be a positive influence for new freshmen to stay on campus and get involved with the university. "Making you feel a part of school makes you want to stay," said Dr. Hudspeth of the program's transitional benefits. "This is a way to build that sense of community."
Initial results for the summer of 2016 were overwhelmingly positive as all 21 freshmen students who enrolled, successfully completed the program. Summer Scholars exposed students to college life, but, more importantly, it gave them the opportunity to establish themselves and become a part of the UW-Parkside community.
"Ensuring that all students have the opportunity to succeed in post-secondary programs is important – not only for the individual student, but for the entire community," said Jeff Neubauer, director of Higher Expectations. "When students have the tools they need to succeed, such as Summer Scholars, we are one step closer to building a diverse, educated and fully capable employed workforce."
Exactly what the Racine County Workforce Development Board has in mind.
For more information on the role of Higher Expectations within the community, visit Higher Expectations website. Dive deeper into the data behind the work at the Career to Cradle dashboards.
To learn more about the program from some of the staff and students involved, listen to this Greg Berg "Morning Show" podcast.