Sun-Times reporter presents 'Escape from Nigeria'
Published: March 28, 2017
By:

Sheila Schlitz, photos and video by Karen Kring
Chicago Sun-Times Reporter, Maudlyne Ihejirika,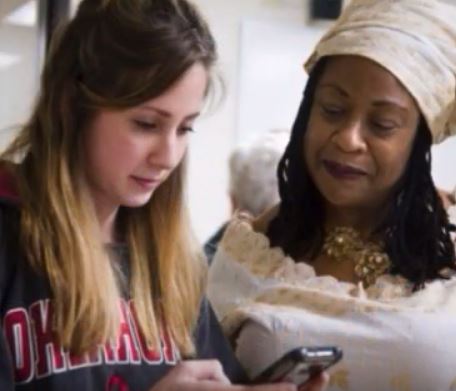 presented a riveting account of her family's amazing story in her new book, "Escape From Nigeria: A Memoir of Faith Love and War." During a recent talk at the University of Wisconsin-Parkside, she shared the story of her family's struggle to escape the brutal, Nigerian-Biafran War.
In a dramatic reading of her mother's memoir, Ihejirika channeled her mother's pain, suffering and despair as she tried to get out of the Nigerian town in which she was living with her six children - Maudlyne being the youngest among them. They were the last refugees from the Nigerian-Biafran War to be admitted into the United States in 1969. So many others were not as fortunate.
The Irish nun who helped Ihejirika's mother, Angelina, write and smuggle a letter to her husband who was studying at Northwestern University in Evanston, Ill., was one of the many miracles that helped save the family. The family also received help from five American couples who undertook this humanitarian effort. This book is a beautiful story of refugees who escaped a brutal war and found a safe and secure home in the Chicagoland area.
Ihejirika's presentation was part of the UW-Parkside College of Arts and Humanities PeaceWorks program, which explores and celebrates peace through curricular and artistic events.