Martin Antaramian on "Handcrafted America"
Published: March 31, 2016
"Handcrafted America" - INSP Network
Tuesday, April 5, 7 p.m. CDT
DirecTV, channel 364 (SD Only)
Dish Network, channel 259 (SD Only)
Time Warner, channel 387
AT&T Uverse, channel 564
On January 5, ISNP announced the debut of their newest original series, "Handcrafted America." The show features host, Jill Wagner traveling around the country to celebrate the talents of those who still make things by hand. The show premiered in March and each episode features the talents of three craftsmen from different areas of the country.
While searching for their craftsmen, the producers stumbled across the website of Martin Antaramian, a UW-Parkside alumnus. Antaramian graduated from Parkside in 2011 with a bachelor of arts in sculpture and furniture design. Since graduation, he has designed several pieces of furniture and has won numerous awards including Best in Show for New Product Debut — Innovative Design at The Fine Furnishings Show in Milwaukee in October of 2014.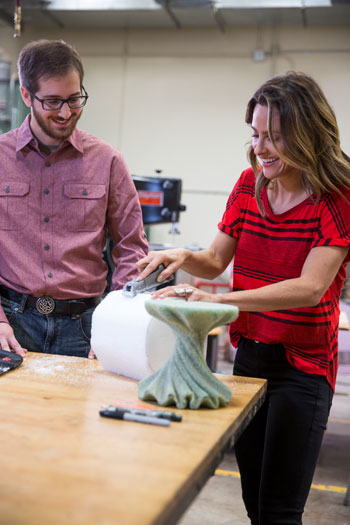 Martin Antaramian (left) with Handcrafted America host Jill Wagner
Antaramian is exactly what INSP was looking for. The network took a particular interest in his waltz tables, an idea Antaramian says came to him in a vision. The tables resemble a spinning dress made out of wood and each one takes about six months to make, if he is working on other projects as well. They can sell from anywhere between $10,000 and $15,000.
Antaramian's feature on "Handcrafted America" airs Tuesday, April 5, at 7 p.m. The episode was filmed in October 2015 in the wood shop at UW-Parkside, in his parent's condominium, and in Kenosha's Re-Vision Gallery, which has a lot of his work on display.
The Parkside alumnus is trying to become better known around the art community. He is constantly submitting his work to different art competitions around the U.S. so as to increase his exposure. Earlier this year he was awarded a 2016 Racine Art Museum Artist Fellowship, which came with $2,500 to put toward anything that will assist in the development of new work and in advancing his career.