Doing Business in Italy 2017
Published: June 23, 2017
UW-Parkside students on their way to visit top Italian manufacturers, including Lamborghini, CNH and Ducati.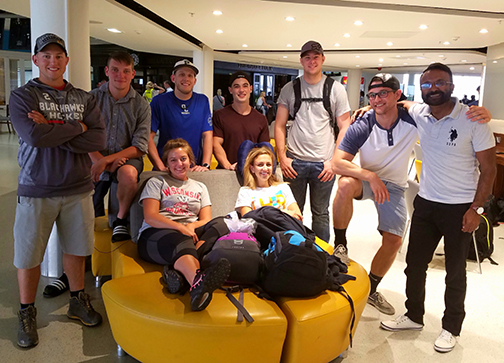 Students from UW-Parkside are traveling for the fifth annual "Doing Business in Italy." The course is led by Associate Professor Dr. Abey Kuruvilla and supported by the study abroad office. The course covers six cities over a period of three weeks. This program gives students from various majors including business, communication, economics, and criminal justice, an opportunity to visit Italy's top auto manufacturers, wine producers, glass blowers and several partner universities.
This year the program partners primarily with CNH Industrial. The students participated in multiple pre-trip visits to the CNH Racine plant and offices to learn about manufacturing, production, systems, parts and logistics in the U.S. prior to visiting the Italian CNH facilities in Lecce and Modena.
Dr Kuruvilla is working with CNH leadership including Brad Crews, COO NAFTA; Nate Burgers, plant manager; and Kurt Coffey, vice president of parts and service in North America, to help students to understand and compare U.S. and European operations. CNH hosted several luncheon visits, providing lectures on various operation aspects and plant tours. Students are recipients of the Celebrazione Italiana Scholarship to which CNH Industrial remains as a top sponsor. This scholarship has sent more than 50 students to Italy.
Josh Younk, accounting and finance major, has been saving for two years for this trip and says he is looking forward to enhancing his resume to prepare himself for a global career through this international visit. Austin Barber, business major, says he is looking forward to finding himself in a deeper way through this international visit. Christina Chuccara, communication major, looks forward most to Lecce and the community of Carpignano Salentino, that will be hosting the students for the last four days of the trip.
Learning objectives of the course include negotiating in a cash economy, managing and leadership in teams in an international environment, developing cultural competencies, and practical applications of international currencies through accounting and finance.