Jim Koch Wrestling Center Unveiled
Published: December 7, 2018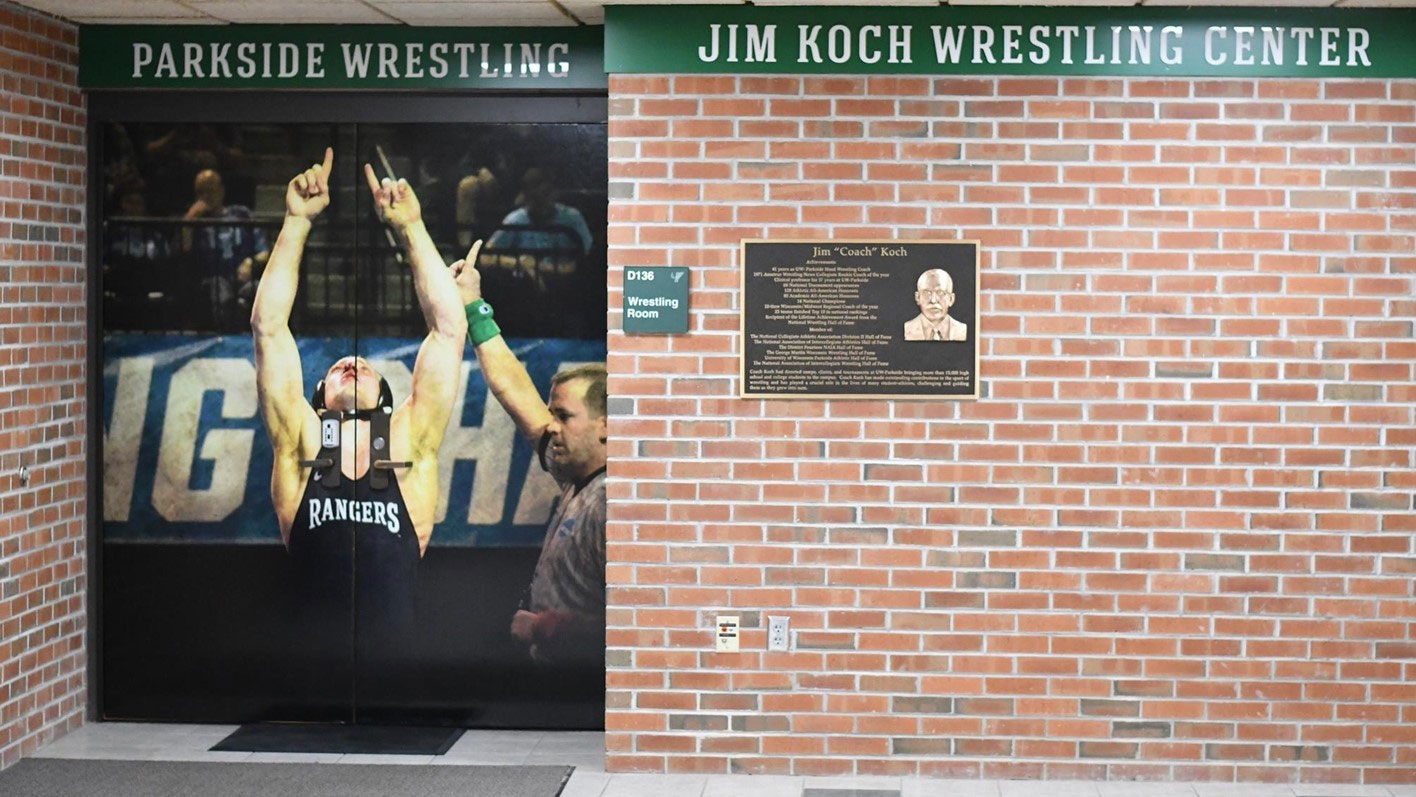 On Friday, Nov. 30, Parkside Wrestling and the University of Wisconsin-Parkside officially unveiled the Jim Koch Wrestling Center, the new practice facility for Ranger wrestling that honors the legendary former head coach Jim Koch.
 
"Friday night was a special night for Parkside Wrestling," head coach Corey VanGroll said. "Having our Alumni, fans, supporters, and Coach Koch's family on campus to celebrate the completion of the Jim Koch Wrestling Center was a lot of fun. The Jim Koch Wrestling Center has already had an impact on our program and it will continue to for many years to come". 
 
The dedication ceremony featured speeches from Director of Athletics Andrew Gavin, head coach Corey VanGroll, redshirt-senior James Lehman, Dan Koch (Coach Koch's brother), Donna Namath (Coach Koch's girlfriend) and Chancellor Deborah Ford. After the rope was cut, dozens of family, alumni, former wrestlers and all supporters were able to see the newly renovated Jim Koch Wrestling Center. Updates to the wrestling facility included a new subfloor, new mats, padding and branding.
 
ABOUT JIM KOCH
Jim Koch was the first ever coach of the UW-Parkside Wrestling program and on-board virtually from the inception of the University when just two buildings stood on this campus. In his 41 years as the face of Ranger wrestling he guided 128 All-Americans, 80 Academic All-Americans, oversaw 68 national tournament appearances, and had 14 individual national champions. He retired in 2011 as the longest tenured collegiate wrestling coach in Wisconsin history.
 
Coach Koch established a tradition of excellence as 23 of his teams finished the season in the Top 10 of the National Rankings. His team's overall dual meet record was 277-168-8. Ten times he was named Wisconsin/Midwest Regional Coach of the Year while also earning the 1971 Amateur Wrestling News Collegiate Rookie Coach of the Year Award.

His accomplishments earned him enshrinement in four wrestling Halls of Fames, those being the NCAA Division II Hall of Fame, the NAIA Hall of Fame, the District 14 NAIA Hall of Fame and the George Martin Wisconsin Wrestling Hall of Fame. In 2003 he earned perhaps his most prestigious honor receiving the Lifetime Achievement Award from the National Wrestling Hall of Fame.
 
He was also a fixture on the national scene serving as the president of both the NAIA and NCAA Division II National Wrestling Coaches Association. On three occasions he served as the host coach as UW-Parkside hosted the NCAA Division II National Tournament. He directed camps, clinics, and tournaments at UW-Parkside which have brought more than 15,000 high school and college age students to the campus.
 
Koch also spent 37 years as a clinical professor at UW-Parkside as well as serving as the University's Director of Intramural Sports for 15 years.
Watch a video of the unveiling at parksiderangers.com/news/2018/12/5/wrestling-officially-unveils-jim-koch-wrestling-center