Conner and Feltman Earn KCACTF Honors
Published: May 15, 2015
The John F. Kennedy Center for the Performing Arts and the Hilton Worldwide National Awards Program have announced distinguished achievement awards from January's Kennedy Center American College Theatre Festival (KCACTF).
Two University of Wisconsin-Parkside theatre arts majors were recognized:

Blaine Conner, (senior, Platte City, Mo.), Outstanding Performance by an Actor in a Supporting Role; and
Robin Feltman, (junior, Kenosha, Wis.), Outstanding Performance by an Actress in a Supporting Role. 
Conner and Feltman were honored for their work in "Reasons to be Pretty." The production was one of only seven, out of 30 entries, invited to perform in front of an audience of more than 500 at the Region III KCACTF in January.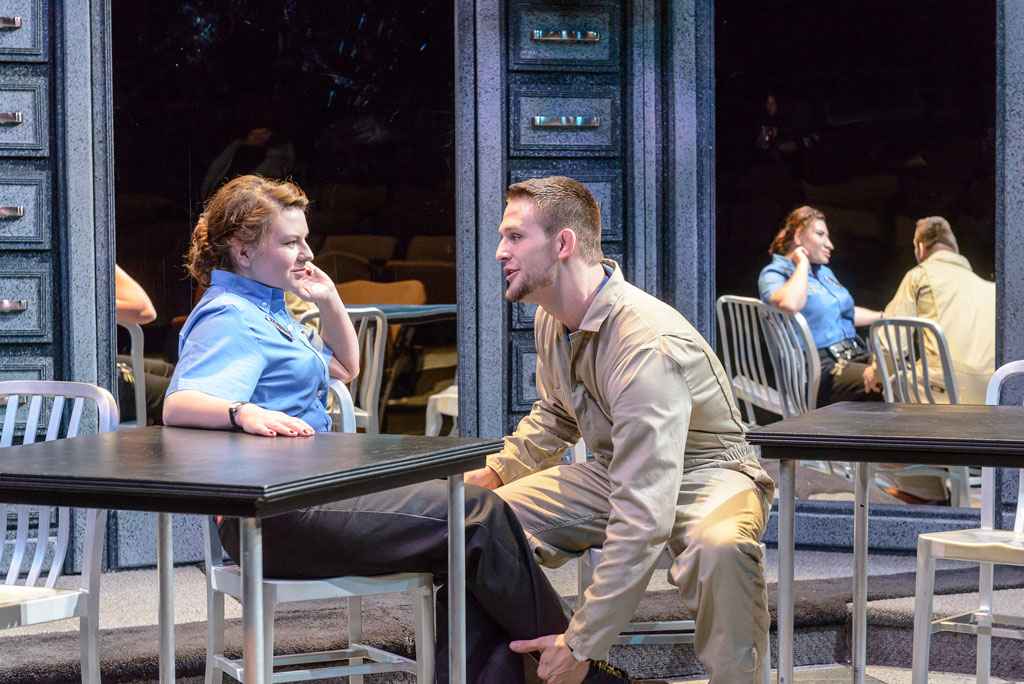 "More than 20,000 students from 700 colleges and universities nationwide are involved in KCACTF," said Jody Sekas, assistant professor of theatre arts and chair of the UW-Parkside Theatre Arts Department. "This national theatre program serves as a catalyst to improve the quality of college theatre. For our students to be selected, and as two of only four national awards in our region, is a tremendous honor and a testament to their talent and training here at UW-Parkside."
In addition to the most recent accolades, the UW-Parkside theatre company earned numerous honors during the festival in January:

Tayler Varney (junior, Muscoda, Wis.) - Stagecraft Institute of Las Vegas Award for her "Into the Woods" wolf costume design and construction. Varney also received a merit award for excellence in scenic design for "It's a Wonderful Life."
Zachary Cooper (senior, Kenosha, Wis.) - John Cauble Short Play Award national semifinalist for "The Fast Nickel." This play was one of only 16 nationwide forwarded to the Kennedy Center National Festival to be considered for the John Cauble award.
Kelliann Keeler (junior, Clinton, Wis.) and Jazmin Medina (senior, Franklin, Wis.) earned recognition as regional costume design project finalists: Keeler for "Long Day's Journey into Night," and Medina for "Rashomon." 
Also in January, Feltman earned a spot as an Irene Ryan Acting Scholarship auditions regional semifinalist, and Spencer Gray (senior, Kenosha, Wis.) earned a spot as an Irene Ryan Acting Scholarship auditions regional semifinalist partner.

Feltman and Gray advanced from more than 800 students in Region III to 80 students in the semifinal round. The UW-Parkside theatre company also won the prestigious Golden Hand Truck award for the best load-in (set up) and load-out (take down) of the scenery, lighting, costumes, and sound, among all the invited productions at the Region III festival.