Jack Keating served UW-Parkside from 1998-2008
Published: June 2, 2016
Former University of Wisconsin-Parkside Chancellor John P. "Jack" Keating passed away Tuesday, May 10, in Palm Springs, Calif., from complications of a rare leukemia. Dr. Keating served the university as chancellor from 1998 to 2008.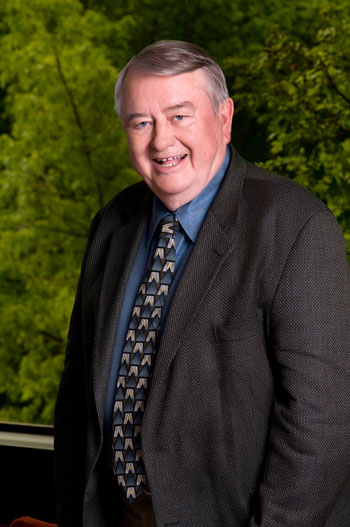 In a statement to campus, UW-Parkside Chancellor Debbie Ford noted Dr. Keating's legacy of building strong relationships: "When I joined the university, the consistent message I heard as I met friends and advocates of UW-Parkside was the value of Chancellor Keating's encouragement and support for strong connections with businesses and organizations throughout southeastern Wisconsin. Jack Keating built a new level of student success, student opportunity, and community engagement at UW-Parkside.
"Jack was proud to be a Ranger and a proud fan of Ranger athletics. I am told he especially enjoyed watching Ranger baseball games.
"The UW-Parkside learning community is saddened by his passing and we extend our deepest sympathy to Jack's wife, Dr. Pam Keating, and his entire family."
Debbie Ford
Chancellor
Read more about Jack Keating's life at UW-Parkside
The following information was provided by Dr. Pam Keating:
Friends and family celebrated Jack's life with a Rosary and Wake, May 12. A funeral Mass will be concelebrated by Jesuit classmates and friends, Saturday, June 25, at St. Ignatius Catholic Church in Jack's hometown of San Francisco. Another Mass of Christian Burial will be celebrated in Seattle, where we lived for more than 20 years, and where our son, Jake, and his wife, Wendy, reside.
Thank you to everyone who called, wrote, and visited us in the years since we moved back to the West Coast – you enriched our Life.
Condolences can be sent to the Keating family at 1983 S Yucca Place, Palm Springs, CA 92264. Contributions can be made to Chancellor Jack Keating's Scholarship for First Generation College Goers. https://donate.uwp.edu/keating