Dr. Penny Lyter receives 2019 Sister Joel Read Civic Engagement practitioners Award
Published: March 13, 2019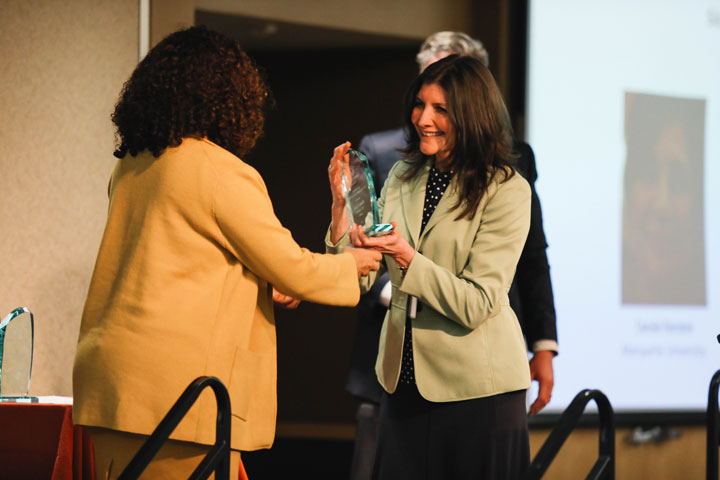 Dr. Penny Lyter, associate professor of health, exercise science and sport management at UW-Parkside, has received a 2019 Sister Joel Read Civic Engagement Practitioners Award in recognition of her significant contributions to community service and engagement. Dr. Lyter's efforts to establish lasting and meaningful partnerships with members of the surrounding communities benefit the university, the community, and UW-Parkside students.
Award recipients will be honored at a dinner in conjunction with the Civic Engagement Institute at Alverno College in Milwaukee. The dinner is Thursday, March 21 in the Sister Joel Read Center.
The various community partnerships Dr. Lyter has formed include work with Healthcare Network, Racine/Kenosha Community Action, Prevent Blindness Wisconsin, and Women's Resource Center. Dr. Lyter's classes feature her commitment to education and supporting the community through community based learning (CBL).
Dr. Lyter's commitment to CBL was instrumental in the creation and success of the Sports and Fitness Nutrition general education course, which introduces 120 students to the importance and merits of CBL every semester. She has made a positive influence on the entire Health, Exercise Science, and Sport Management Department as six faculty now offer CBL courses.
In 2017, Dr. Lyter became the interim faculty director for community based learning. Her leadership and years of experience in CBL have greatly benefited the university. She has incentivized CBL courses by acting as a mentor and establishing ways of recognizing faculty who support and engage with the community. In 2018, Dr. Lyter helped develop learning outcomes for CBL courses and secured funding to recognize and support faculty who teach CBL courses.
The Women's Health Issues course, Applied Health Sciences course, and Community Engagement Certificate capstone course are all examples of classes that Dr. Lyter has created in order to foster community engagement. Her efforts to have UW-Parkside host the Girls Empowered by Math and Science (GEMS) conference and the creation of the first pre-college environmental science program are also notable contributions she has made to the community and the university.
Dr. Lyter's leadership increases campus and community awareness of issues such as domestic violence, healthcare access, food security, and wellness. Her dedication to using her experience to provide meaningful learning opportunities for students and improving the well-being of members of the community made her an obvious choice to receive the Sister Joel Read Civic Engagement Practitioners Award.