CHINA
TWO WORLDS,
ONE ART
"As amazing as it sounds … profoundly life changing." 
The passionate words of Dr. James Kinchen describe "Two Worlds, One Art" – a music and cultural exchange this past summer between students and faculty from UW-Parkside and Jianghan University in Wuhan, China. 
The story of this amazing musical bridge spanning more than 7,000 miles began in 2017 when UW-Parkside Sociology Professor Dr. Xun Wang hosted Professor Lilly Zhang from Jianghan University.  
Professor Zhang serves as a music administrator for the Chinese university and while she was here, she sang with the UW-Parkside University Chorale and Master Singers choral groups – both directed by Dr. Kinchen, music professor and director of choral activities at UW-Parkside. "She had a really wonderful engagement with us," says Dr. Kinchen. "Professor Zhang was particularly interested in knowing how we prepared our music educators who would be teaching choral music." 
A year later, at the invitation of Professor Zhang, Dr. Kinchen traveled to China to lead master classes with choral conducting students and to work with Jianghan choirs. It was during this residency that the idea for a student exchange between the two universities began to take shape.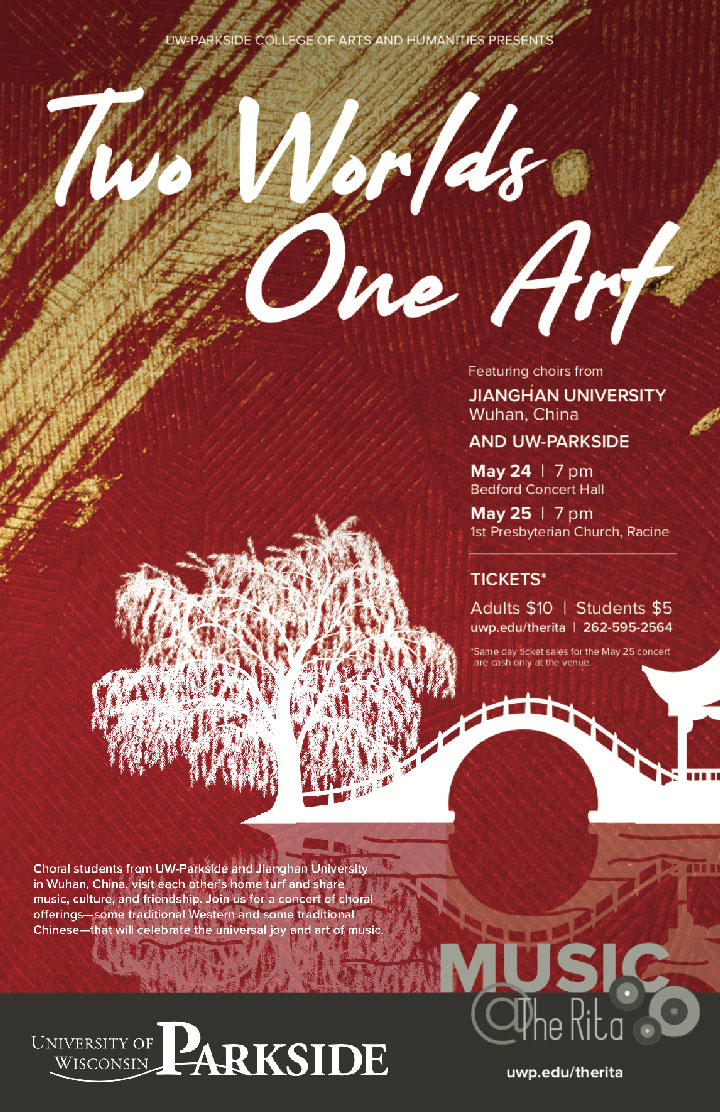 TWO WORLDS, ONE ART CHOIR 

Bijou Hendee ― Rochester, Minn. ― An amazing new experience 
Morgan Haefer ― Franklin ― An incredible lesson in culture, history, and friendship 
Hannah Leclair ― Johnsburg, Ill. ― An incredible cultural experience 
Kalyn Harewood ― Laredo, Tex. ―  The source of many new inspirations 
Julia Jones ― Kenosha ― An inspiring, once-in-a-lifetime, musical and cultural experience that led to lifelong friendships
Anna Maerzke 
Sam Landmark 
Kyle Lipp ― Racine ― Life-changing 
John Fauser ― Greendale ― Unforgettable, Life-Altering 
David Zapp ― Kenosha ― Eye-opening 
Timothy Keith Griffin Jr. '11 (alumnus) 
STUDENT ASSISTANTS 

Tabitha Echols 
Chynna Chung 
 
FACULTY 

Dr. James Kinchen
Dr. Xun (George) Wang 
Russ Johnson