Kamala's View from Commencement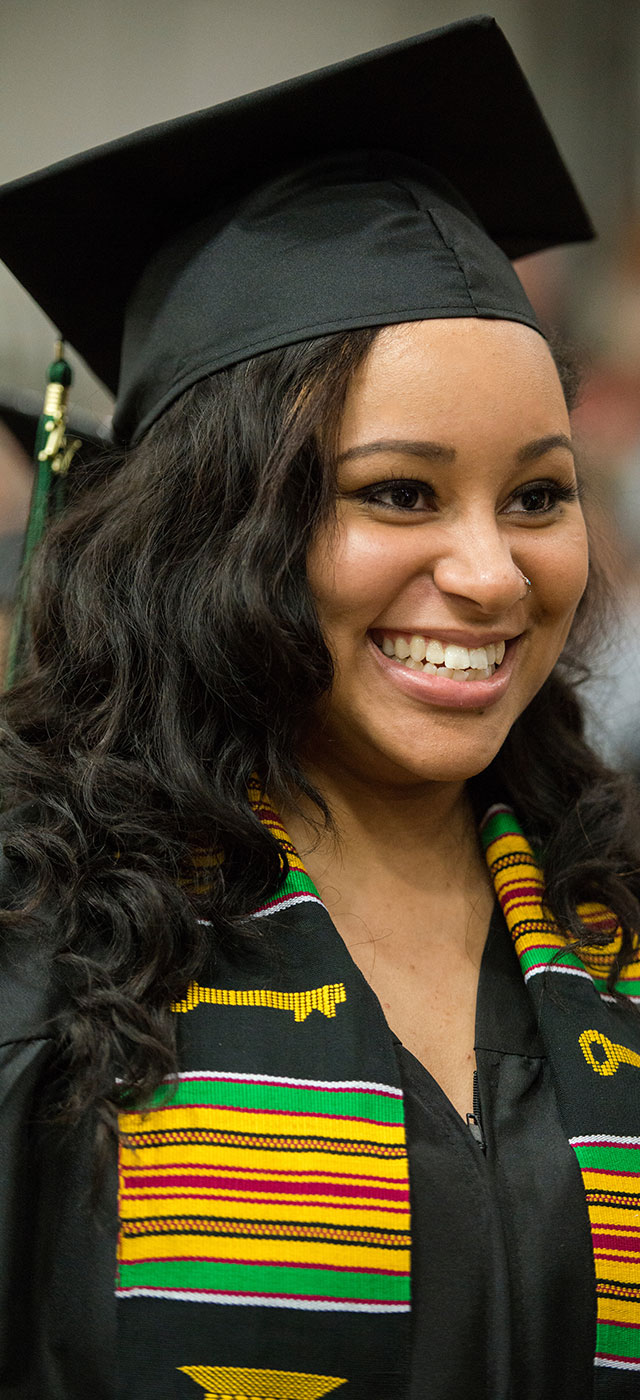 When a high school student reaches graduation they are faced with a myriad of vitally important decisions that will shape and affect the rest of their lives. This is a daunting task for many and with it comes a great deal of learning about life through a process of trial and error. This process can also be greatly aided by talking and listening to people who genuinely care and have your best interests at heart. Kamala Burks, now a graduate of UW-Parkside who recently re-joined the university as communications and events assistant in the Chancellor's Office, went through a similar experience before she found her niche at Parkside and was influenced by the council and care of her mother. 
Trial and error
Burks is a Milwaukee native who graduated from Nicolet High School in 2013, and then decided to attend school in Nashville, Tenn. However, after a year and a half, life threw one of its many curve balls her way and she decided to move back to the area and attend UW-Milwaukee. This too was an important learning experience for Burks: "After spending a semester there, I quickly realized that it was not the school for me." At this point she wisely took a semester off from school, worked full time, and did research on where she would like to continue her education and what the goals of that education would be.
Finding her home at UW-Parkside
Burks decided to attend UW-Parkside for her junior year of college. She quickly discovered that she had found the right place: "I instantly fell in love," she said. "The environment was completely different than my previous two universities. Everyone was extremely welcoming, and I really was interested in the communication program." After she found this place that welcomed her and made her feel at home, she was able to find her professional passion and pursue it with confidence.
Communication major
The decision to major in communication was also a process. "Communication wasn't always my first choice. Growing up, I wanted to be a veterinarian up until my senior of high school," Burks said. "After completing several math and sciences courses, I realized how much I dreaded the subjects and found that being a veterinarian might not be the best fit for me." After coming to this realization Burks turned to her support system for guidance. "After a long talk with my mom - who happens to know me better than anyone in this world - I decided to pursue a career in communication," Burks said. Because of her mother's advice, she realized that writing has always been one of her strong suits. Along with being a natural people-person, it became clear that communication was the best field for her to study.
Thoughts during commencement
Burks fondly remembers her walk during commencement: 'Honestly, as clumsy as I am, I was focusing on not tripping and falling!" After she had achieved that goal, she realized her accomplishment and was overjoyed. "I couldn't believe that I was finally walking across that stage," she said, "starting another chapter in my life." 
The feeling of being a graduate
Burks looks back on her college career and talks about the feeling of completing her degree. "It's bittersweet," she says. "I am glad that the stress that school brings is over with, but I definitely miss it, and the amazing memories that it brought to me."
Derek Fye
English Major
Writer