Curtis Jackson: Giving Back Through Community
Curtis Jackson will be the first to tell you that graduating with a criminal justice major from the University of Wisconsin-Parkside took some help along the way. Jackson relied heavily on encouragement and support from other black students, as well as mentors in the university's Office of Multicultural Student Affairs.
Today, as assistant director of East Campus for North Carolina State University Housing, Jackson is dedicated to giving back and helping other black males earn a university degree - not just in North Carolina, but here at UW-Parkside.
Historically, college and university graduation rates for black males are among the lowest of any demographic in the U.S. "That drove me to do a lot of research in grad school on black-male retention and persistence to graduation," Jackson said. "I wanted to be somebody to help change the narrative for black males at the institutions where I have the opportunity to work, and across the nation."
LIVING AND LEARNING COMMUNITIES
After earning a master's degree at Ball State University, Jackson began his career at the University of North Carolina at Chapel Hill where he helped create Carolina Millennial Scholars, a living and learning community geared toward first- and second-year minority male students. Living and learning communities began as an opportunity for students with similar academic and social interests to study together. In most cases, students live in the same area. At institutions where students may not live in the same area, they meet on a regular basis.
Jackson took his Chapel Hill experience 40 miles southeast to help expand the African American Male Initiative at North Carolina State University. The program was renamed the Black Male Initiative to create a more inclusive living and learning community supporting men of various African Diasporas.
Over the last four or five years, Jackson has witnessed an emerging trend of living and learning communities reaching beyond academics. Communities now teach social skills students will need to be successful, and provide a support system for underrepresented populations. "Here at NC State, I also oversee a Native American living-learning community," Jackson said.
The communities are not without controversy. Some education experts argue that because students with similar interests spend more time together, too much socialization can detract from the educational experience. There is also concern that living in the same area can create unwanted cliques. Jackson, however, notes the positive results found in retention and graduation rates.
"The past two years, our men have averaged a cumulative (grade-point average) over 3.0 each semester… and we will start to see more of a campus impact," he said.
NC STATE'S BLACK MALE INITIATIVE
The Black Male Initiative is focused on aspiration, navigation, and social connection - three areas of a social capital model developed by Tara J. Yosso, a University of Michigan professor whose teaching and research examine access and equity in higher education for students of color.
"Aspirational capital is about the hopes and dreams of the participants," Jackson said. "We support the men in the program by engaging them in discussion about what they want to do and doing our best to help them identify the skills they need to develop and achieve that dream or goal.
"The navigational piece focuses on 'how do I navigate this campus as I strive toward graduation?' We connect students to resources including alumni in their field. We connect them to high-impact experiences that supplement what they are learning inside the classroom."
Social connection is about building relationships and getting students to recognize that the Black Male Initiative is more than just another program. "This is a brotherhood," Jackson said. "We are all in this together and we all support one another.
"Everything that I am doing now, I'm reflecting on my undergraduate experience at Parkside and trying to identify what were the challenges; what was important to me and what were the keys to success? Because these are the questions the (Black Male Initiative students) are asking me: 'When you were in school, how did you do it?'"
A PARKSIDE BROTHERHOOD
Jackson tells his students that he did it with the help of others. Together with classmates such as Tony DuBose, Martel Pipkins, Terrence Shaw, and Aaron Slocum, Jackson was part of a brotherhood at Parkside long before there were living and learning communities. To this day, the five friends provide personal and professional guidance and support. Damian Evans, UW-Parkside's assistant dean of students, was director of the Office of Multicultural Student Affairs when Jackson and his classmates attended the university. Evans was their mentor and encouraged the five to be there for one another.
Today, Jackson is giving back by assisting Evans as he guides the new UW-Parkside Fearn House named in honor of Isom Fearn Jr., the first African American graduate of UW-Parkside. The goals of the UW-Parkside Fearn House and the North Carolina State Black Male Initiative are similar: Make sure that students are prepared for success, have the opportunity to succeed, and understand the value of earning a degree.
Jackson's hope is that students involved in living and learning communities will see the programs for what they are - game changers in helping students get to where they want to be.
"The reason I was able to be so successful at Parkside is because I understood where I needed to go when I needed help," Jackson said. "That was a credit to being in positions where I was able to learn how to navigate the campus."
And it didn't hurt to have friends and mentors building a community along the way.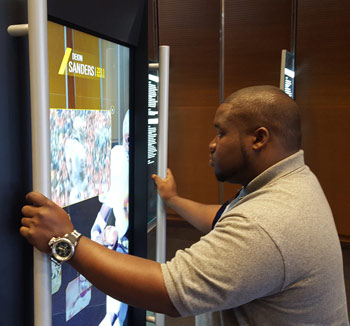 Curtis Jackson reads about Deion Sanders at the College Football Hall of Fame in Atlanta.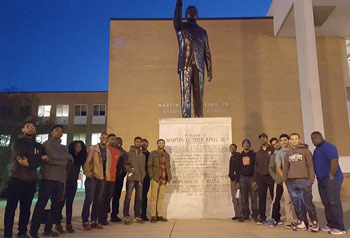 Curtis Jackson with North Carolina State University students at the Martin Luther King Jr. International Chapel at Morehouse College in Atlanta.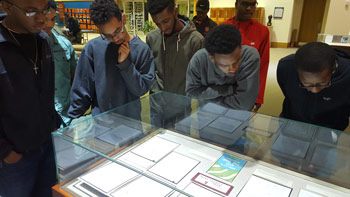 North Carolina State University students at the Clark Atlanta Library reviewing the King Collection
UW-PARKSIDE FEARN HOUSE
Started in fall 2016; named in honor of Isom Fearn Jr., first African American graduate from UW-Parkside
Ten to 15 students involved; meet each week in the Office of Multicultural Student Affairs
Helps students understand what the university experience is all about; where they can go for help
UW-Parkside is able to better understand what the students are thinking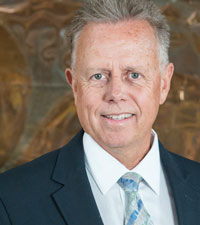 John Mielke

Director of Strategic Communications
Editor, Writer